Mindful Walking on an Ancient Camino Trail
Embarking on the Camino has often been described as a walk for the soul. Walking along the Meseta across Northern Spain, one can't help but tune into a slower pace of life. In recent years and in light of the Covid pandemic, using the Camino for mindful walking and as a time to reflect is becoming quite popular.
The joy of walking is the ability to bask in the task of the moment and a quiet walk in natural surroundings allows us to pause, take deep breaths and enjoy the repetitive task of putting one foot in front of the other.
Whether you walk the coastal paths of the Camino Portugues or the forest tracks of the Camino Frances, each trail offers the chance to discover the power of nature.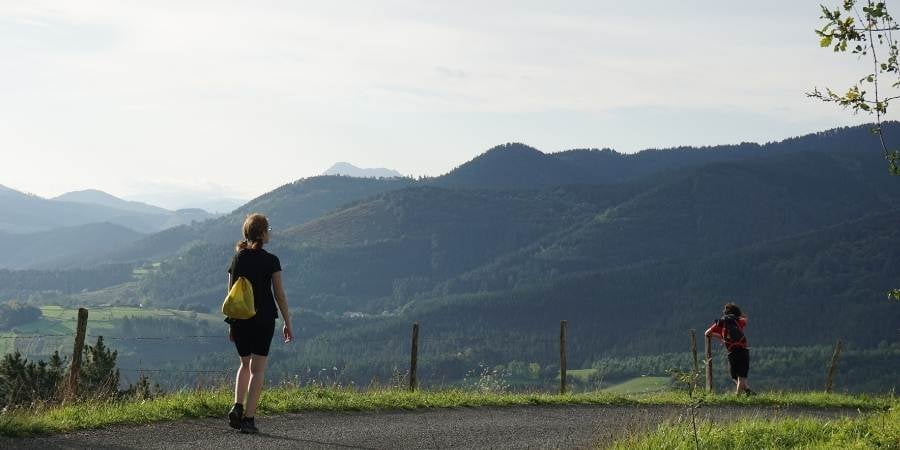 Mindful Walking on the Camino Portugues Coastal
"Walking allows us to deeply immerse ourselves in nature, our new surroundings, and appreciate each moment. Our mind and body focus on the activity, taking step after step and enjoying every single one of them. The pleasure of meeting other pilgrims along the way makes the Camino journey even more special."
These are the words of Galician native Maria Golpe. Maria has walked and cycled many different Camino routes and has first-hand experience of the mental health benefits the Camino provides.
Research has proven that a connection with nature provides strong social and emotional benefits. A recent study in the Journal of Religion, Spirituality, and Aging shows that nature helps to reduce levels of anxiety and enhance higher positive well-being. In fact, during the various lockdowns around the world, people constantly flocked to nature for comfort and to cope with the stress of the pandemic.
With that in mind, when you walk the Camino, make sure you take the time to be aware of the smells, sights and sounds around you. Being present in the moment when you hear birds chirping and trees rustling can be an exhilarating experience, helping to restore clarity after these trying times.
How mindful walking helped me to achieve a work-life balance
I had my first taste of a walking holiday in 2015. Since then, I've chosen a new Camino route each year, one that gives me the time and space to simply live in the moment. My most recent trail was the Camino Portugues from Baiona to Santiago.
This stunning route takes you along the dramatic Atlantic coastline and through a variety of beautiful historic towns. Before heading off on my journey, I was a little apprehensive. Firstly, I had little experience walking over long-distance terrain. My biggest experience before this was a Sunday stroll in the Irish hills, which led me along tree-lined paths for just over two hours. Time had never allowed for much longer, yet here I was preparing to walk over 120 km in 6 days.
How would I find my way? What types of terrain would I cross? Is it dangerous? What if I can't keep up with the others? These were just a few of the worrisome questions that crossed my mind. However, as soon as we started out on the Camino paths with the vibrant yellow arrows guiding us, these questions quickly faded into the background. The joy of walking is truly being immersed in your immediate surroundings. No clouds of judgment exist, just clouds guiding you to your next destination. These are the simple joys we often take for granted.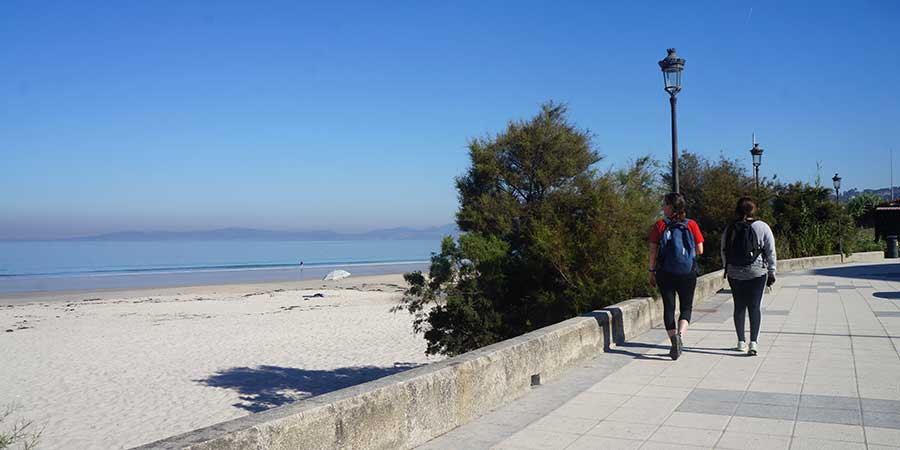 As previously mentioned, I had very little experience with active holidays. For me, my job was one that was both enjoyable and demanding, with pressure being part of the package. Phrases like reaching targets, achieving results, making contacts and building profiles sprinkled my days. If I'm being honest, they also haunted my evenings.
Many people working with multi-national companies will be familiar with these action points and I needed time out. I needed to just be, to live in the moment, to drag myself far away from forecasts and plans. Walking the Camino de Santiago showed me a new path.
I learned that pleasure comes from the doing and the seeing, the knowing and the not knowing and the ever-changing pace of your steps along the way. As with other mindful practices, you don't need to prove your purpose or have a set goal. Paying attention to those daily activities that are so often taken for granted suddenly seemed so right and easy to enjoy. Something I thoroughly enjoyed was the simple act of sitting down and leisurely sipping a café con leche while snacking on some delicious churros. Peace can be so easy to find.
Lisa's Mindful Walking Tips
After learning to relax and be in the moment, I wanted to share my top tips for mindful walking on the Camino in the hopes that it will inspire you to take the break you need and embark on your own long-distance walking adventure.
Breathing on the trails
Stop and allow yourself to take the time you need to breathe in slowly, feeling your lungs expand as you take in the sights around you. When walking it is easy to ignore your breathing and concentrate on your footwork, but switching your concentration will help you to focus more on the activity.
Paying attention to your body
Another tip is to feel the weight of your legs as you walk along the stunning trails. On the Camino routes, you will walk over several types of terrain including cobbled streets, forest paths, along sidewalks and coastal tracks. This is the perfect opportunity to feel the true texture of the landscape underneath you.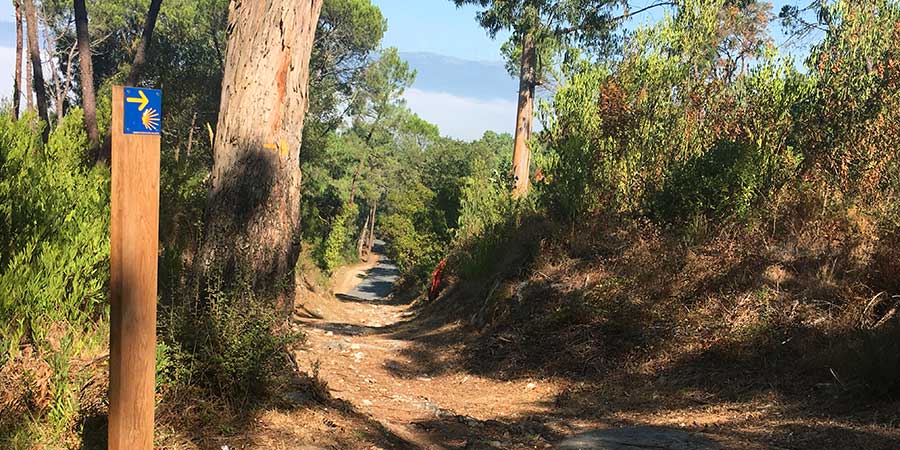 Being aware of negative thoughts
We all hear those negative whispers that creep into our daily routines. As you practice mindfulness on your Camino, you will start to become familiar with the patterns that can accelerate those thoughts. Once you recognise these patterns, you have the chance to take this negativity and dissipate the reoccurring thoughts that create a negative atmosphere around you.
Having a daily intention
This tip is easy when walking any of the Camino routes as your focus is solely on getting from one town to the next. I can't describe how wonderful it is to rise early in Northern Spain and have only one goal: to walk to your next destination. Now, I'm not saying that this is an easy task. In fact, for many, including myself sometimes, this walk tested my legs, my patience, and my stamina. However, your arrival at the next town is the ultimate reward. Treat yourself to a glass of the famous local Albariño wine and some tapas.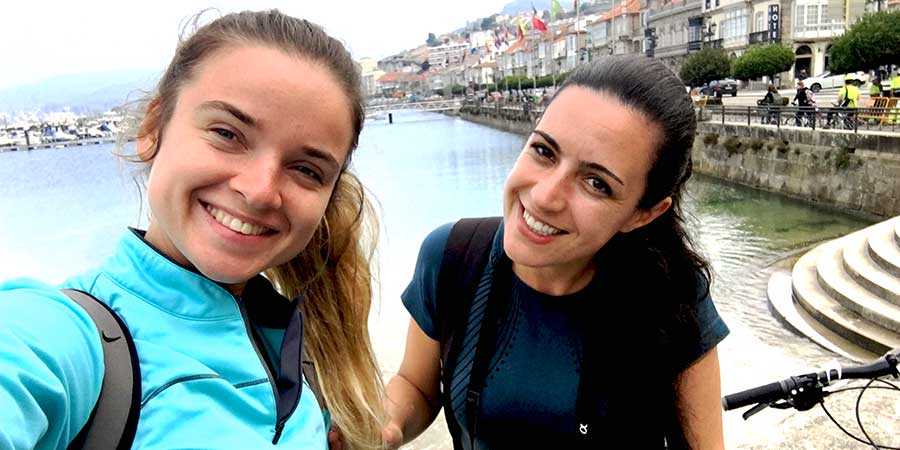 Connecting with nature
There is no better place to feel in tune with nature than when you are out for a walk. The Camino de Santiago is a spiritual journey, but also one where you have time to appreciate your natural surroundings. Walking through lush green forests and along the Atlantic coastline, you will find yourself falling in love with the ground beneath you.
Showing appreciation and humility
Being mindful involves taking time to appreciate your surroundings and expressing thanks for the simple pleasures in life. "Buen Camino" is a common greeting when one is walking the Camino. This catchy phrase simply means "Good luck on your way". You will hear fellow pilgrims, restaurant owners, hoteliers, and even the public wish you well when you are walking past them. Adopt the phrase, own it and use it to greet your fellow walkers.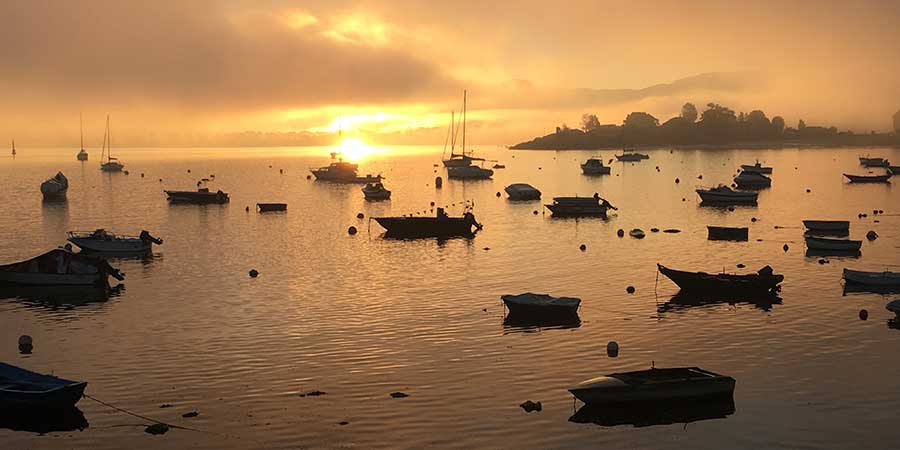 My name is Lisa and I am a walking addict. I've completed three Caminos and it really is the perfect way to live in the moment, soak up your surroundings and escape the screens that dictate our daily routines. I hope you found these tips useful and that they help you find time to reflect on your own journey.
For more information about the Camino routes featured in this article please contact one of our Travel Specialists.