I'll Push You Accessible Camino – "A Beautiful Challenge"
After seven days on the road, the group of the I'll Push You Foundation and their Accesible Camino, arrived at Praza do Obradoiro, completing the 100 kms that separate Sarria from Santiago de Compostela. They covered the stages of Portomarín, Palas de Rei, Melide, Arzúa, Amenal, and finally Santiago, so that the participants obtained their deserved Compostela.
This is the first edition of a trip for people with disabilities on the Camino de Santiago, under the name "I'll Push You: Accessible Camino" where CaminoWays.com has had the pleasure of supporting and collaborating since its inception in 2014.
"El Camino is a beautiful challenge that makes you value your life"

Upon his arrival in Santiago, Justin Skeesuck, visibly emotial, was very grateful to have achieved this challenge with a group of over 40 people from I´ll Push You. In Justin's words:
"It was a hard trip, especially in the ascent of the mountainous areas, we also had to get through trying to make sure that everyone was along the trail and nobody was left behind, but overall everyone did a great job and it was worth it. This is the result of an effort from an entire community, I could not have had better partners. Sometimes, you just need to follow your heart because you may not have all the answers, but we are very grateful and Patrick I are very glad that we followed our hearts."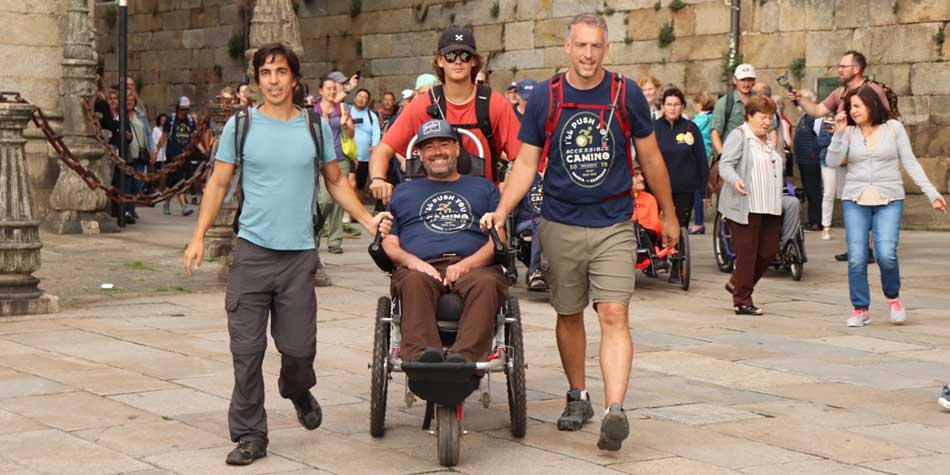 Justin, along with his travel companions, also announced that two other groups of I´ll Push You will make a second edition of their Accesible Camino tour to Compostela in June and September of next year. They will do it, once again, with the Two friends –Justin and Patrick- in the lead.
"When we had the idea to bring a group of people in wheelchairs with different disabilities we didn't know what their response would be, anybody wanted to go and we had an overwhelming response, we are doing more next year," adds Justin, who says they both feel a great sense of accomplishment.
"Caminoways helped us inmensely. We had 5 guides from the region everyday and they were amazing, helping us everyday they would even pitch in to help, pull and push as well when we needed it. We are very grateful for Caminoways and their support over the last several years and to help us with this cause. It is not just us, it takes a community to make this work."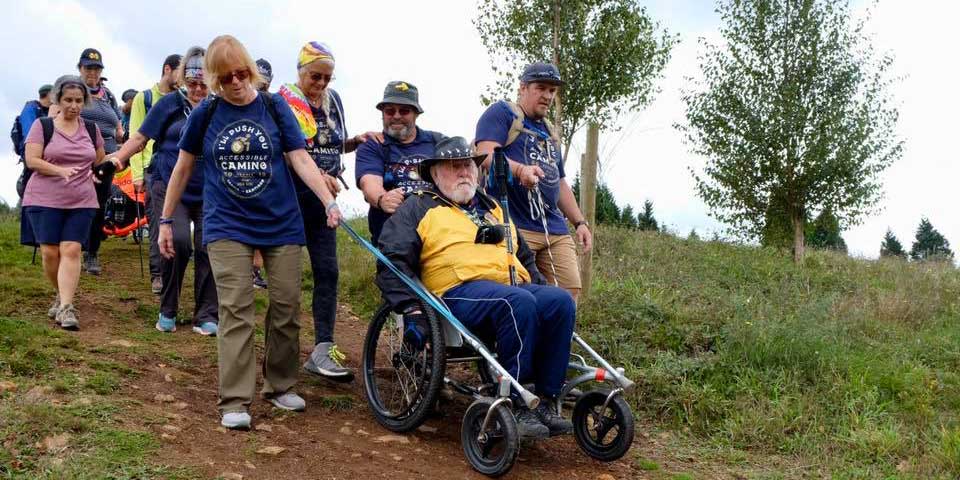 To conclude the trip, the group of 48 participants from the US, Australia, Canada and New Zealand -11 with limited mobility or who need assistance from others, and 37 that provide support-, were received the by the City Council of Santiago, specifically by the Department of Economy and Facenda, Marta Abal. At 12 o'clock they attended the traditional Pilgrim Mass, in the Church of San Francisco and, after discovering the charms of the city, had dinner at the Hostal de los Reyes Católicos, before embarking on a return trip on Sunday.
At CaminoWays.com, we were lucky to be able to have two members of the team walk with the group for the last 20 km to Santiago and this has been, without a doubt, one of the most inspiring experiences for the team. We realize everything is possible with passion and effort; It has been an incredible learning experience. We are happy to collaborate with this wonderful group from our agency and we will continue to give our full support to the foundation.
For more information on any of our walking or cycling tours or the next I'll Push You Accessible Camino, contact the travel specialists