Pig and Patatas Bravas Recipe – Kitchen On the Road
by Renee on September 7, 2012
http://kitchenconundrum.com/2012/09/patatas-bravas-recipe/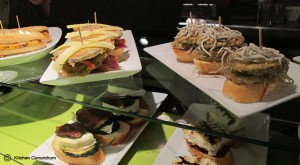 These petite nouvelle cuisine bites are well worth the two Euros you'll spend. Make sure to try an ample variety. But keep in mind, the key to Tapas bars/Pintxos bars, is to bar 'hop'. Try a little something at each bar along an entire Calle (road).  Each has its own specialty and its own atmosphere. Some bars are dark, rustic pubs, while others are bright, modern eateries. When you have had your fill, find the one place you like and stay for a while.
Another wonderful thing about Pamplona is that there are several places to get the highly sought after 5J Iberian Ham. What makes this "bellota" ham so special?  Well, it's acorn fed, free range ham from 100% Iberian pigs. These pigs are very rare, native to the Iberian peninsula in South West Spain and only available in limited numbers. It is considered to be the very finest ham in the world.  And no doubt, 5J possesses a sweet, nutty flavor and just melts in your mouth.  It really lives up to it's reputation.
Here in NYC, the front leg (called the paleta) is around $150 a pound, machine-sliced and around $180 a pound for hand-sliced ham at Despaña Foods in Soho and in Queens.
You can also order  5J online from tienda.com -whole, bone-in paleta (about 9.5 pounds) is $650 (on sale right now from $750). Or just in case you feel like you can splurge, the Boneless Jamón Ibérico de Bellota Ham (hind leg) is on sale for just $1,290(from $1,600!). Now, that's 6-7 pounds of pure heavenly pig!  Unfortunately, the black hoof is removed here due to the USDA regulations, which to me makes it a tad bit more difficult to prove authenticity.  But if you are buying from reputable sources you shouldn't have any problems. Check out how to identify an authentic 5J ham here.
So now you can understand why it's good to try it in Spain, if and whenever and as often as you can!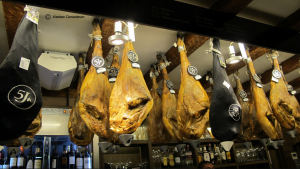 Pamplona's cuisine also stands apart for the quality of its vegetables-the white asparagus and the piquillo red peppers, often marinated in a tangy vinaigrette, are superb. Of course, tortillas and patatas fritas (French fries) are a standard daily favorite while on the Camino. Every day when we would stop lunch would consist of either  a tortilla or a platter of these crunchy fried potatoes.
But it was a real treat to have Patatas Bravas, crispy chunks of potatoes with creamy centers that had been coated in a spicy tomato sauce-sometimes served with a garlicky aioli.  Patatas Bravas are famous in Spain and can be found nearly everywhere.  And nearly everyone loves them once they have tried them. It's the one dish where everyone at the table just dives right in with their forks.
So I began my search for the perfect recipe.
Born in the northern region of Asturias and raised outside of Barcelona, José Andrés is the chef credited with introducing the U.S. to traditional Spanish cooking and the concept of tapas. He trained in Michelin-starred restaurants including elBulli with world-renowned Master Chef and friend Ferran Adrià (who I had the pleasure of meeting once and receiving congratulations  from when KC came in as a runner up in a molecular-gastronomy contest.) So I knew that his patatas bravas would be incredible. My recipe is inspired by his creation.
One of the differences is that I oven fried my potatoes, which is less greasy, but equally crisp (and less messy). I tend not to stove top fry potatoes anymore because just doing it in the oven is so much easier and the results are just as good, if not better.
The sauce I made is based loosely on Andrés' recipe. The creamy, garlic aioli completes the dish and complements the spicy tang of the tomatoes.  Serve with a cold beer and prepare to lick the plate clean!