At CaminoWays.com we are proud to be supporting the Kerry Camino Walking Festival since 2015 and we will be back in Tralee in May 2020.
This fantastic festival attracts Camino and walking fans from all over Ireland and beyond to the Dingle Peninsula for three days of walk, 'craic agus ceol' (that is fun and music in Irish!). Whether the Camino de Santiago is still on your bucketlist or you are a seasoned Caminoist, the Kerry Camino Walking Festival brings everybody together so get your walking boots ready.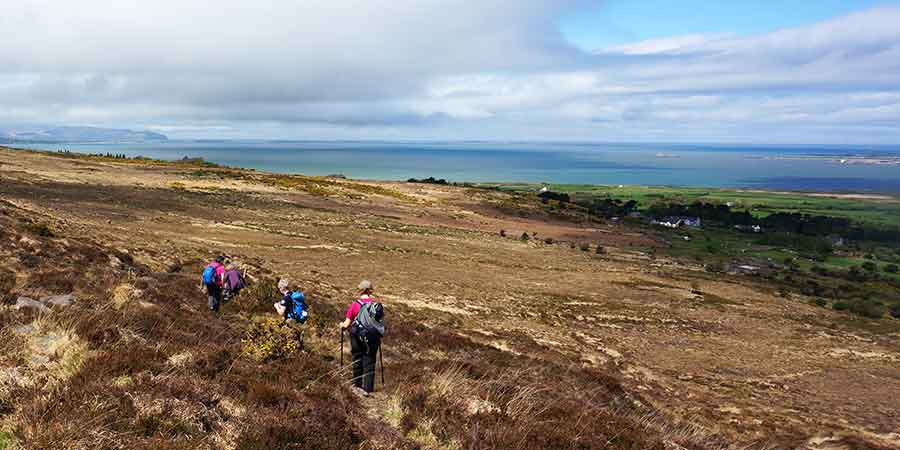 This great walking festival takes place over the May bank holiday weekend and kicks off with registration and information evening on Thursday 30th April at the Grand Hotel Tralee, with walking taking place on Friday, Saturday and Sunday. The Kerry Camino trail starts in the lively town of Tralee and follows in the footsteps of Saint Brendan, the Navigator. The trail has been walked by monks and pilgrims on their way to Dingle.
The Kerry Camino is run by a group of enthusiastic locals, keen to recover the history of the trail and celebrate the close links between the region and the Camino de Santiago in Spain. Walkers can collect stamps along the way on the Kerry Camino log book and record their progress in order to receive your certificate of completion at St. James's Church in Dingle. You will also be able to request your 'Irish Compostela' from the Camino Society in Dublin in order to complete what is known as the Celtic Camino, if you wish to continue your Camino journey from the city of A Coruña, in Galicia, North West Spain.
The Kerry Camino Festival takes place from Thursday 30th April to Sunday 3rd May 2020 and everybody is welcome.
KERRY CAMINO WALKING FESTIVAL 2020 SCHEDULE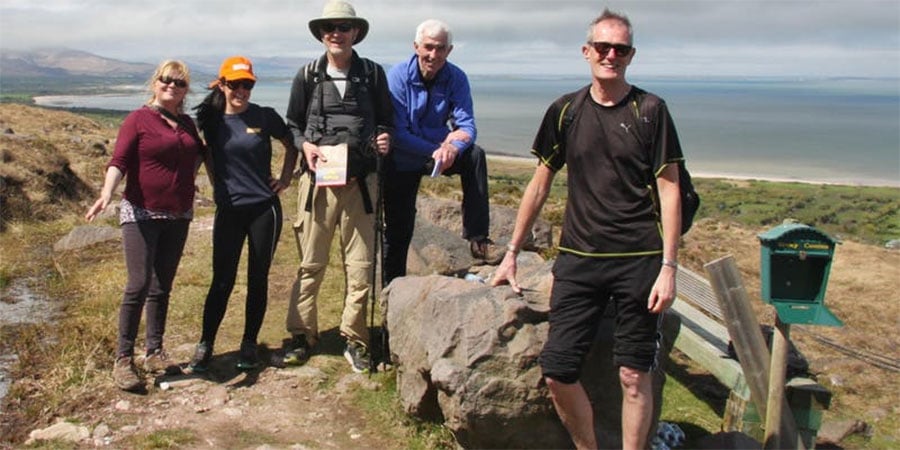 THURSDAY 30th APRIL – REGISTRATION EVENING
Registration night, meet and greet at the Grand Hotel Tralee from 6 – 9pm, including a Camino information evening with CaminoWays.com travel experts from 7pm.
FRIDAY 1st MAY – DAY 1 WALKING
Walk from Tralee to Camp Village (19kms). Option to stay in Camp or return by bus to Tralee.
SATURDAY 2nd MAY – DAY 2 WALKING
Walk from Camp Village to Annascaul town (17kms) passing spectacular Inch Beach. Barbecue (optional) in Annascaul. Option to stay in Annascaul or return to Tralee by bus.
SUNDAY 3rd MAY – DAY 3 WALKING
Walk from Annascaul (22kms) and finish at St. James church in Dingle where you will receive your certificate of completion. Bus back to Tralee for those staying in the town.
BOOK TICKETS HERE: Kerry Camino Festival Tickets
Remember all Kerry Camino Walking Festival attendees get a special 10% OFF our Camino and Ireland tours with code KERRYCAMINO.
Talk to our team to organise accommodation for the festival or if you'd like to experience the Kerry Camino trail later in the year. For more information on our Kerry Camino tours and all our Camino de Santiago routes, contact our travel specialists.