Chef Paul Flynn is a well known face for Irish foodies, appearing regularly in TV and radio shows, as well as writing a regular column for The Irish Times and other publications. He owns and runs award-winning restaurant The Tannery in the coastal town of Dungarvan, in County Waterford, along with his wife Maire.
Having walked two stretches of the Camino de Santiago in recent years and having fallen in love with the region (and the vegetable patches run by Galician grannies), he is heading back to Galicia in October 2020 with a very special group of walkers, to combine walking with his passion: food.
We caught up with Paul to ask him a few questions about his Camino experiences and his upcoming Foodie Camino. He has done various stints on the Camino de Santiago in the past couple of years, and has confessed being 'addicted' to the Camino but why? What makes people 'connect' with the Camino experience?
"I'm a busy fella, there's always something happening. The Camino allows me to switch off," explains Paul. "It never happens quickly but I can feel the stress evaporating the more I walk. I start to absorb my surroundings and think less input work as each day goes by."
"I can feel the stress evaporating the more I walk"
Paul's upcoming Foodie Camino will take him and a group of walkers to Galicia's Rías Baixas region again, land of the famous Albariño white wine and also known for its top notch seafood, what's not to like? It would be difficult to pick just one favourite dish…
"If I had to pick one unmissable dish from my past Camino trips, it has to be the seafood in general and clams in particular," he adds. "The Caminos I've done have been costal in one way or another. This has been a deliberate choice on my part but it won't wats be so. There are other routes that I want to do that won't pander you my seafood obsession but I'm not worried, I'll find some other culinary joys to satisfy me."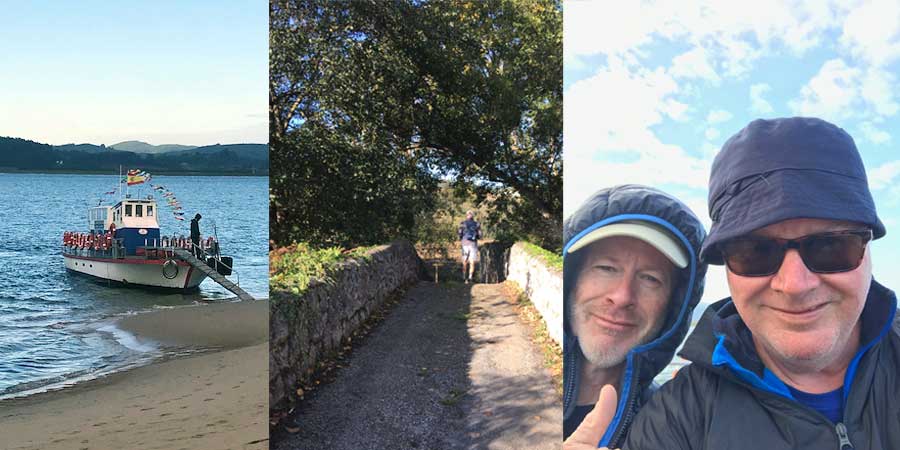 Paul runs his award-winning restaurant, The Tannery, in Dungarvan, County Waterford, in Ireland's Sunny South East. His travels always make it back to his kitchen and new recipes.
"The Camino is a gentle invigorating journey, it's easy to form bonds with people."
"Cooking is all about mood and cooking within the seasons. I love the simplicity, bold flavours and easy nature of Spanish cooking . It always inspires me when I return to my restaurant," he adds.
This May, Paul will be part of a group of food enthusiasts walking and tasting the Camino Portugues to Santiago, Foodie Camino.
"I'm looking forward to meeting likeminded people with a love of Spain, its food, people and history. The Camino is a gentle invigorating journey, it's easy to form bonds with people," says Paul.
He confesses his last Camino was more challenging than he expected, "It's important you get fit , I didn't do enough training prior to the last one and I suffered. It can be arduous in places depending on the route so a little preparation will help immensely."
And there he said it… there will be food but there will be plenty of walking too!
HOW TO REGISTER:
Please register your interest below, a €400 deposit is required to secure your place. Places are limited so we recommend booking soon to avoid disappointment.
[contact-form-7 id="429421″ title="Foodie-Camino-Paul-Flynn"]
For more information about the Paul Flynn Foodie Camino or to book your next Camino de Santiago trip, contact our travel specialists