I'll Push You: Crossing the finish line, but far from over
Nearly six weeks after starting their epic I'll Push You Camino de Santiago journey in St Jean Pied de Port, Justin and Patrick finally reach Santiago de Compostela (one day ahead of schedule!), where they are greeted with applause and embraces from fellow pilgrims and their own families. An emotional and very special day for the two friends.
By Justin Skeesuck and Patrick Gray
July 7th, 2014 will forever be a day that represents beauty, strength, and celebration for both of us. Today we finished our 500 mile trek across Spain and entered the square at the base of the Cathedral in Santiago.
We were greated by applause and embraces from many pilgrims that we have walked with over the past 5 and a half weeks, but not before we felt the arms of our wives wrapped around us, and shed many tears of joy. We were not prepared for the intensity of emotion, raw and pure. Surrounding us were Christie who walked and pushed/pulled/lifted with us for days on end, Joe and Richard who led the charge up O Cebreiro, Claudia and Jess from South Africa who provided so much inspiration, and so many others that deeply touched our lives. Our hope is that each of you have or will get to experience such elation one day.
While filled with many physical and mental challenges, this journey has been a blessing on so many levels. We have been given something special, a new understanding of ourselves, of the importance of community, of the value of everyone we walk with on a daily basis and most importantly a drive to give of ourselves to make this world a better place.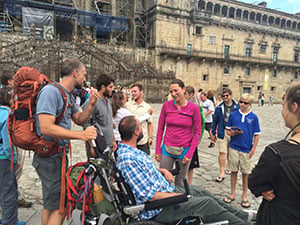 We have crossed the "finish line", but know that this is just the beginning of so much more and we are excited at what days to come have in store for us. Each person's Camino or walk is different, unique, and filled with challenges, but there is one thing we all have in common. We all overcome the limits we face in life through coming together, being one another's strength, and working in unison.
That is exactly what we intend to carry on from here as we continue our Camino at home. Earnestly looking for ways to help, to grow, to love and to defy any limits we encounter along the way.
We have been truly blessed, amazed, and humbled through your support and for "pushing" us along The Way.
Buen Camino,
Justin and Patrick
*You might also want to read Patrick and Justin's previous blog posts:
Part 2 – Mountains and Valleys