Pilgrims to Oviedo and not Santiago… The First Pilgrimage
The city of Oviedo, starting point of the Camino Primitivo to Santiago (The Original Way) to Santiago and also the main city along the Camino del Norte (The Northern Way), has been an important attraction to pilgrims for centuries. Pilgrims to Oviedo and not Santiago…
The Holy Chamber in the city's cathedral, San Salvador, was home to many important religious relics that made Oviedo an important destination for Christian pilgrims: those travelling from and to Santiago but also for those coming to Oviedo specifically to see its relics, walking the route from León to Oviedo.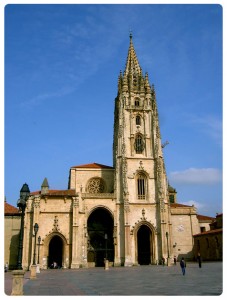 The Holy Chamber of Oviedo, the pre-Romanesque church part of the Cathedral, dates back to the 9th century and is today a UNESCO  World Heritage Site.
There is a saying that illustrates the traditional importance of Oviedo as a pilgrimage destination: 'Quien va a Santiago y no al Salvador, visita al criado pero no a su Señor', meaning 'Those who go to Santiago and not to Salvador (Oviedo), visit the servant (St James Apostle) and not the Lord (Jesus Christ)'.
The pilgrimage walking trail to San Salvador in Oviedo takes about 100km and goes from León to Oviedo. Once in Oviedo, walkers can travel West to join the Camino Primitivo, (Original Way in English) to Santiago or walk to Aviles and follow the stunning route along the Asturias coast on the Camino del Norte (or the Northern Way in English).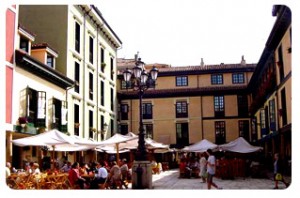 However, while its many stunning churches and religious relics are an integral part of the city's rich heritage and history, there are many more attractions for visitors walking to or from Oviedo.
The city has an established University (1574) that gives Oviedo a lively buzz; it is also the home to many museums and theatres, as well as hosting the Principe de Asturias Awards (Spain's own version of the Nobel Prize).
When in Oviedo, you might discover Asturian bagpipe music and you should definitely taste Asturias traditional dishes such as 'fabada' (bean stew), 'bollu preñao' (bread bun baked with chorizo sausage inside) and some of the many seafood dishes.
Make sure you don't leave Asturias without having tried its famous natural cider (sidra) first, you will find it in any of the city's many 'sidrerias'. Ask your waiter to show you how it should be poured onto the glass, as there is a specific method, to make the cider taste better.
And if you happen to visit Oviedo in September, you might be in luck to catch some of the biggest celebrations of the year: the Fiestas de San Mateo. San Mateo is a week-long festival with concerts, fireworks and many activities for everybody, young and old.
Did you know that film director Woody Allen is also a fan of Oviedo? part of his hit movie 'Vicky Cristina Barcelona' was filmed here and the city has a life-size statue dedicated to him.
Woody Allen was also awarded the Principe de Asturias Award for the Arts in 2002.
Oviedo: The Spanish Cider Capital
Cider, called Sidra in Spanish, is produced all over the north. In Asturias, the main centers of production and apple orchards are around the towns of Nava and Villaviciosa, and also close to the city of Gijòn. After pressing the apples, they ferment naturally and then mature for about 5 months until bottling.  The alcohol content varies but is usually about 5-6 %, similar to some beers. "Sidra" is also effervescent due to the natural yeasts present, but except for a few cases of cheap cider imitations, Spanish cider is not carbonated.
There is a Cider Museum in Nava, and this is where the cider festival is held every year in July.
Camino Culture: The Holy Shroud of Oviedo
The Camino Primitivo, or Original Way, is the oldest Camino de Santiago route; starting from the city of Oviedo in Asturias. Pilgrims on this Camino route start their journey from Oviedo Cathedral, a popular pilgrimage destination for many centuries.
The cathedral's 9th century Holy Chamber is a UNESCO-listed monument and homes its most important relic: the Holy Shroud of Oviedo (Santo Sudario). The shroud is believed to have covered the face of Jesus after his crucifixion.
The Holy Shroud is an extremely delicate relic and only open to the public a few days each year, generally at Easter time and in September. For additional information about the Holy Shroud of Oviedo, you can contact Oviedo Cathedral: catedraldeoviedo.com
For more information about the Camino Primitivo or to book your Camino de Santiago trip, contact our travel specialists