Camino FAQ: Food on the Camino
Travelling to the Camino de Santiago with Camino Ways.com? Many walkers booking a Camino de Santiago trip with us ask the Customer Care team about the Food on the Camino options included as part of the standard package.
'What will I be eating?' seems to be one of the most common questions, so we have prepared this simple guide to explain what's included as part of your Camino Ways holiday.
Our standard package includes half-board accommodation, which means dinner is included at your hotel (usually we don't include dinner as standard on the first and last night of the trip, as most people prefer to explore and eat out in the biggest towns/cities).
Check the vouchers included in your holiday pack (sent by email) for the codes: BD (Breakfast and Dinner), B (Breakfast) BLD (Breakfast, Lunch, Dinner).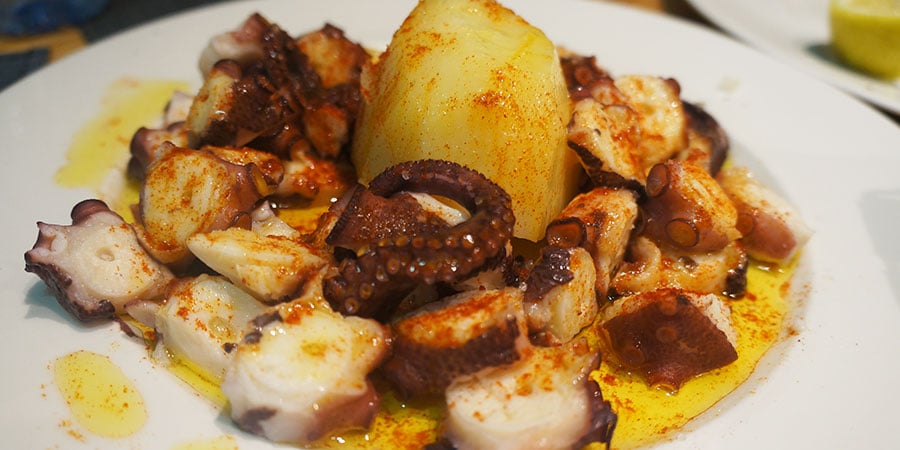 So, what's the food like on the Camino? What will you be eating?
Breakfast on the Camino
Breakfast is always included in the price of your room (room prices in Spain include breakfast at no additional cost) but the type of breakfast offered will depend on the hotel.
Continental breakfast is the norm, as cooked breakfasts aren't common in France, Spain or Portugal. A frequent option will be buffet-style breakfast including fruit, bread or toast, pastries or cake, cheese and cold meats, coffee, tea and juice.
If there is a particular breakfast cereal or breakfast item you are used to, we recommend you bring it with you or purchase it in the local supermarket.
Lunch on the Camino
Lunch is generally organised independently. We recommend you visit the local shop at your departure point or stop in the bigger towns/villages along the way to purchase basic supplies, including water, snacks, fruit, etc… Depending on the section of the Camino or route chosen, you might be able to stop at cafés along the way.
Some sections/routes have plenty on offer, while other more remote walking sections will have limited services on the way. Always make sure to check your walking notes or guidebook for availability.
Dinner on the Camino
Our standard package includes dinners during the trek (apart from the first and last night) and these will be generally the 'Pilgrim menu', including three starters to choose from, three mains and dessert.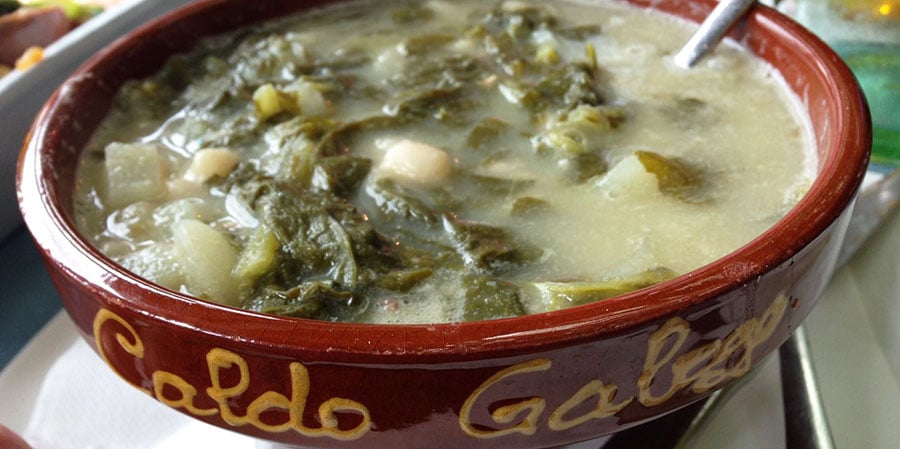 Starters usually include soup or broth, salad or fish. Mains generally include fish or meat with chips/potatoes and bread.
There is typically a vegetarian option available. Common deserts will be cheesecake, crème caramel, banoffee, ice cream.
Drinks are generally not included in your menu, although in some cases it might be included free of charge at the hotel's discretion. Some might provide wine free of charge but it is not included as standard.
The type of dish will vary depending on the region you are walking, as each area has its own seasonal and local dishes and specialities.
For example, fish will be more common in Galicia, the Northern Coast and the Portuguese coastal regions than in other inland areas.

Dietary Requirements on the Camino
Your booking will include your dietary requirements and all the hotels will be notified, however, please remind them once you have arrived. Most hotels will do their best to accommodate dietary requirements.
Although we also recommend bringing specific products you might be used to and might not be readily available in other countries (remember you can pack them with your luggage and get them transferred to the following stop).
General Camino meals
Before you travel, be aware of the different way of organising meals in other countries: for example in Ireland and the UK salad might be included as part of the main course.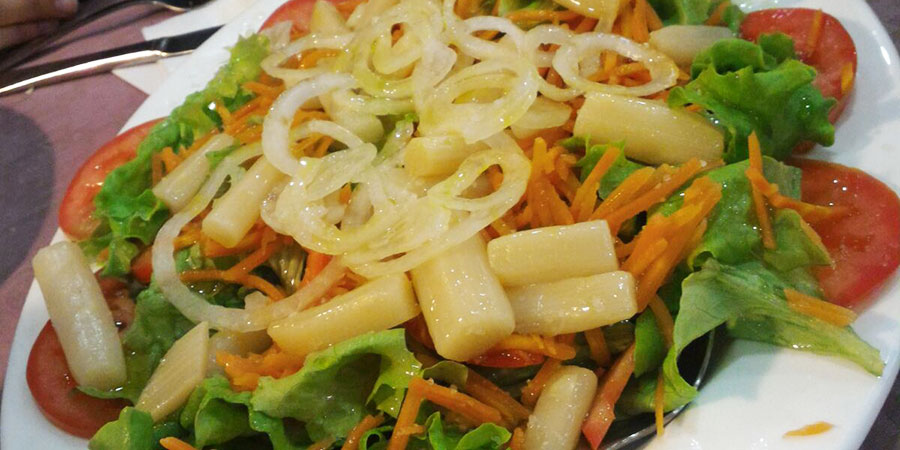 In other countries, such as Spain, this might not be the case and salad might be included as a starter option instead. However, in most restaurants/hotels you will be able to order additional side dishes, if you feel the need, for a few extra euro.
Also bear in mind restaurant opening and mealtimes are different. Across most of Spain restaurants open for lunch until 3-4 pm and for dinner from 8 pm (at the earliest!).
However, particularly in bigger towns and cities, most bars will serve free nibbles with your drink in the evening (7pm-ish) or have very reasonably priced tapas available to keep you going until dinner time.
It is also worth keeping in mind breakfast can vary greatly from country to country: what's normal in one place, will not be the norm in another one. Bigger properties will generally try to cater for all styles but in smaller places, choices will be more limited.
Please note, our packages are also available on a B&B basis, if you prefer to arrange your dinners independently.
You can download our free guide to food on the Camino here: Camino Food ebook.
For more information about food on the Camino, the Camino de Santiago routes or to book your trip, contact our travel specialists