Festive Gingerbread Cookies Recipe
Gingerbread Cookies are very popular in many countries around Europe, including Italy and France. They are very easy to make and can also be a special and original gift idea! Let us know how you get on with this delicious festive Gingerbread Cookies recipe!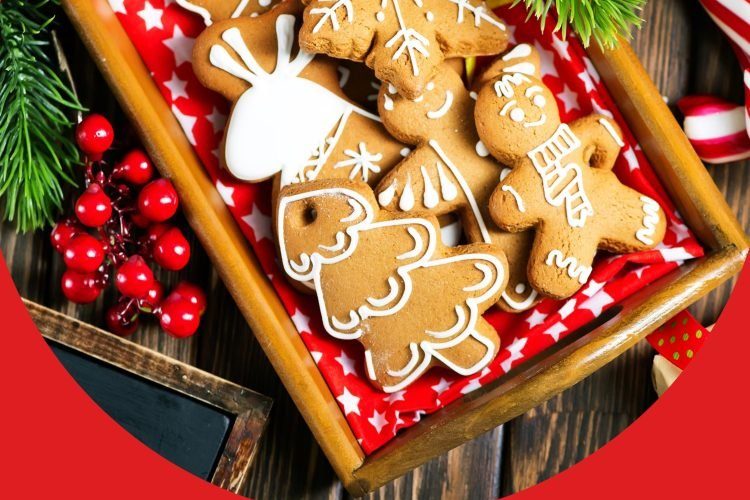 Ingredients:
For 30 cookies:
3 cups (350g) all-purpose flour
1/2 teaspoon salt
3/4 teaspoon baking soda
2 teaspoons ground ginger
2 teaspoons ground cinnamon
1/4 teaspoon ground nutmeg
1/2 teaspoon ground cloves
2/3 cup (150g) butter, room temperature
2/3 cup (160g) granulated sugar
1 egg
2/3 cup (150g) honey (or molasses)
For the confectioner's frosting:
1 cups (150g) confectioner's sugar
1 (30g) albumen
Food colouring
Method:
In a large mixing bowl, sift the flour, sugar, all the spices and the baking soda.
Add the butter in small cubes and the honey (or molasses).
Mix at mid-speed until combined and then add the egg and mix again.
Roll up the dough. After that, you can take the dough, divide it and extend it with the rolling pin until you get a fillo dough of a height of 4mm (1,7in).
Cut the dough into your favourite shapes. The gingerbread men are the classic ones.
Place your shapes of dough on a baking tray covered by parchment paper. Preheat your oven at 180°C (356°F) and cook your cookies for around 10-12 minutes. When they are a golden colour and your kitchen starts to smell very nice, they are ready!
In the meantime, you can prepare the confectioner's frosting.
Whip the albumen and add the confectioner's sugar in inch by inch while mixing. Divide the frosting in as many bowls as you have food colourings. Mix the colourings and once the cookies are cold, go wild with the colours! The frosting then needs to cool down for a while.
We hope you enjoyed this festive gingerbread cookies recipe. For more foodie inspiration, visit our Food & Wine section and read all about food on the Camino.