Barcelona
While Barcelona often steals the limelight as the epicentre of the extraordinary architect Antoni Gaudí's masterpieces in Spain, walking or cycling the Camino de Santiago offers ample opportunity for architecture fans to discover Gaudi's works along the Camino.
Antoni Gaudí was a Spanish architect renowned for his unique approach and distinctive style. Born in Catalonia in 1852, he became synonymous with Modernisme, the Catalan equivalent of the Art Nouveau movement. Gaudí's designs were deeply influenced by his love for nature. His extraordinary contributions to architecture have left a lasting legacy, with many of his masterpieces declared UNESCO World Heritage Sites.
Camino del Norte
In particular, the charming town of Comillas is a treat as it's home to Gaudí's earliest commission. This town, with a rich history spanning over 1,500 years, is strategically positioned along the Camino del Norte path. Wandering its narrow streets, you are immediately transported to bygone eras, surrounded by medieval structures. In fact, the town was originally a fancy spa haven for the Spanish elite!
The Caprice
Arguably the standout among these architectural marvels is the Caprice. This Gaudí masterpiece hails from the early days of his career, specifically between 1883 and 1885. Maximo Diaz de Quijano, the person behind this commission, had a deep appreciation for botany and detailed adornments. Gaudí, masterfully blended these passions.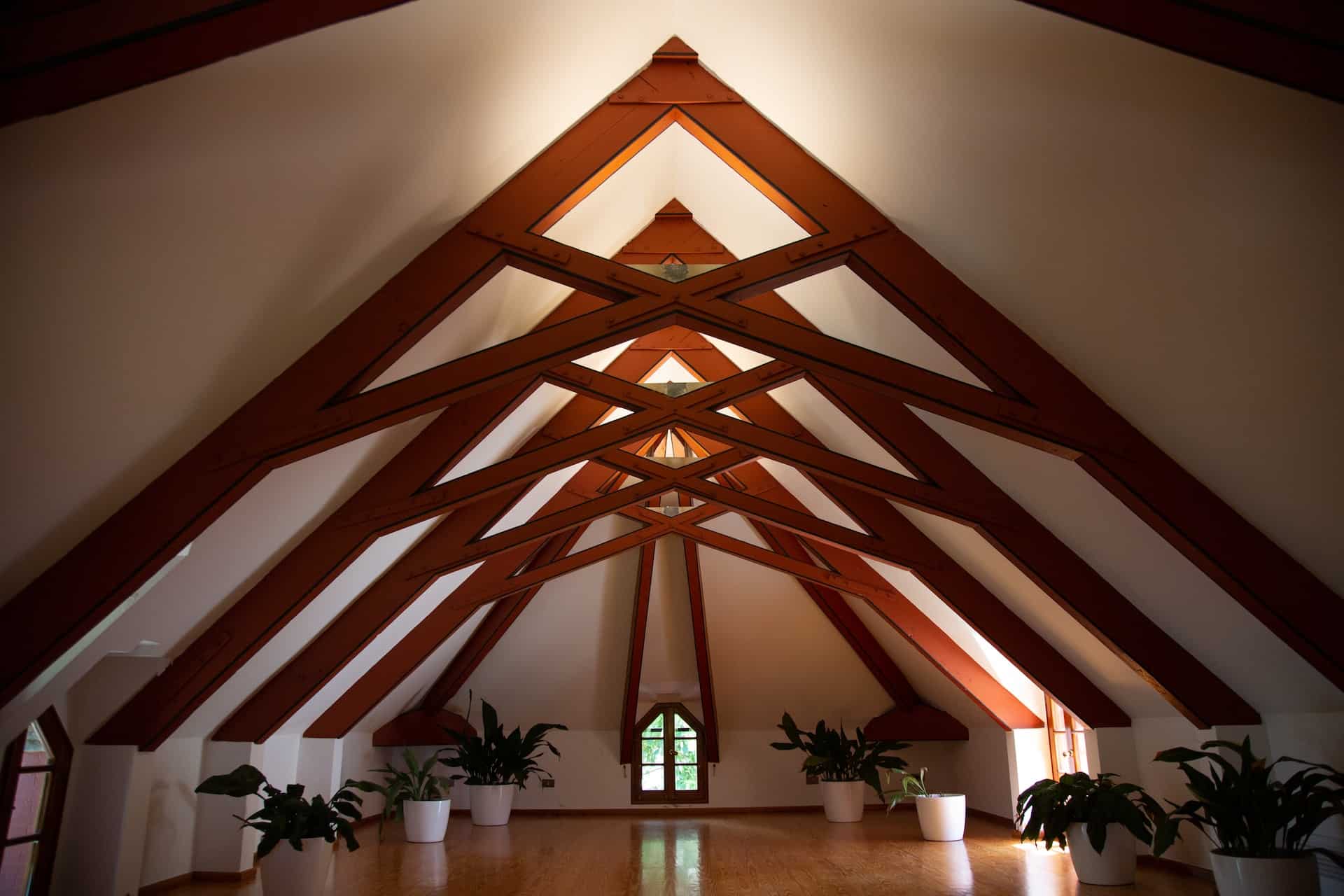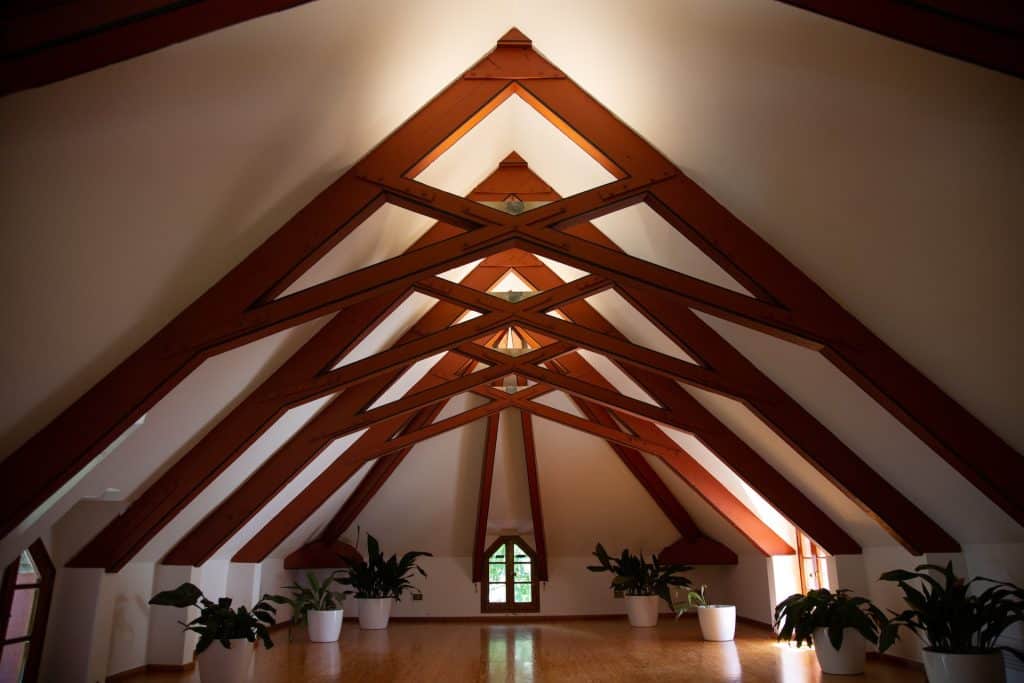 Camino Francés
For those journeying through the Camino Francés, Gaudí's brilliance can be encountered not once, but twice. The Episcopal Palace in Astorga is the first. The origin of this commission traces back to a misfortune—the original building succumbed to a raging fire. Crafted using grey granite extracted from El Bierzo, the palace is a reflection of the neo-medieval style, reminiscent of the neighbouring cathedral. The grand arches and buttresses adorning the palace's entrance are exquisite. They also hint at design elements that Gaudí would later infuse into his legendary creations in Barcelona.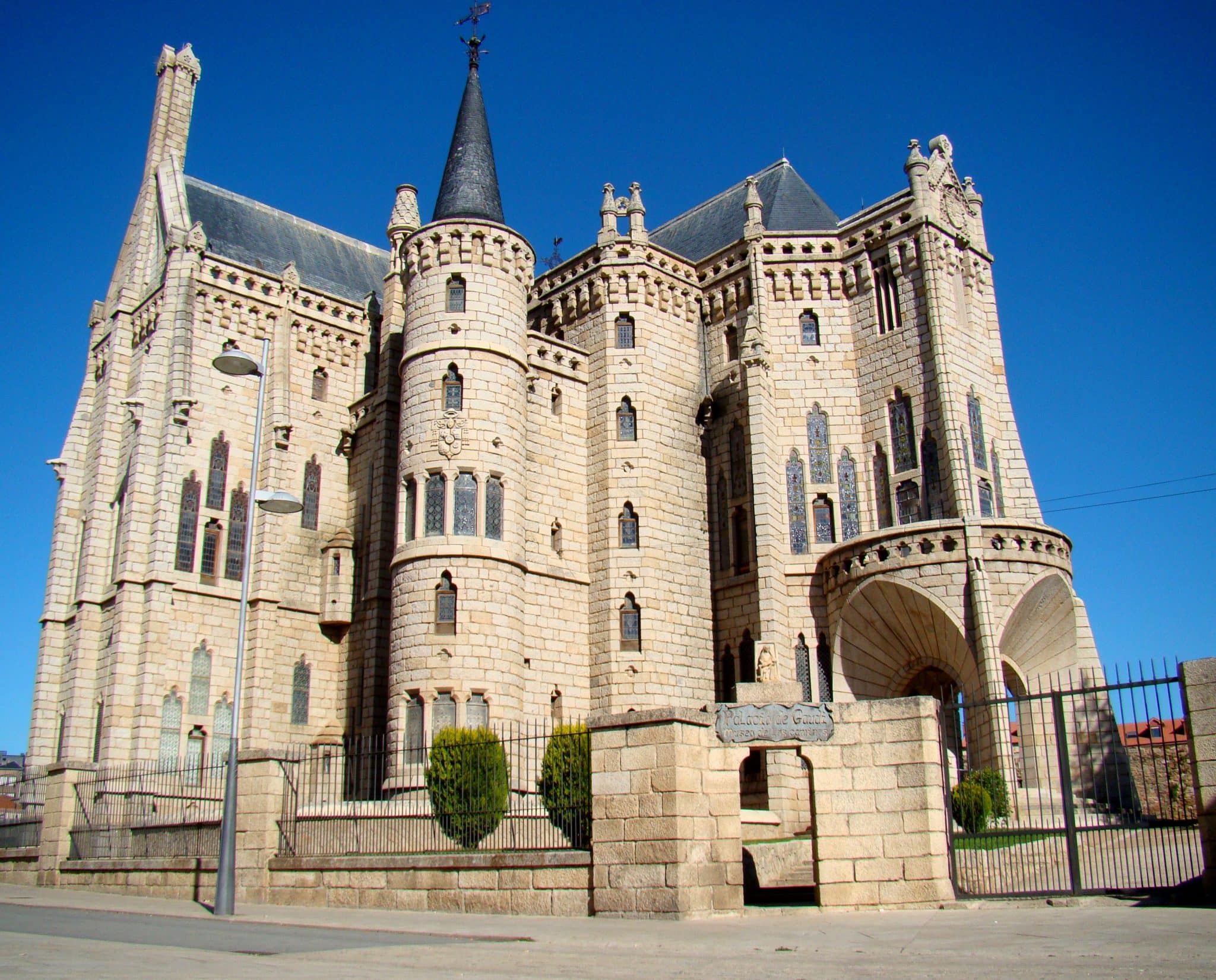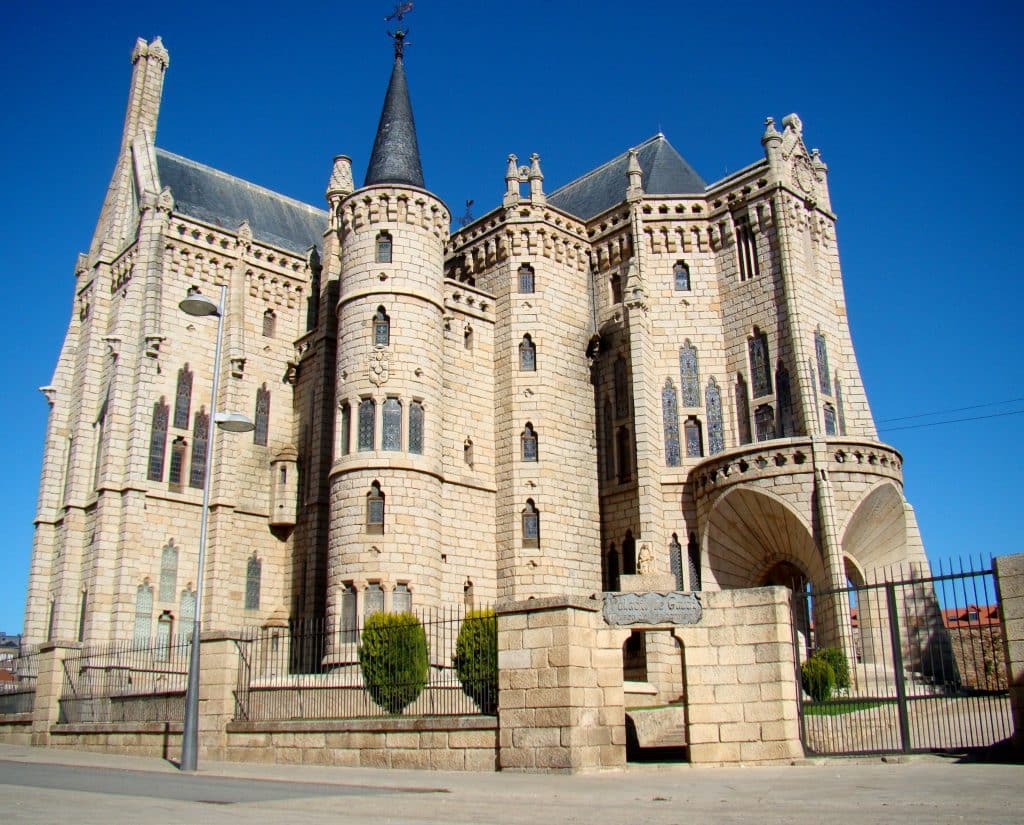 Léon
Another destination on the Camino route for Gaudí enthusiasts is Léon. Here, Gaudí created a dual-purpose structure; a residence/warehouse. This commission was a request from a confidant of his Barcelona patron, Guell. The building saga began in 1891 and saw its culmination the subsequent year. Gaudí, drawing inspiration from Léon's rich medieval tapestry, included neo-Gothic elements in the design. Noteworthy features include the sharply pitched roof and the imposing four corner towers. This architectural gem, christened Casa de los Botines, stands as a tribute to an initial business ally of the owner. However, in 1929, a twist in its narrative saw the local savings bank acquiring it and subsequently transforming it into its main office. Leon is at the start of the last 300km of the Camino Frances, you can start there by using our Camino Planner.
While Barcelona remains synonymous with Gaudí, the Camino route offers plenty of opportunities to discover Gaudi's architecture along the Camino.
If you are interested in discovering Gaudí's architecture along the Camino or are interested in finding out more about a Camino adventure in general, contact us