Every year charities from around the world embark on fundraising challenges and Depaul is one charity we are proud to support.
Depaul is a charity helping homeless people across the UK and Ireland. They are willing to do whatever it takes to decrease the risk of homelessness and help people to rebuild their lives.
They manage over 25 specialised accommodations, provide over 596 beds, support over 3,600 people each year. while projects such as Nightstop and family mediation are changing the lives of thousands of young people in the UK. With urgent homeless appeals,community fundraising and challenge events they strive to raise awareness of all issues facing homeless people.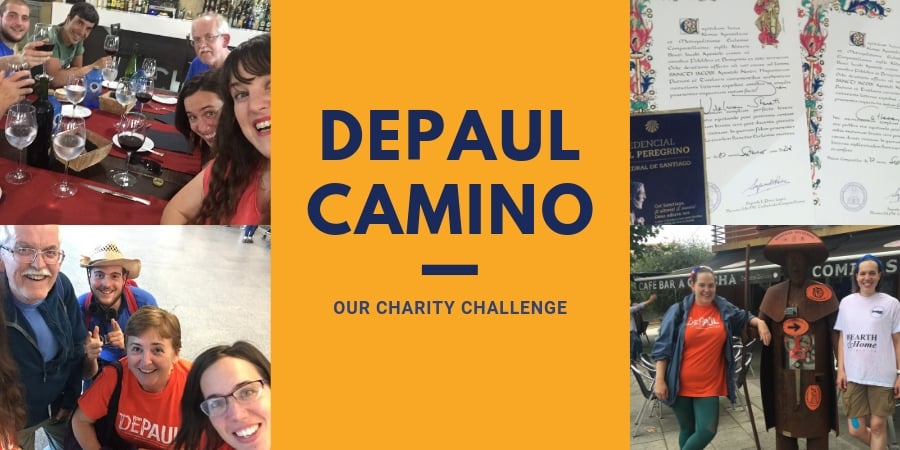 To maintain their services they need to fundraise each year and ensure that they are getting the message out to the public.
This year a group of advocates will embark on a Camino journey. People from all over the UK and Ireland will fundraise and trek the last week of the Camino Frances.
George is one of the many people that Depaul has helped over the years. In 2017 he decided to give back to the community that helped him and raised money to help other young people. He walked more than 100km along the Camino de Santiago, over rough terrain. Here is a short account of his experience.
"At 18 I became homeless while I was still at sixth form. I was studying for a Level 3 BTEC extended diploma in health and social care and hoped to go on to university. It was a difficult time for me, during which Depaul helped with the fundamental support that helped me get into my own rented accommodation. They provided me with a range of support, from giving me somewhere to stay to helping me to achieve my education goals.
I donated my spare time to volunteer in the coffee room while developing my barista skills and further improving my customer service skills. I am now able to use my own initiative when a problem occurs. For example, if the coffee machine isn't working, I write a sign to inform customers, apologise and offer alternative hot beverages.
It's not just about housing though, Depaul can also have a positive impact on other aspects of people's lives. Nearly 100 percent of people helped by Depaul reported a positive change in their education or employment status, and 75 percent had better physical health. I am one of these statistics.
I am now 20 and I started University in October 2018, studying Sport Rehabilitation at Middlesex University. I feel it is going to be a positive challenge which will guide me to my career path, which is to be a fully qualified sports rehabilitator under the BASRaT (British Association of Sport Rehabilitators and Trainers) regulating body. Without the support I had from Depaul, I wouldn't be on this path, and that's why I'm raising money to help other young people just like me."
George completed his Camino from Sarria to Santiago, raising over £1,750 to contribute to Depaul services.
This year you can join a group of walkers fundraising for the Depaul Charity in August when they will walk a section of the Camino Frances in support of the charity. For more details on the trip contact [email protected]