Organising Memorable Camino Charity Challenges
Overseas Camino Charity Challenges are a fantastic way to raise money for good causes. A shared Camino experience will help raise awareness, gain public attention, increase long-term support for your charity and promote a healthy lifestyle message.
We can help you organise a great adventure on the Camino de Santiago with your charity supporters. Our group tour experts have years of experience organising charity treks and we are here to help, get in touch.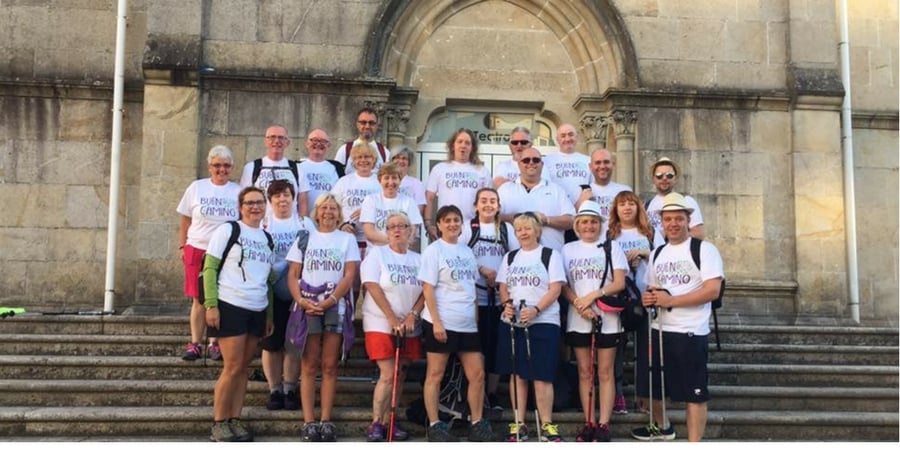 CaminoWays.com organises and supports fundraising charity treks and challenges on the many Camino routes and the Via Francigena (the Camino to Rome).
How we can help make your Camino Charity Challenge a success:
Tailored itineraries, including hotels
Many different routes to choose from
Airport and luggage transfers, meals and local guides included
Marketing and promotion assistance
Recruitment & information events
Fitness advice & training days
'Trek Pack' material with detailed Camino information
Gear discounts in selected outdoor stores
Read our Camino Charity Challenges FAQ's
These are some of the wonderful charities we have worked with at CaminoWays.com, helping them raise funds for amazing causes and projects: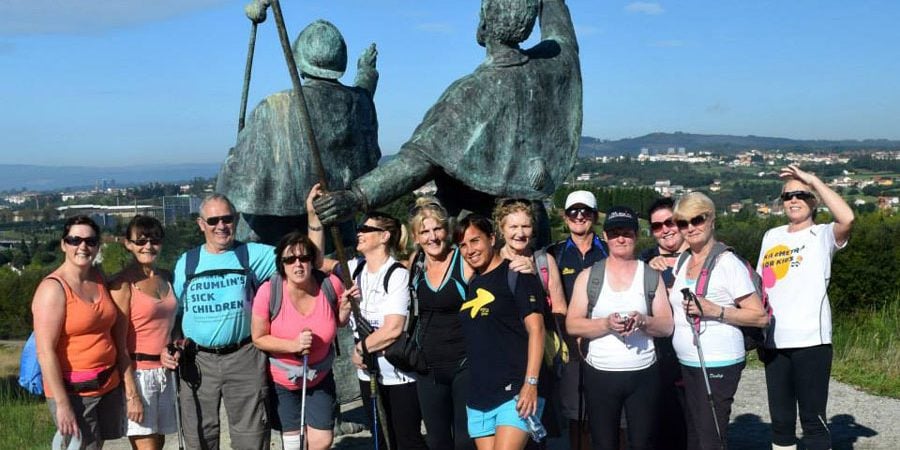 BREAKTHROUGH CANCER RESEARCH
Irish medical cancer research charity to inspire and support research into cancer in Ireland.
IRISH CANCER SOCIETY

Investing in cancer research and supporting families affected by cancer across Ireland.

SUMMIT FOR STEM CELL
Funding neuron replacement therapy.

PARKINSON'S ASSOCIATION OF IRELAND
Helping and supporting those families affected by Parkinson's across Ireland.

DEPAUL UK
The Depaul Group started their work in 1989 in response to the growing number of homeless people on the streets of London and has since expanded to other countries. Depaul UK today focuses on young people in crisis.
 
MARIE KEATING FOUNDATION
The Marie Keating Foundation team has walked both the French Way and the Portuguese Way, raising funds for their important cancer support services and awareness work. Their trek even featured in a RTE Documentary.
MAYO ROSCOMMON HOSPICE
The Mayo Roscommon Hospice team has trekked many Camino routes over the years, including the Portuguese Way and the French Way.
WORLD VISION IRELAND
The trekkers at World Vision Ireland have tackled the famous Camino Frances route and they have more fundraising adventures coming up, both on the Camino and in Ireland.
MAINSTAY DRP
Mainstay DRP provides care and support for families affected by learning disabilities in County Down. Their fundraising treks have taken them to the Camino Frances, Portuguese Way and Finisterre.
CMRF CRUMLIN CHILDRENS HOSPITAL
The CMRF Crumlin team are also among our keenest adventurers, having trekked the Camino de Santiago and Sierra Nevada raising funds for Crumlin Children's Hospital Dublin.
CAMPHILL COMMUNITIES
The Camphill Communities team has walked both the French Way and the Portuguese Coastal Way, raising funds for their work with people with intellectual disabilities.
SOUTHERN AREA HOSPICE
The team at Southern Area Hospice from Northern Ireland are Camino experts at this stage, having walked many sections of the Camino de Santiago: across the Pyrenees, La Rioja, the Meseta and in Galicia. The Southern Area Hospice Camino fundraising trek helps the organisation raise funds to support patients with life-limiting illnesses.
PETER MCVERRY TRUST
The team at Peter McVerry Trust are keen trekkers and have hiked Tour du Mont Blanc a few times. Their work focuses on reducing homelessness and social disadvantage in Dublin's inner city.
DIABETES IRELAND
Diabetes Ireland, the charity helping people living with diabetes, has taken to the Camino a few times, including the Portuguese and Portuguese Coastal routes.
MS SOCIETY IRELAND
MS Society Ireland, the Multiple Sclerosis charity has trekked a few Camino de Santiago routes, including the Portuguese and French Way.
SIMON COMMUNITY
The Simon Community team works to prevent homelessness in Ireland since 1969. They have walked the Camino Frances to Santiago several times.
ST. JAMES HOSPITAL DUBLIN
The team of St James Hospital, a teaching hospital in Dublin city, has also hiked their namesake Way of St James as part of their fundraising activities.
BRAIN TUMOUR RESEARCH – GLENN MCMAHON FOUNDATION
Wendy McMahon from the UK walked the Camino in memory of her husband Glenn and to raise funds for the foundation named after him: the Glenn McMahon Foundation.
SELF HELP AFRICA
Development agency Self Help Africa supports communities across rural Africa to eradicate hunger and poverty.
CAPPAGH HOSPITAL FOUNDATION
The Cappagh Hospital Foundation fundraising treks contribute to improving patient care as well as research, development and education at Dublin's orthopaedic hospital.
MICHELLE HENDERSON CERVICAL CANCER TRUST
Based in Scotland, the Michelle Henderson Cervical Cancer Trust is a small charity supporting women affected by cervical cancer.
BEAUMONT HOSPITAL FOUNDATION
The Beaumont Hospital Foundation raises funds to constantly improve services for patients at Beaumont Hospital in North Dublin.
MY AWARE
My Aware has been working for 40 years to help people in the UK living with myasthenia, a severe muscle disease.
FOYLE HOSPICE
Foyle Hospice provides care for cancer patients in the Derry/Londonderry area, in Northern Ireland.
TEENLINE IRELAND
The Teenline Ireland team works to improve the well being of young people going through difficult times across Ireland.
SOPHIA HOUSING
The Sophia Housing team trekked the Via Francigena across Tuscany to raise funds for their housing programmes across Ireland.
CARDIAC RISK IN THE YOUNG CRY
CRY is an Irish charity supporting families affected by the loss of a loved one by sudden cardiac death. The team has trekked the Camino many times.
BREAST CANCER NETWORK AUSTRALIA
BCNA is a network of 288 member groups supporting and empowering Australians affected by breast cancer.
NATIONAL BREAST CANCER FOUNDATION AUSTRALIA
The National Breast Cancer Foundation Australia funds breast cancer research, the most common cancer facing Australian women. They have walked the Camino Frances from Sarria.
MANUELA RIEDO FOUNDATION
Team Manuela raises funds to raise awareness and prevent sexual crime in Ireland. The foundation honours the memory of Swiss student Manuela Riedo. They've been part of the Cawley Camino twice and have organised a fundraising trek on the Coastal Camino Portugues.
NEW ZEALAND BREAST CANCER FOUNDATION
Breast Cancer Foundation New Zealand has a vision: zero deaths from breast cancer. To achieve this they promote breast awareness and early detection. they have walked the Camino Frances from Sarria.
ROSS HELPING HANDS FOUNDATION
Ross Helping Hands is a non-profit company assisting local cancer patients and their families in the East London area. They have walked to Santiago from Sarria on the Camino Frances.
CURE BRAIN CANCER
Cure Brain Cancer Foundation focuses on brain cancer research and awareness in Australia and has a mission to increase survival rates by 2023. They've walked the Camino Portugues from Tui to raise funds.
AWARE
Since 1985, Aware has been supporting people affected by depression, bipolar disorder and other mental health disorders in Ireland. They've walked the Camino Frances from Sarria.
CANCER FOCUS NI
The team at Cancer Focus Northern Ireland work to reduce the impact of cancer on people's lives since 1969. They climbed Kilimanjaro with us in 2017.
For more information about our Camino Charity Challenges and to sign up for your own, please don't hesitate to contact us.