Being an outdoor enthusiast, I was very excited to set off on a cycling trip with my colleagues on the Camino in October. We were cycling the Portuguese Coastal Way, starting in the beautiful City of Porto.
We arrived at Porto late in the evening just on time for dinner. We didn't have much time to explore the city but from what we got to see it did leave a good impression, making me want to come back to Porto and spend more time exploring the city. As our first cycling day was the longest out of the three, we decided to start the day as early as possible. That morning we left our luggage at the reception and set off straight after breakfast.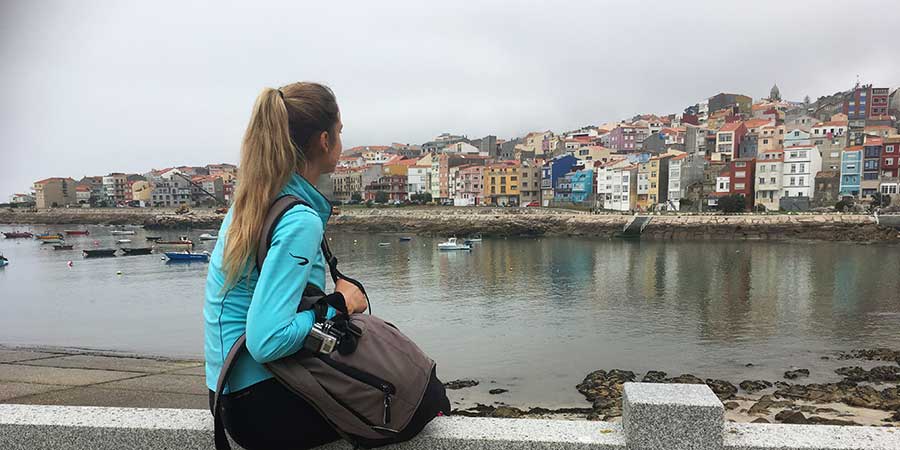 As the weather forecast was looking great all weekend I was expecting a sunny start to our first morning, unfortunately, we were greeted by thick, heavy fog. The first step was to leave Porto city and get to the coast, but before we did that we had stop at the Cathedral in Porto to collect our first stamp on our pilgrim passports. This was like a symbol that our journey is about to begin. Although the fog was thick, and we were not able to see more than 3 meters in front of us, it also made the experience more unique, as I don't normally imagine cycling early morning in Portugal in fog. As we continued cycling towards Esposende we were eventually going towards the sun leaving the fog behind us. At this stage, we were on the coast, the Atlantic Ocean was on our left, the sun was shining and not a single worry on my mind. I did not have to worry about getting lost as we had the cycling notes and maps to guide us, our accommodation was already booked, dinner was included, and we knew that our luggage will already be at the hotel by the time that we arrive. I guess that would be the main reason why people would choose to travel with us. Everything is done for you, all you need to do is get on the bike and cycle.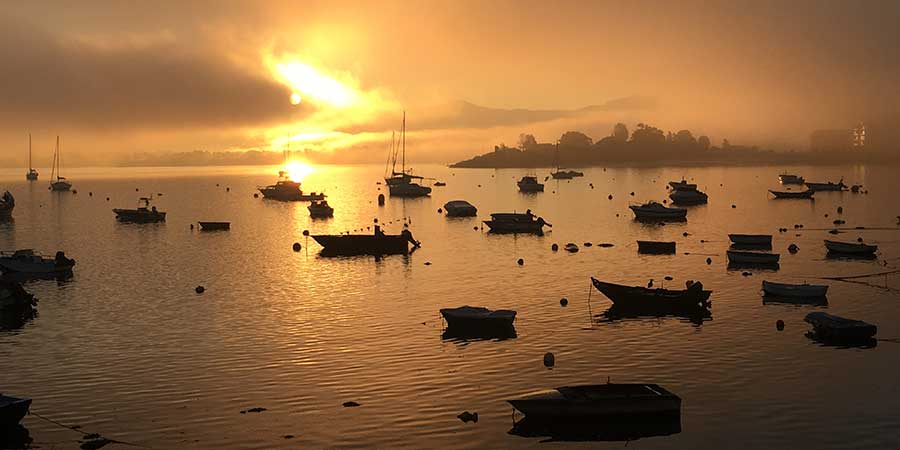 After a long day of adventures, we were delighted to finally arrive to our hotel in Esposende. We completed our longest day of 62km in 9 hours, including an hour stop for lunch in Vila do Conde and plenty of stops for pictures.
The next morning, as soon as we got back onto our bikes I realised that I made a good decision when buying that bike seat cover. Although I am used to cycling long distances, if you don't do it often the hard and narrow bike seats do make your cycling trip slightly uncomfortable.
Our second day started exactly the same as the first one with thick fog covering the beautiful coastal view and soon after becoming another wonderful sunny day. My highlight of this day has to be the town of Viana do Costelo and its magical street of umbrellas that we passed along the way.
As we had less kilometres to cycle today, we arrived at our hotel earlier and more time to explore the lovely town of Villa Praia de Ancora. I had over an hour to go until our dinner, therefore I got my camera and went out to wonder around on the beach, which was only 2 minutes from our hotel. This is a true paradise for surfers, therefore if you are into surfing or would like to try it out, this is the right place to spend more time in.
Before we noticed it was already our last day on the Camino. Although this was another shorter day and we could choose to have a lie in, we decided to leave our hotel early after breakfast to arrive to Baiona early enough so that we can explore the town and have more time to enjoy it. This was also a very exciting day as we had to get a boat into from Spain into Portugal. We all agreed that the boat trip was one of the most memorable experiences of the trip. We knew that this was not the first time for Mario transferring people with bikes as when we told him that there is 5 people with bikes that need to fit into this small boat, he did not blink twice.
As soon as we crossed the border into Spain we were cycling on beautiful boardwalks and cycle tracks along the coast until we reached A Guarda. We stopped for our last lunch in Oia and continued on to Baiona for our final point. Once we finally reached in Baiona we went out to explore the town before dinner. One can find many bars and restaurants along the beach, which fill up later in the evening with families and friends.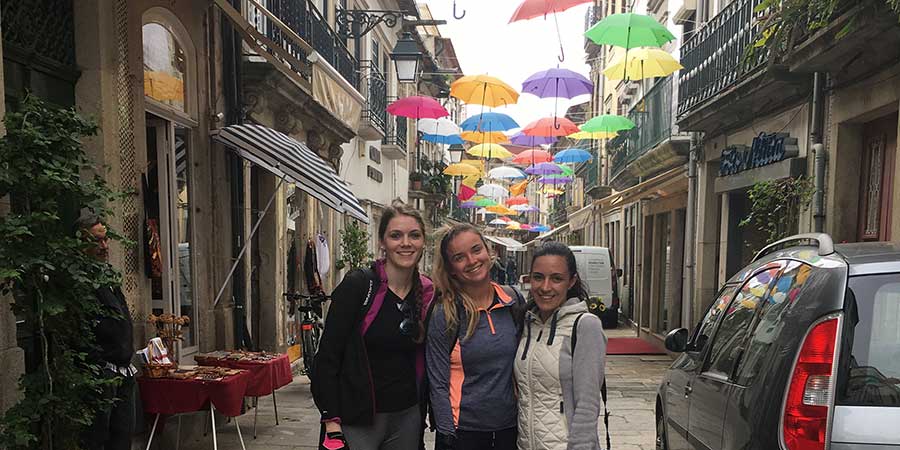 We finished off our journey cycling the Portuguese Coastal Way with some tapas in the local bar and another filling dinner in the nearby restaurant.
It's the memories you make that stay with you after the trip and this trip was surely full of memorable moments. I cannot wait for my next Camino adventure!