Also known as Antroido, Entroido or Carnaval; Carnival is one of the best loved festivals in Galicia and across Spain, by people of all ages; and a great time to experience a very different and colourful side of the Camino de Santiago.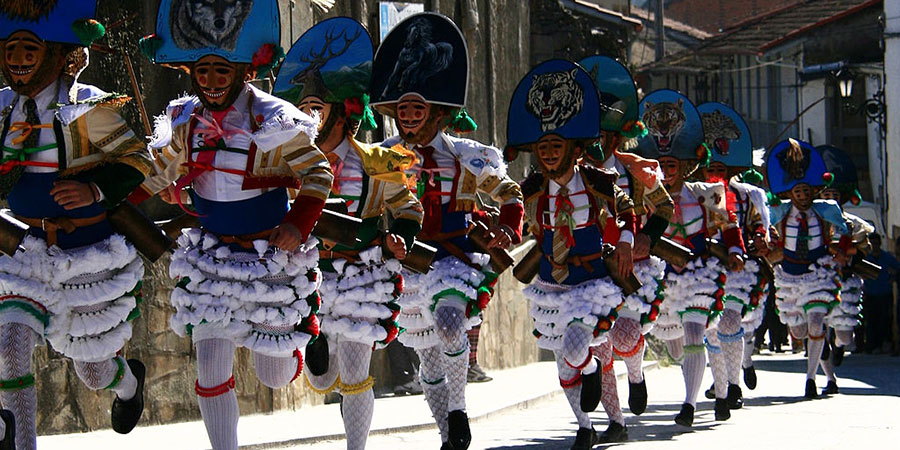 *Peliqueiros de Laza. Image courtesy of Turismo de Galicia
For generations, Carnival has been the time to have a bit of irreverent fun, mock authority and indulge before Lent; but its origins are much older than that, Carnival is intrinsically linked to celebrations marking the arrival of Spring.
Whether called Antroido, Entroido or Carnaval, this most indulgent of festivals is widely celebrated in villages, towns and cities across Galicia.
Some of the oldest and most unique and spectacular Carnival festivals take place in the province of Ourense, in the towns of Xinzo de Limia, Verín and Laza.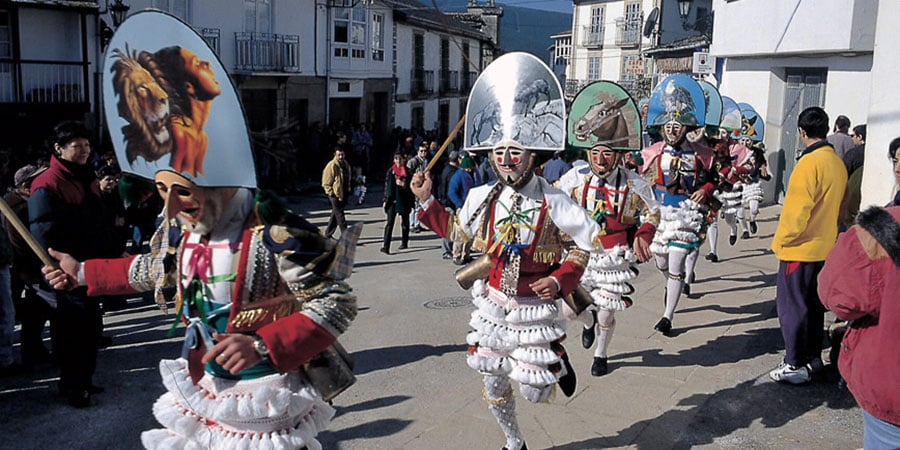 Each of the towns has its own traditional characters and traditions, such as the epic flour and ant-throwing battle in Laza (on the Via de la Plata Camino route); as well as its outlandish hand-painted masks and outfits complete with noisy cow bells.
However, if you can't make it to Ourense, most towns and cities including Santiago de Compostela will host festivals and fancy dress parades, particularly on Pancake Tuesday (Martes de Entroido), the last and biggest day of the Carnival calendar of festivities.
Pancake Tuesday might be the biggest and most colourful day but celebrations in most towns will start as early as a week before that or even earlier.
Carnival in Galicia goes hand in hand with food. What will you be eating if travelling the Camino de Santiago in Galicia this time of the year?
Prepare yourself for plenty of pork-based dishes, as well as a wide range of pastries, cakes and sweet treats with interesting names such as 'orellas de frade' (monk's ears).
Try the Carnival Camino recipes tried and tested by the CaminoWays.com team: Pancake recipe
For more information about more our Camino routes or to book your Camino trip, contact our travel specialists