Camino Holy Year 2022 | All You Need To Know
Camino Holy Year 2022 is officially here! As you may already know, the 2021 Holy Year celebrations were extended into 2022 in order to allow for greater recovery from the pandemic and to extend celebrations throughout 2022. This was a great idea of course because we all need a little bit more joy after the past two years.
You can read more about the Camino Holy Year 2022 extension on the official Confraternity of St. James website. But for everything else, we've got you covered. So here is all you need to know about Camino Holy Year 2022!
What is Camino Holy Year 2022?
2022 is going to be a very special year on the Camino de Santiago, as it is considered a Holy Year or Ano Xacobeo. This means the Feast of St James, 25th July, falls on a Sunday.
This only happens every few years and the last Ano Xacobeo was in 2010. In fact, because of our leap years, Holy Years actually only occur 14 times in a century, so it really is quite a unique experience.
We are very much looking forward to the Camino Holy Year 2022 (Ano Xacobeo 2022) on the Camino de Santiago. For pilgrims everywhere, the year 2022 is filled with hope and will be a very special year to walk the Camino de Santiago.
But before you get too excited, let's learn a little bit about Camino Holy Year 2022 and why it's such a special event for pilgrims.
In 2021, the feast of St. James (July 25th) fell on a Sunday, thus making the year a Holy Year. St. James is the patron saint of Spain and according to the New Testament, he was one of Jesus' 12 Apostles.
His remains are said to be buried in the Cathedral of Santiago de Compostela and are therefore a major source of pilgrimage. People have walked the Camino to Santiago for thousands of years, a pilgrimage we still make today.
July 25th is also Galicia's national day, which is quite fitting as it's home to the Camino de Santiago.
During every Holy Year (which includes 2022), a special entrance called the 'Holy Door' is opened on the east side of the Cathedral and since the 12th Century, pilgrims who visit the shrine on the Holy Year are granted a Plenary Indulgence.
In 2022, there is an expectation that there will be high numbers of pilgrims on the Camino (in the latter half of the year) and it will be the most significant Camino year in living memory, especially as we have been restricted from travelling for so long.
Planning to Walk The Camino de Santiago During Holy Year 2022?
During Camino Holy Year 2022, it is very likely there will be more pilgrims on the trails than ever before. While this is wonderful for meeting like-minded people and sharing in a very unique experience, it's a good idea to plan your trip as soon as possible.
A question we often get asked is "How far in advance should I book?" The answer is as far in advance as possible as you'll be more likely to avoid any disappointment and secure the type of experience you are looking for.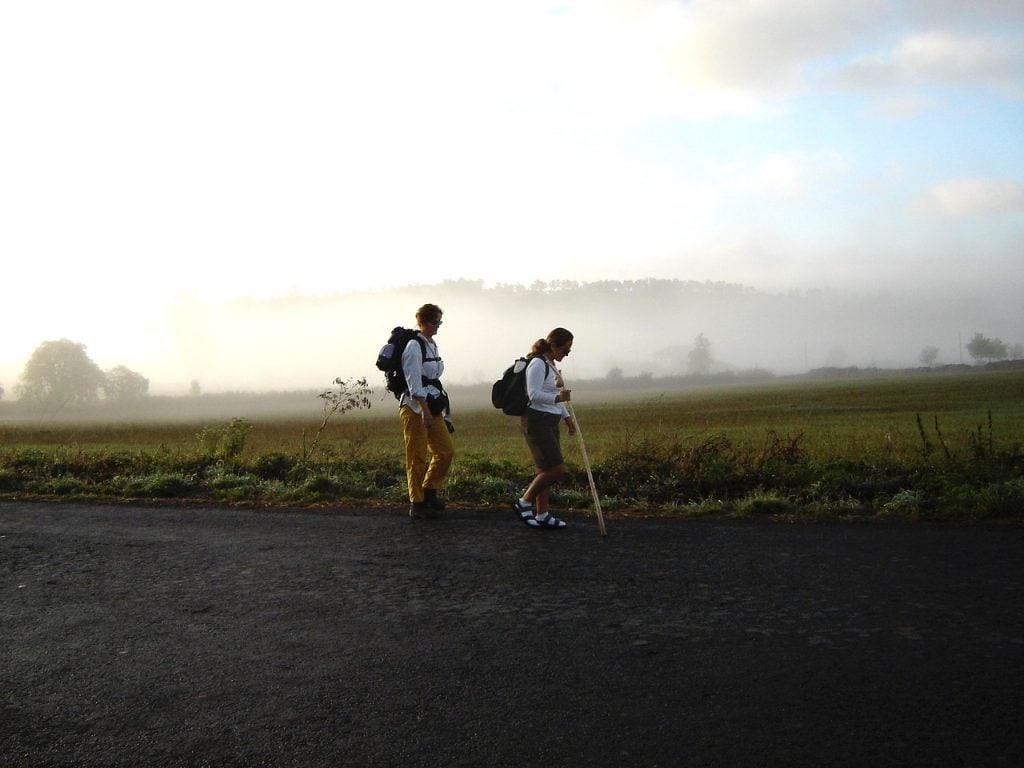 There can also be limited availability for accommodation along the popular routes, especially during the busier times of the year, so the earlier you book the better! Any questions, queries or requests can be directed to our knowledgeable team when you make a quick quote.
Whether you're after the solo experience or you'd prefer the comfort and company of a group, we have something for everyone. We still have spaces left on our 2022 Camino de Santiago Guided Tours if you would prefer to be part of a tour.
Whatever way you choose to walk (or cycle) the Camino de Santiago in 2022,  you can expect a very memorable trip filled with joy, hope, and spirituality. The Spirit of the Camino is alive and well and will be in full force in 2022!
Which Route Should You Choose For Camino Holy Year 2022?
While there'll be great fun to be had on the Camino Frances, this might be a great year to choose one of the quieter routes, which are likely going to be busier than usual anyway! One great option if you choose to go down the more peaceful path is the Camino Primitivo.
The Camino Primitivo is the oldest of the routes and one of the most challenging. However, the views are simply spectacular. There is also the Via de la Plata, the longest of all of the routes. The last 100 KM of the Via de Plata, however, is the most beautiful of all of the ways into Santiago, so this could be an option for a less busy yet beautiful Camino journey.
We have many other Camino routes to choose from for 2022, so there is sure to be something for every interest and level of ability. Make sure to read some of our travel articles to help inspire your trip for 2022!
How We Can Help You Plan Your Camino
As we've previously mentioned, booking early is your best chance for securing your dream trip. Camino Holy Year 2022 is going to be very busy and we want you to have the best of the best!
If you book your trip with us, we'll look after the maps, walking notes, luggage transfers and accommodation. We also have a 24-hour assistance number to help ensure that your trip is as hassle-free as possible.
Have you got more questions?