"As great boardgames players that we are, we missed a game that brought up the heritage, curiosities and magical traditions of Galicia and its Xacobean routes until we realized that we had to do it ourselves, it combines many of our great passions"

Introducing Ultreia, the Camino Game!
Ultreia
, the first card game of the Camino de Santiago, is already on sale in the
online store
from where shipments are made to anywhere on the planet.
The game devised by Gina Gisbert, a Valencian who got to Galicia on a pilgrimage more than 11 years ago and settled in one of the towns most traveled by pilgrims, and María Pardo, a young Galician graduate in Art History, allows us to recall all the magic, curiosities, and data of interest of this ancestral route in the most fun way.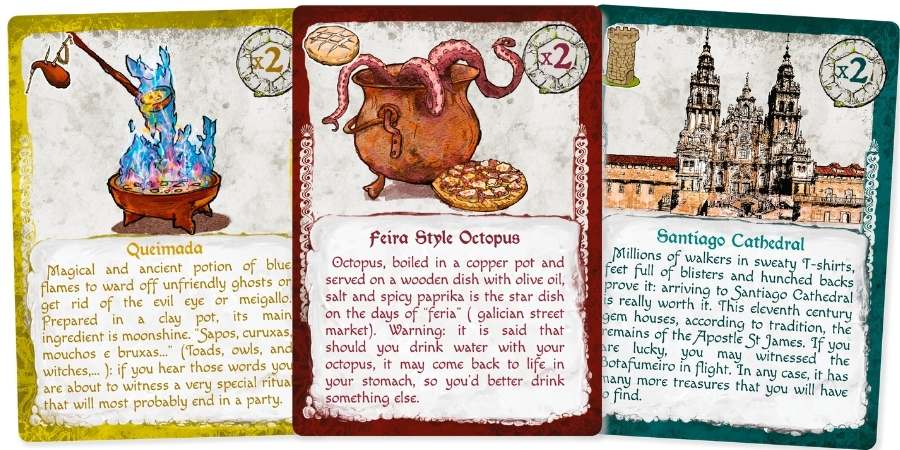 With ten different characters, (representing pilgrims from all over the world), and 100 playing cards, one can go through the stages of the Camino and stamp the  Credential (pilgrim's passport) while collecting a number of accommodation cards, Galician traditional meals (Galician broth, octopus fair-style or padrón peppers…), festivities as Saint John's night or Samhain, traditions as 'las meigas' (Galician witches) or the flaming beverage 'Queimada', remarkable monuments to find along the way, or the final destinations cards as Fisterra or Santiago itself.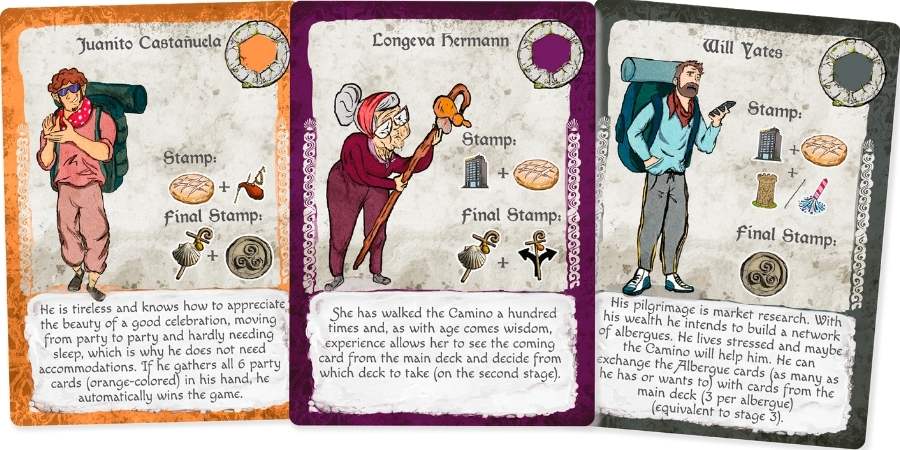 Among the characters that players can embody are Claudine LeJubiler, the retiree who carries too much luggage in her backpack, Will Yates, the stressed businessman who makes the way to invest in hostels, or Aluna Liceu, the lost student who makes a pilgrimage looking for answers. 
To make the journey more fun and intricate, just like the real one, players can also cast or receive the "meigallos", magic cards and spells that could help to reach Santiago or sometimes take the pilgrim away from its final destination.
The game is 100% Galician-made since the whole game is printed in the Galician artisan workshop: Troquel Games, very close to Santiago de Compostela, and it is published in three languages: English, Spanish and Galician.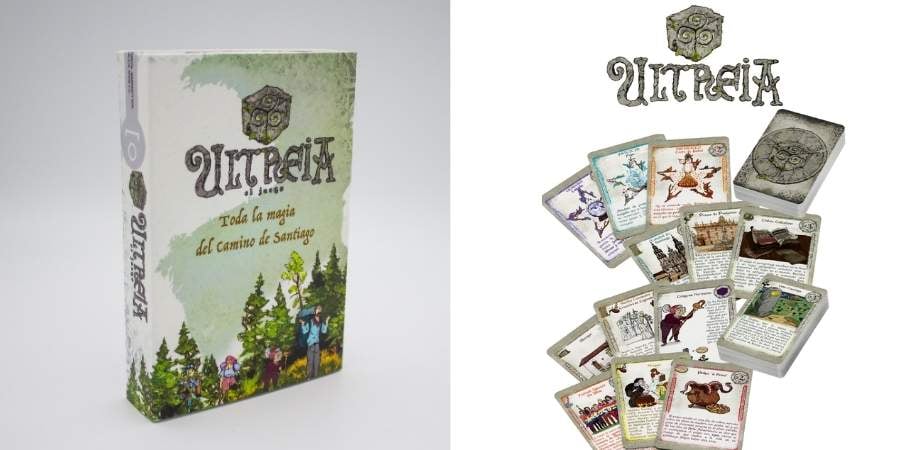 After four years of work, in May 2020, the creators launched a crowdfunding campaign that in just 24 hours reached the minimum requested goal.
"We imagined pilgrims from all over the world making friends through the game along the entire Camino de Santiago and that is why we made it small and easily transportable in the backpack, and just when everything was ready for its manufacture we found the pandemic, and mobility restrictions, so we decided to go ahead, since, although the pilgrims could not come to walk the way, at least with the game, we can take the Camino to their homes ". 
Contact:
instagram: ultreia.eljuego
facebook: ultreia.eljuego