9 Essential Dishes For A Camino-Inspired Christmas Menu
We are all getting ready for the biggest feast of the year! Yes, that's right! Christmas is upon us and we are excited to eat all of our favourite sweet and savoury dishes. If you're looking to give your Christmas a little Camino magic, look no further. Here are 9 great ideas to help you create a delicious Camino-inspired Christmas menu!
1. Seafood
When it comes to Camino food at Christmas, Shellfish is 'the' Christmas fare in Galicia. Every home will have at least one shellfish dish for Christmas Eve. Clams and langoustines are the most popular choices, but many also go for more extravagant and expensive seafood such as lobster, spider crab or even gooseneck barnacles (they are very dangerous to get and therefore can go for up to 200€ per kilo!).
Fish is also very traditional, especially cod with cauliflower. It's extra nice if you have it with potatoes and a special sauce made with garlic, sweet paprika and olive oil – yum!
2. Turrón
Turrón originated in the Alicante region of Spain but has since become the most popular and traditional Christmas sweet in the country. There are many new types of turrón but the classic turrón is what Spaniards call 'hard' turrón.
You'll easily recognise it by its mix of white sugar and whole almonds. Nougat in France is quite similar to turrón and is also a traditional Christmas sweet treat.
3. Roscón de Reyes, Kings Cake
For the celebrations of the 'Three Wise Men' or the 'Three Kings' on 6th January, you will need to make a 'Roscón de Reyes' or Kings Cake to enjoy with your hot chocolate. If you are walking the Camino de Santiago during these dates, you will be able to find some in any bakery and many cafes will serve it on the day too.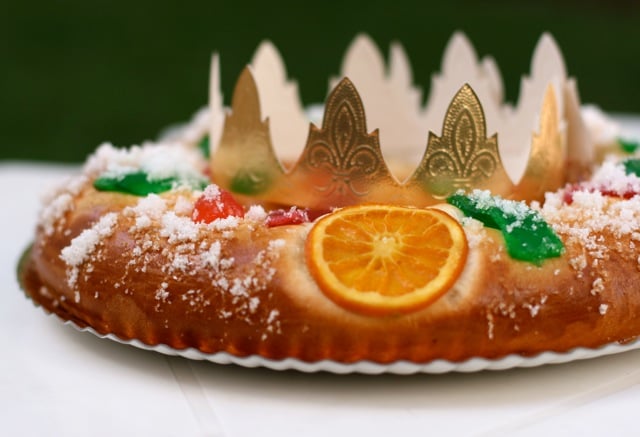 4. Capon
Capon cockerel is a traditional meat dish for Christmas in many parts of France and also in some parts of Galicia, particularly the town of Vilalba in Lugo on the Northern Way. Vilalba is home to the biggest capon fair in the country just before Christmas time. Arzúa, on the French Way, also hosts a capon fair.
5. Mantecados and Polvorones
Mantecados are another classic Spanish Christmas sweet, originating mainly from the south, in Andalucía (Via de la Plata). The main ingredients for these crumbly sweets are butter and ground almonds. They come in many flavours such as cinnamon, lemon, and wine.
6. Lamb
Lamb is a very popular and tasty choice of meat for Christmas dinner in the region of Castilla y León (French Way).
7. Sonhos de Natal
In Portugal (Portuguese Way), 'Sonhos de Natal' choux pastry buns sprinkled with sugar are very traditional at this time of the year.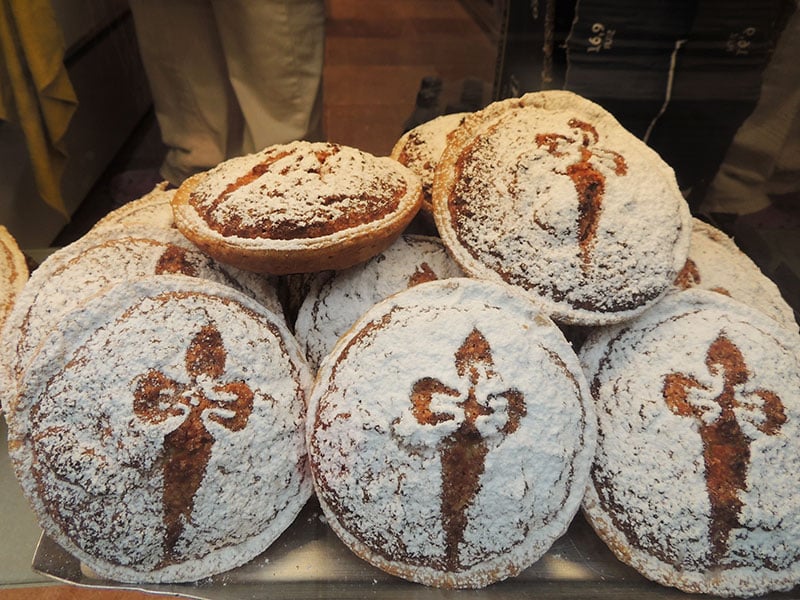 8. Tarta de Santiago
If you want to give your Christmas the ultimate Camino de Santiago flavour, make sure you add a delicious almondy St. James tart (Tarta de Santiago) to your Christmas menu.
9. Cider and Cava
For a Christmas toast or 'brindis', you will need to get your hands on some light natural cider from Asturias (Northern Way and Original Way) or cava from Catalonia (Catalan Way), because nothing says celebration like a glass of bubbles!
For more information about the Camino de Santiago or to book your holiday, you can contact our travel specialists.