We are all familiar with the delicious tapas that can be found throughout Spain and now adopted throughout the world but have you ever heard of Petiscos?
Today we are going to talk about this little-known slice of Portuguese cuisine that can be found if you plan to walk the Coastal Camino from Porto.
Petiscos are small, special snacks accompanied by your choice of drink in many bars across Portugal. Just like tapas, they are often made for sharing with friends. We asked Portuguese native, Mario, to share some insights about this delicious local cuisine in Portugal.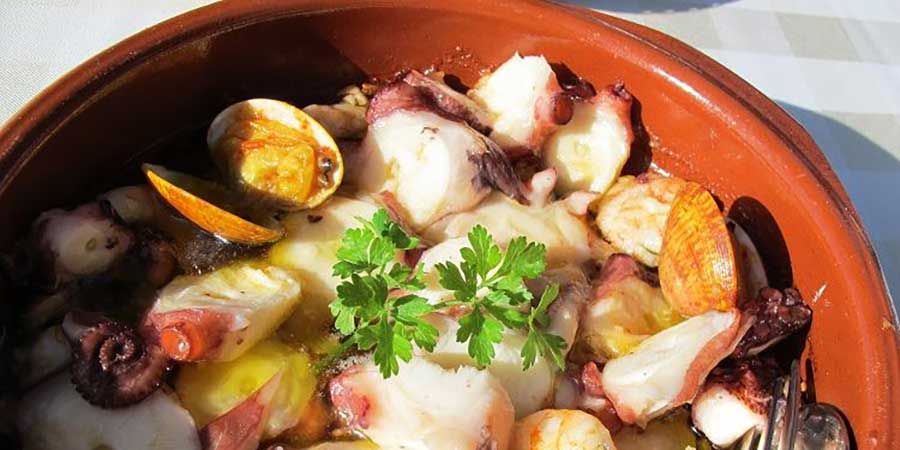 LISA: So let's talk about some tasty Portuguese dishes. Can you tell us a little bit about these snacks?
MARIO: No problem. I love them, I think I could live just with petiscos… But bear in mind that petisco in Portugal means something to eat with a few drinks (like tapas) or some dish that you can't find every day, made with a special ingredient or made by your grandmother for example (something you can't get everyday).
LISA: What is the main difference between the famous Spanish Tapas and Petiscos?
MARIO: There are some similarities between petiscos and tapas, in Portugal you have to pay for petiscos everywhere, it's not like in Spain where you are lucky to find a few free pinchos along the Camino routes.
LISA: Great, they are unique. We always want to hear about new foodie experiences. Now what types of Petiscos can we find and where?
MARIO: I would say that there are some differences on the type of petiscos in the north, coast and center regarding the products of each region. Petisco examples – Portuguese snails, Paté de atum – Tuna paste, Amêijoas (shells cooked in variation styles), cod pataniscas, Octopus and squid dishes, Chorizo sausages, farinheira sausages, regional cheeses, Favas beans, chickpea dishes.
On the coast, the petiscos are mainly made of seafood and fish like all kind of shrimp (grilled, fried, boiled, etc), "santola recheda" which is crab with a delicious sauce made with the crab meat, "percebes" which is a sort of crustacean.
In the north, petiscos are more about smoked sausages, cheese and olives.
In the center (mostly, but you can get everywhere), there is a special petisco during the spring, which is snails 🙂 I'm not a big fan but it's very appreciated.
Then there are the classic petiscos that you can get everywhere like salted cod fritters (delicious), rissóis which is a sort of patties and it can be made with shrimps, fish and meat. Then we have "moelas" which is the chicken stomach, stewed chicken hearts, boiled pork ears with garlic and herbs (it doesn't sound great but it's delicious), etc. There are many other petiscos, but these are the most famous petiscos in Portugal.
LISA: Now that we know what petiscos can be found throughout Portugal we would love to know where to find the best Petiscos in Porto, the starting point of the Coastal Camino?
MARIO: I would say that you can find them almost everywhere, but in the riverside, called Ribeira, it's a good place to get some petiscos and enjoy the view.
LISA: It sounds like we are in for a few treats in Portugal. To finish our short interview, can you tell us about your favourite Petiscos?
MARIO: It is difficult to nominate just one, but I might say that "alheira" is my favourite petisco. Alheira is a sausage made of chicken, bread, parsley, and a few other ingredients. The aspect is similar to farinheira sausage, but it's completely different.
I would like to thank Mario for giving us a better understanding of Petiscos in Portugal and providing us with these mouth-watering snippets of information.
We can't wait to get out on the Camino trails in Portugal. For more information about the food in Portugal and the best Camino routes starting in Portugal please contact one of our Travel Specialists.