5 reasons you should walk the Camino de Santiago
by Padraic Gilligan – When I saw "The Way", Martin Sheen's recent movie, directed by his son Emilio Estevez, I knew I wanted to walk at least part of the Camino de Santiago. For over 1000 years, pilgrims have walked "the way", their destination or journey's end being the magnificent cathedral of St James located in the centre of the Galician town of Santiago. After years of airports and stations, I yearned for a travel experience without excessive luggage and security lines where the journey would be as important as the destination. This year, in gratitude for and celebration of 30 incredible years together, we decided to walk a section of the Camino along with our troop of children, ranging in age from 17 to 29. So, these are my 5 reasons you should walk the Camino de Santiago.
We commenced our journey in Sarria, a beautiful town on a hill about 120km from Santiago de Compostela. Walking an average of 25km per day, you can walk into Santiago on day five and claim your "Compostela Certificate" or certificate of completion from the Pilgrim's Office there. Aficionados who complete the entire 836 km of the Camino Frances from St Jean through Pamplona and Leon justifiably look on this as yet another example of falling standards, of contemporary culture's determination to jump on the bandwagon and sanitise, dilute, adulterate. Whatever! For me, it was as much as I could sell to a predominantly Gen Y female demographic un-prepared for daily life without a hair straightener, high-speed broadband and a free taxi service. But after six demanding days of walking in the August heat, all 11 of us, including our 12-month-old grandson, arrived in Santiago de Compostela with blistered feet, aching bones, weary legs and a lightness of heart, mind and soul that made it all worthwhile.
1. You meet amazing people
People walk the Camino for a variety of motives. For many, it's a pilgrimage they undertake for spiritual/religious reasons; for others, it's an opportunity to spend an extended period "far from the madding crowd", outdoors, in nature; for others, again, it's a personal, physical challenge. In all cases, the choice is driven by more than the mere desire to take a holiday or go for a walk in the woods. This deeper motivation acts as a filter for participation, meaning that on the Camino, you meet open-minded people. These folks colour outside of the lines, seekers with stories to tell, and free spirits who challenge you … like Rowan from Melbourne, who walked with us for half a day and shortened our journey with his cheerful chat and easy manner or Mark from Tipperary, seeker extraordinaire, who reclaimed his life through Buddhism after ten years in the wilderness or Giancarlo from Imola who played the Galician pipes and knew more about Irish folk dances that we did ourselves.
2. It's an affordable holiday
Mark from Tipperary managed on less than €30 per day on the Camino and ate so well that, despite the walking, he put weight on during his 4-week walk. While it costs a bit more to keep the Gilligan Show on the road for six days, overall prices are extraordinarily reasonable with 4-course meals, including wine, averaging €15. Accommodation, too, is cheap and cheerful at around €50 per person per night B&B in modest but more than adequate en suite rooms. On our last night, thanks to a recommendation from long-standing industry friend and Camino alumnus Andrew Roche, we paid slightly more for Hospederia San Martin Pinario. For €85 a head, we experienced a magnificent, sensitively restored monastery adjacent to the Cathedral, right in the historic centre of Santiago. Thanks to a recommendation from my former colleague, the ebullient and garrulous Elle Caffrey of Multiple Sclerosis Ireland, we enjoyed Babette's Feast style repast at Bispo Tapas Bar at about half the price you'd pay in Barcelona.
3. Galicia is beautiful
Spain has long been among the top five tourist destinations in the world. Still, the visitor activity has tended to focus on Madrid, Barcelona, the Costa del Sol and the Costa Blanca. Before commencing our walk, we spent a week in Moana, a tiny seaside town on the Atlantic Coast. Coastal Galicia is a series of Fjords and inlets dotted with small towns that support themselves with fishing and subsistence agriculture. The many beaches are uncrowded and excellently maintained with attractive planting, landscaping and leisure / work-out facilities. Our 6-day walk took us through the beautifully contrasting heartland of Galicia, where shaded pathways through tall eucalyptus groves soon yield to roads that twist and turn through traditional granite farmyards where farmers leave out boxes of fresh fruit for passing pilgrims.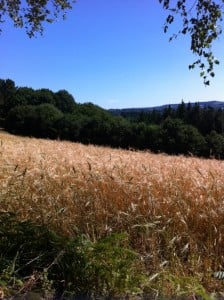 4. Santiago de Compostela is a fantastic city
There's a slower, more meditative pace to urban life in Santiago compared to Barcelona and Madrid. Part of this, undoubtedly, stems from the underlying reality that its visitors are unique and different and, over the centuries, the city has incorporated this into its very DNA. Santiago is a smiling, welcoming, friendly city, a true haven where you feel safe. The old town is a mix of narrow, mediaeval-style alleyways and wide open spaces where folks gather to sit and rest. Over the two days of our stay there, we experienced some fantastic street entertainment – a trio from St Petersburg playing mesmerizing classical pieces on accordion, mandolin and bass; a duo of tenors doing Italian opera in an alley beside the cathedral; a troupe in full traditional costume performing Galician folk dances in the cathedral square. You're surrounded by a thousand years of stunning European architecture, with the immense cathedral complex dating from the Romanesque, Gothic, Renaissance and Baroque eras.
5. It's a metaphor for the journey of life
I know. This trite cliche is cringe-inducing in the extreme. It's unworthy of even the most incompetent vicar or tongue-tied priest. But somehow, it does express something of the uniqueness of the Camino de Santiago, whatever your reasons for doing it. Each day on the Camino involves physical and mental challenges, both foreseen and unforeseen. Your map and guidebook will prepare you for some, but you must deal with the ad hoc physical discomfort or the random mental/spiritual angst all on your own. And what do you learn? Walking, talking and sharing with others makes the journey lighter, shorter, and more satisfying. When you focus on someone else's story, concern, or worry, your one retreats into the background, and you become enriched by it.
Tip: Get a quote on our Camino Planner