What to wear to the Camino?
The Camino de Santiago is a big adventure and needs to be taken seriously. For this reason we have designed a Free Packing Guide and prepared a list of gear you should take to the Camino. Of course this list will need to be adapted to your personal preferences as well as the season and section of the Camino you choose to walk, but it will give you a good idea of what to wear!
There is nothing worse than bringing the wrong gear to a walking trip. You should always check the weather forecast online before you travel. You should also research the type of route you are taking before you go. If you travel in summer there is no need to bring heavy hiking boots, as they will only slow you down. In this case, we suggest you bring a good pair of running shoes. However during the winter season, runners are not good in wet weather. Boots will also be a good choice especially in mountainous terrain. Also bring an extra pair of comfortable shoes or sandals in summer, for after the hike.
Your feet are the most important part of your body and you should really look after them while you're on a walking holiday. Socks are in fact a very important and underrated item. Bring good socks that won't slip under the foot while you're walking, and if they can be higher than the ankle even better! Merino wool is the best material not ju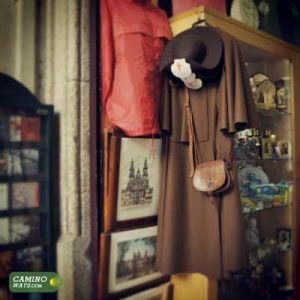 st for socks but also for shirts. It is light, it doesn't smell and it doesn't irritate. Bring many socks and remember to change them right after having walked your daily distance.
As you will walk a lot, your legs are the second most important part of your body, make sure you are as comfortable as possible. We recommend wearing hiking pants, if they are convertible even better. Don't wear jeans or tracksuits for walking.
When you pack for your Camino de Santiago trip, take many short-sleeved shirts or T-shirts because it will be much better to wear several layers of clothing and be always able to manage your comfort, than being stuck in too warm or too cold clothes for the entire day. Bring some long sleeved shirts with you too. You should also bring polar fleeces or warm overalls. If you are cold sensitive, bring some extra warm clothing.
Remember that your underwear must be comfortable to walk many hours and it's better if it's made with cotton. Bring thermal underwear only in winter.
Last but not least, bring the right accessories. Sun hat, cap or warm hat in Winter, sunglasses, a waterproof coat and a day bag of a capacity around 15-20L, if you have booked the luggage transfers with us.
Remember your shoes are the most important part of the gear so use them before you go. Please note that change of clean socks each day can make a huge difference.
Those are our main recommendations for your walking day. After the walking day is over and you want to explore and socialise, your choice of outfit is completely up to you!
Brought to you by: