Reek Sunday Tips: Climbing Croagh Patrick
This Sunday, Reek Sunday, the CaminoWays.com team is heading to Westport to climb Croagh Patrick, Ireland's Holy Mountain.
Our Camino prep walk takes place on a very special date, with thousands of pilgrims visiting the Reek on this day.
Here are some essential Reek Sunday tips and notes ahead of our walk in Mayo:
1-Bring proper walking shoes (comfortable)
2-Bring a day bagpack with enough water and food
3-Wear appropiate clothing (pack rain gear in case)
4-Check the forecast ahead of heading to Mayo
5-It will be a busy day, so arrive early
6-The climb to Croagh Patrick is estimated to take 2 hours but allow plenty of time
7-The mountain is 750meters so pace yourself, walk at your own rythm
8-Bring a walking stick for support
9-Bring sun block
10-Where to find us: We will have a CaminoWays.com stall at the bottom of Croagh Patrick so look out for us. We will meet there at 10am to start our walk at 10,30am.
More information on our Camino prep walk to Croagh Patrick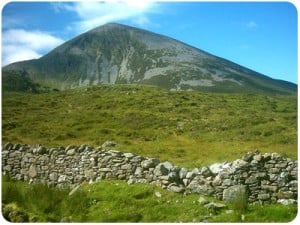 Croagh Patrick is just outside the town of Westport, in County Mayo. From its summit you can enjoy stunning views of Clew Bay with its 365 islands and the Mayo countryside.
Pilgrimage to Croagh Patrick goes back over 5,000 years. It was also an important place for pagans who are believed to gather at Croagh Patrick to celebrate the beginning of harvest season.
*Read more about the history of Croagh Patrick and Reek Sunday