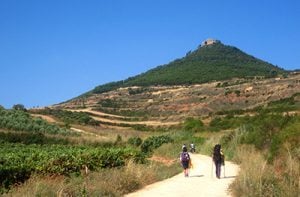 The Camino de Santiago is one of the world's most famous pilgrim paths with thousands of people walking its many routes every year. Although walking the Camino is something that everyone can achieve, it is important to take the time to prepare and train for your walk.
The level of training you need will depend on the distance you are covering, however, the more you train the more comfortable you will be during your Camino walk. Training will also help you avoid common injuries such as shin splints, strained muscles and blisters.
To make training for your Camino a little easier, CaminoWays.com has put together some simple and straightforward Camino training tips. Download our free Camino Fitness Guide which will give you a six month fitness plan for your next trip.
1. Start training early
The earlier you start training the better. Building stamina is the key to preparing for a successful Camino. If you are walking the full French Way from France to Santiago we recommend you start training six months prior to departure. If you are walking a shorter distance, for example the last 100km of the Camino de Santiago from Sarria, starting your training two months before you leave is advisable.
2. Be consistent
Starting your Camino training early is fantastic, however, in order to make the most of this it is important to keep your training consistent. Ideally, you should try your best to train at least once or twice per week for the last month leading up to your departure.
3. Challenge yourself
If you are an experienced walker or are already comfortable walking a certain distance, it is important to set yourself challenges. The best way of building up stamina is to increase your distance gradually so make sure to push yourself a little to achieve the best results.
4. Vary your terrain
The Camino has a variety of trails so it is important that you practice walking on various different types of underfoot conditions. Different terrain will require different amounts energy so being familiar with these before you set out is advisable.
5. Increase distance gradually
As mentioned, increasing distances gradually is one of the best ways to build up stamina. Start off with shorter walks of about 5km at the beginning of your training regime and then keep building on this until you are comfortable walking 15km to 20km the week before your trip.
6. Don't just walk
Although practising walking is crucial, it is also a good idea to vary your exercise. Try and incorporate some jogging and running into your exercise regime to use and work on different muscles.
7. Test your equipment
Go for a walk with the equipment you are planning to bring with you. This will give you an idea of how your gear will feel on the real walk. Make sure that your footwear is comfortable and that your bag isn't too heavy.
8. Practice stretching
Stretch every day to warm up and improve flexibility. Take the time to get familiar with some key stretches such as shin stretches before you leave so that you know exactly what to do while on your trip.
You can also train with the CaminoWays.com team. The CaminoWays.com team organises free prep walks the last Sunday of every month. Check CaminoWays.com Facebook Page to find out about our next walk.
CaminoWays.com holidays can also be tailored to your requirements so ask the team for an itinerary that will suit your fitness.
When and Price: A classic 7-day Camino de Santiago experience from Sarria to Santiago de Compostela starts at €565 pps in high season (April to October). Available all year round.
Special: Book 2 months in advance to avail of 5% discount
Includes: Accommodation on half-board basis, luggage transfer from hotel to hotel, holiday pack with practical information and walking notes.
Does not include: Flights, insurance.
Ask our travel consultants for additional nights and hotel upgrades in the main towns and cities.
To book your Camino holiday and for more Camino training tips contact our travel specialists.