Walking The Incredible Fisherman's Trail in Portugal
Rota Vicentina: Coastal Trail To Remember. It is hailed as the best-preserved coastal area in southern Europe. And after a week walking its spectacular clifftops and isolated beaches, I would go even further.
The Atlantic coast of Alentejo and Algarve in SW Portugal is surely one of the most beautiful shorelines in the world.
Wild and rugged, it is almost completely untouched by development and can really only be seen on two feet. There are few roads or even dirt tracks along with this slice of paradise.
Along with two friends, I recently walked the Rota Vicentina Fisherman's Trail which hugs this dramatic coastline for over 100km through an area of outstanding beauty.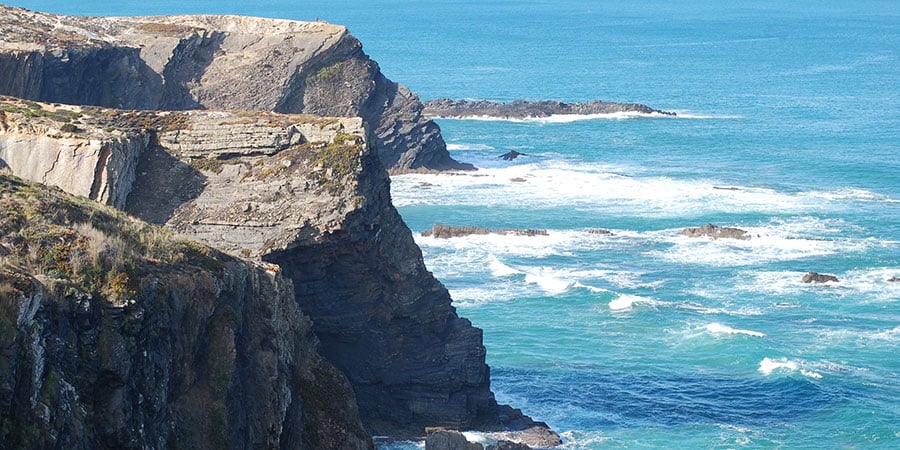 Rota Vicentina: Coastal Trail To Remember
The country's tourist office has begun promoting this little known region to the world's growing army of hikers and hill walkers. And it's easy to see why.
The coast, on the very western edge of Europe, is simply magnificent and took our breath away day after day. We walked along towering cliffs, hidden strands, sandy paths and through cooling arcacia and pine woods as the temperature nudged 25C degrees.
We watched the odd surfer riding the crashing Atlantic waves and stood in awe at giant caves carved out of the rock by the thunderous ocean. Huge sea stacks and arches had been formed over tens of thousands of years.
Every time a new bay or cove came into view it was greeted with a chorus of "oohhs" and "aahhs" as we ran out of superlatives.
I had travelled some of the world's most famous wild coastlines like those of Oregon and Washington State in the US and the old Yugoslavia but had never seen anything like this.
Most of the time we were hundreds of feet up on cliff tops that would give the Cliffs of Moher a run for their money. But they went on mile after mile, day after day.
A clearly marked track with signposts runs the whole length of the trail making it hard to get lost. Even if you do stray the sea is always there as an indicator.
Every now and then we would see a lonely fisherman standing on a precipice or on a rock above crashing waves and would admire his bravery. The trail is aptly named because it follows paths made by local fishermen over hundreds of years.
The Fisherman's Trail is part of the Rota Vicentina, a network of walking trails stretching 450km inaugurated in 2012 and incorporating the Alentejo and Vicentina Natural Park.
It also includes the Historic Trail which runs north-south inland but we wondered who would bother with a landlocked pathway when these scenic wonders were just a few miles away.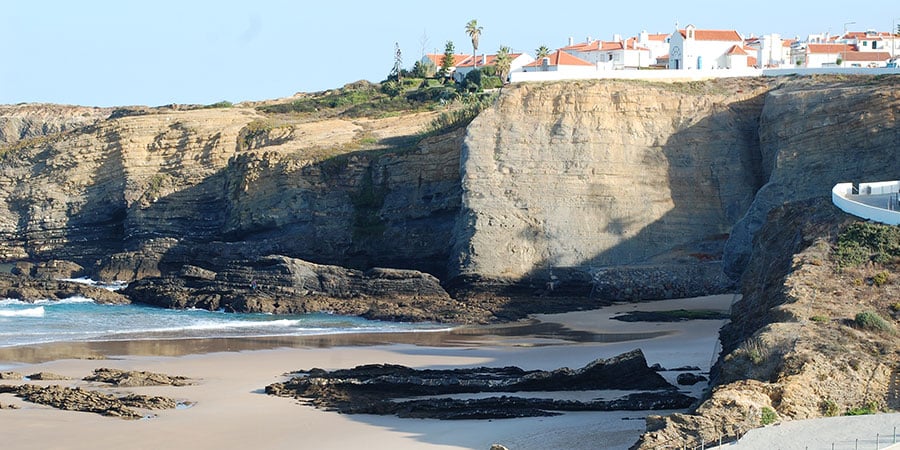 Wildlife lovers flock to the Fisherman's Trail to see the spectacle of storks sitting in giant nests balanced precariously on jagged rocks. This is the only place in the world where these birds nest on rock precipices above swirling waves.
We marvelled at these ingeniously made homes, some weighing 150 kilos, wondering how the ocean winds did not blow them into the sea.
Our holiday was organised through CaminoWays.com so our hotels were booked in advance and our bags moved each day to the next destination. All we needed to carry with us was water, suncream, snacks and rainwear.
We flew into Lisbon on Ryanair and travelled by road to the pretty seaside town of Porto Covo, the start of the Fisherman's Trail, two hours south of the capital where we were booked into the lovely Porto Covo Hotel Apartmento, whose rooms had their own little kitchen.
There were plenty of places to eat and drink in the town where all the houses are painted white with a touch of blue, much like the Greek Islands.
Seafood, naturally, is the speciality in these parts and over the next few days, we ate our fill of local delicacies like arroz de marisco, a shellfish stew, and carapaus alimados, Algarve mackerel.
And with a bottle of beer at €1.20 and a glass of wine as cheap as €1 we were in heaven.
The first 20km of the walk was from Porto Covo to Vila Nova de Milfontes, much of it over sand making it feel even longer. But the scenery was stunning and the sight of so many isolated beaches left us spellbound.
It took seven hours including a stop in the village of Canal just three kilometres from the end where we quenched our thirst with ice-cold water and beer in the hot sun.
Anyone walking this route has to be prepared to go the full distance and carry enough water for the whole day.
Our hotel, HS Milfontes Beach, had a truly massive buffet for dinner, much of which was cooked to order. And the town itself was very pretty, sitting on the mouth of the River Mira, where we found one or two great little bars.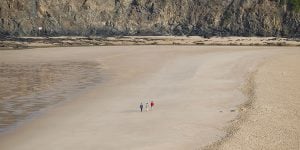 The next day's walk to Almograve was 15km and took just four and a half hours. On arrival we planted ourselves in the first café we came to and were soon joined by other walkers from the UK, Germany and Italy and had a lovely relaxed afternoon.
A sumptuous dinner was had in our hotel, the Natura Maris Dunas Residence, where we sampled a variety of fish dishes including moules marinieres.
The next day, the scenery along the 22km trail to Zambujeira Do Mar was just unbelievable, with magnificent sea stacks, rock formations and arches.
After a seven-hour hike, we were thrilled to find our accommodation, Sardanito da Frente, was in a beautiful park three kilometres out of town with its own lake and pool, with beautiful rooms.
We jumped into a taxi back to lively Zambujeira at night which was bustling with bars and restaurants. It was 18km to Odeceixe the next day which took six hours, including some very steep cliff climbs.
Again the scenery was spectacular and our first view of Praia de Odeceixe, with its huge beach split by a river, was out of this world. Our hotel, Casa da Celeste, was right in the centre of the main town.
The next day was our last on the road, walking inland to Aljezur, which meant leaving the coast behind and following the inland Historical Trail for many kilometres.
We had arranged a day off to relax in this pretty town, looked over by a medieval fortress, before taking the hour's journey to Faro and our Ryanair flight home on our final day.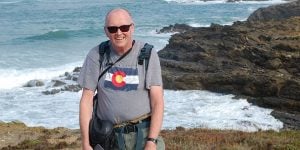 About Jim Gallagher
Jim is a veteran traveller who has toured extensively in six of the world's seven continents. A former Fleet Street reporter, he was a New York correspondent for five years and managed to visit all but three of the fifty US states. He returns every year on hiking trips to the American West.
Based in Dublin for over 20 years, he is a huge fan of the great Irish outdoors. A regular visitor to the Wicklow Mountains, he recently walked Northern Ireland's beautiful Causeway Coast Trail.
Jim travelled with CaminoWays.com and Turismo de Portugal. His article was originally published by The Sunday World Magazine and The Taste.ie. Rota Vicentina: Coastal Trail To Remember
For more information about the Rota Vicentina or to book your trip, talk to our travel experts