Roscón de Reyes Recipe
Planning a Camino de Santiago-inspired Christmas? Roscón de Reyes is a very popular cake traditionally eaten on the day of Epiphany on January 6th. This is the day the 'Three Wise Men' or the 'Three Kings' bring presents to the children who have been good all year round!
The cake usually has a little surprise hidden in the dough for one lucky person. Generally, the 'surprise' would be a little Christmas figurine or a small coin. In France, on this date, you will find the 'galette des Rois' made with puff pastry and delicious almond paste filling.
If you haven't been all that good, the 'Reyes' might have some black coal for you! To help you celebrate, we've shared our Roscón de Reyes recipe below so you can make your own version (no coal please!) of this delicious treat.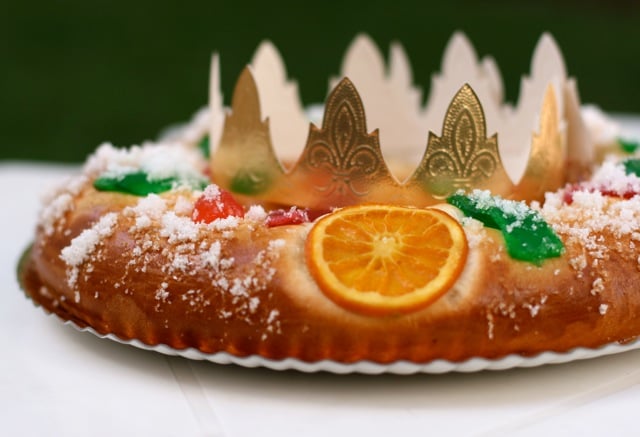 Ingredients:
500g flour
100g butter
100g sugar
2 eggs
Orange peel, grated
1 teaspoon of rum
2 dl milk
20g yeast
Pinch of salt
To decorate: Candied Fruit, Sugar, and Flaked almonds
Also: a little figurine or surprise or small coin wrapped in paper or cellophane
Method:
Make a mound with the flour and create a hole inside where you will pour the melted butter, sugar, two eggs, the grated orange peel, rum, milk, yeast, and pinch of salt.
Mix all these ingredients well until you get a sticky but flexible dough. Don't forget to add your 'surprise' inside the dough.
Roll the dough and give it a circular, looped shape, like a giant doughnut ('roscón' means big 'rosca', which is a doughnut).
Place the dough on your oven tray, brush a bit of egg on top, and decorate with sugar, flaked almonds, and candied fruit. Let it sit so the yeast can do its job until it rises to almost double its original size.
Bake for 16 minutes at 170C (approximately, check with a skewer to make sure the dough is cooked through).
Let it cool down a bit and enjoy. It is delicious with hot chocolate!
For more recipes or foodie inspiration, visit our Food & Wine section.