Recipe: Slowly Roasted Pork belly from Portuguese Table
Are you planning your next trip on the Camino Portugues? Our friend Paulo Castro wants to provide you with an authentic Portuguese food experience with Portuguese Table. Each host has a pre-set menu with a defined date and hosts a dinner at a local house. The hosts are amateur or professional chefs, carefully selected, with a love for food and a yearning to inspire with authentic Portuguese cuisine.
Like any person that enjoys good food, Paulo and his team delight in the Portuguese art of a good serving. They believe that gathering a table of strange people to eat together is the best gastronomic and social experience you can have. They want to invest in these chefs, share the surprising taste of discovery and open the appetite to meet new people. The whole idea is to sit at the same table as artists, engineers, tourists and locals and feed the good habit of eating well.
Here is a little taster of what is on offer on a great Portuguese Menu:
Slowly Roasted Pork belly, with "Migas de Alheira" and "piglet" sauce
Using thyme, rosemary, salt, chili, smoked paprika, 2 bay leaves and olive oil, season the pork belly (with the leather) from one day to the other.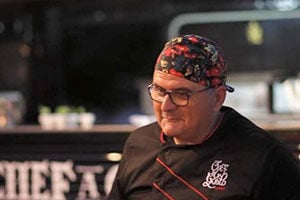 Place in the oven at 120º for 10 hours, with the leather facing down and with a finger of water on the baking sheet. Replace the water during this time.
In the last half hour turn the piece and increase the temperature to 160º for the leather to be crispy.
Migas de Alheira
Alheira is a Portuguese sausage with an amazing history
For 4 people, use 1 Alheira, 200 gr of fresh grelos (a Portuguese vegetable-rapini in italian), 100 gr of Breadcrumbs, chicken broth, onion, olive oil, salt and pepper.
Chop the onion finely and fry gently in a lot of olive oil. Take the skin off the Alheira and smash it. Cook for 5 minutes. Mix the bread and add to the Alheira. Then gradually add the broth. When you have a consistent dough, combine the previously cooked grelos with salt.
Add more seasoning at the end if you need to.
Piglet Sauce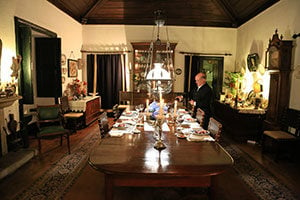 Melt 125 grams of lard in a pan. Peel, grind 6 cloves of garlic, and add to the lard. Refresh with white wine. Add 30 grams of white pepper after the wine alcohol evaporates. Serve with the pig and the migas.
And Enjoy a great Portuguese dish! Made with love!
PAULO CASTRO (PORTUGUESE TABLE CO-FOUNDER) PROFILE
I'm 53 years old, born and raised in Porto. After a career as Director of an American Corporation, I have founded Portuguese Table together with a small team of people totally in love. In love with our country and in love with our gastronomy. It's true I'm also an awarded amateur chef. Last year I won Chef a Gosto award promoted by Guloso. But the trigger for the Portuguese Table launch, was what I had experienced in Barcelona, where I lived for 4 years: amazing Supper Clubs. These dinners proved to be extraordinary experiences. I had dinner with different chefs who opened their doors to people with a passion for gastronomy and with the curiosity to try out a new format. When returned, the clear objective became to adapt this concept, to "fill it" with Portuguese magic, to "stew it" with passion, and to serve it at the Portuguese homes table. Portuguese Table was born.
We would like to thank Paulo for sharing his story and this delicious recipe of roasted pork belly. If anyone gives it a try please send us your take on this classic Portuguese dish. To learn more about any of the Portuguese Camino routes please contact one of our travel specialists. Make sure to discover and read about Camino food ahead of your delicious trip.