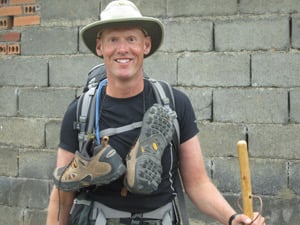 Author Kurt Koontz, shares his reflections on his million-step Camino de Santiago journey with the CaminoWays.com readers. Enjoy it!
A million is a rough estimate of the number of steps I took while walking the Camino de Santiago. I made the calculation on day 13 of my trek as I walked along a portion of the path that was parallel to a highway with kilometer markers. Over the course of a kilometer, I counted 1,153 steps. I did the math and discovered that I would take a total of 909,717 steps on the trail between St. Jean Pied-de-Port, where it began, and Santiago de Compostela, where it ended. I added in another 3,000 or so steps per day to cover the walks to dinner and short hikes for sightseeing. One million steps seems a good estimate.
Like so many things in life, the best way to prepare for the journey is to commit. Depending on your fitness level, a budget of 30-45 walking days is a nice place to start. Add two days on each side for travel. The next big decision is determining the best time of year for your walk. Late spring works well to avoid the crowds, but there will likely be snow at the higher elevations. Summer is by far the most popular time but be prepared for large crowds. During this season, approximately 1,000 people start each day. The fall is a nice time, but try to make sure that you arrive in Santiago no later than November 15. During the shoulder seasons, there are about 300 people that embark on the path each day. Book your round-trip flight to either Paris or Madrid. The American Pilgrims on the Camino (APOC) has an excellent board on Facebook that can answer all types of questions including how to arrange for local transportation to your starting point.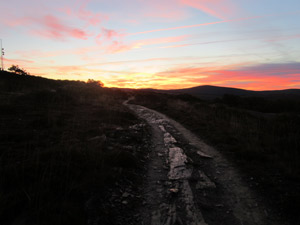 This is a minimalist trip, so packing is relatively easy. Your pack should be 30-50 liters and make sure that the waist strap rests comfortably on the hip bones. If the pack it too short, you will have a miserable time trying to carry the weight on your belly. Take the John Brierley Guidebook, three pairs of socks, three undies, one pair of hiking shorts, one pair of long pants with removable legs, one short sleeve wicking shirt, one long sleeve wicking shirt, sleeping bag, a windbreaker, wool gloves, a basic first aid kit, flip flops (for the shower), hiking shoes or boots, sneakers, and a hat. Many people take rain gear, but I chose to buy as needed in Spain. Add some basic toiletries and you now have just about everything you will need. As a general rule, the pack should not exceed 15% of your body weight. While the shopping experience is unique and the selections are a bit limited, you can buy anything that you need along the trail. Every ounce counts so when in doubt… leave it out!
You will likely be walking between 11-16 miles per day, so do not start cold turkey in Spain. Try to walk a minimum of 20 miles per week for at least six weeks prior to your departure. As you get close to take-off time, try to add several 15 mile days. The weekly training will get you in walking mode and will allow your feet to become accustomed to the footwear. Without preparation, blisters will haunt you.
The difficult part of making the trip is to manage your expectations. The best way to do this is to leave them behind! When you arrive, everything you encounter will likely challenge your comfort zones. You sleep in bunks, walk five to seven hours per day, meet people from all corners of the world, lose convenience, eat what is available, face adversity, and embrace joy. This is the arena where you grow as a person.
Unlike the daily routines of life, every single day is filled with uncertainty. The terrain, weather, distance, stamina, and acquaintances change on a daily basis. In this "challenged" environment, you will likely be sucked into the now. With so many unknowns, there is little time to waste on the past or the future. Spending 30-45 days in this zone will likely help you to rearrange your emotional backpack.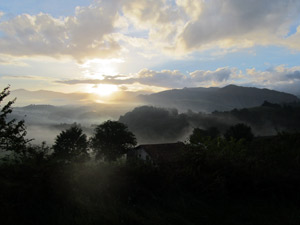 Prior to my trip, the veterans told me that the first third of the trip is for the body, the second for the mind, and the final third for the soul. Walking across the Pyrenees Mountains and subsequent hills (180 miles) challenges the muscles and stamina finds a new foundation. The Meseta is 120 miles of flat and barren ground. With little scenic distraction, the mind is forced into meditation or inward reflection. With a strong body and clear mind, the final 200 miles is for the soul. The lush foliage, steep mountains, and small streams complement the landscape. Realizing that the end is near, my soul became a sponge and savored every tiny moment.
By the end of the road, you will experience some type of transformative experience. For some the change is monumental, for some, the change is small, for everyone… there is change. Like your time on the trail, be prepared for a never-ending journey.
Some Reflections:
I had no eureka moments on the Camino. At kilometer marker 348.6, I uncovered no little vault with all the answers to life. Instead, just like life, I experienced a series of meaningful and small insights. I believe we all have an internal light, and the Camino acts as a rheostat to greatly increase the intensity. With care and awareness, I hope to keep that light glowing brightly until my last breath.
I continue to treasure the small moments that make up each and every day. A simple smile, a nice cup of coffee, a beautiful sunset, or some random act of kindness provides fuel for my light. When it all becomes too hard, I still use my "Refresh" move, walking in a circle, with or without my walking stick, to get a completely new perspective.
I am letting go of worry. Chronic worrying is detrimental to happiness. It is impossible to be happy and to worry at the same time. It is like trying to view the sunset with pirate patches covering both eyes.
For many years, people had extolled the virtues of deleting worry from my life. This was easy to say but difficult to implement. During my million steps of reflection on the Camino, I spent some quality time focusing on the significant portion of my life that had been completely wasted on worrying about things outside of my control. The only thing we ultimately control is our reaction to events in our lives. I am spending much more time aligning myself with what is happening as opposed to trying to control what will or will not occur.
Another of my foundations for keeping the light aglow is to live in the Now. It is impossible to eliminate the past or avoid all pleasant or unpleasant memories. However, when I visit my past now, I try to go in, learn, and get the hell out! I am not going to be anchored by some event or trauma from my past.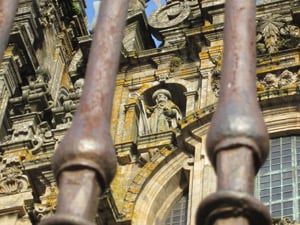 The same goes for the future. While hopes and dreams for a bright forecast are always present, I refuse to walk the rest of my life with eyes solely focused on the horizon. I yield to the current moment.
The Camino strengthened my relationships with friends, family, and myself. While meeting many friends from various nations made the trip a wonderful experience, the most enriched friendship I developed was with myself. It was a joy to rearrange my emotional backpack. My spiritual awakening made me realize that we are all connected and have a purpose. I am much more open to letting people into my life, and more importantly, to learning about their lives.
*Kurt Koontz is the author of A Million Steps, a book about his journey on the Camino de Santiago. You can find him on Twitter and Facebook.