Joe and Judi's Camino Adventure
Joe and Judi from California walked the Camino de Santiago with CaminoWays.com earlier this year. We share Joe and Judi's Camino adventure as written by the couple on their Camino blog.
If you bumped into Joe and Judi along the way, you might have noticed they wore very special t-shirts: they are t-shirts commemorating the 300th anniversary of the birth of Father Junipero Serra, founder of the California Missions. The shirts were designed by Joe and Judi's friend, artist and graphic designer Kimberleigh Gavin.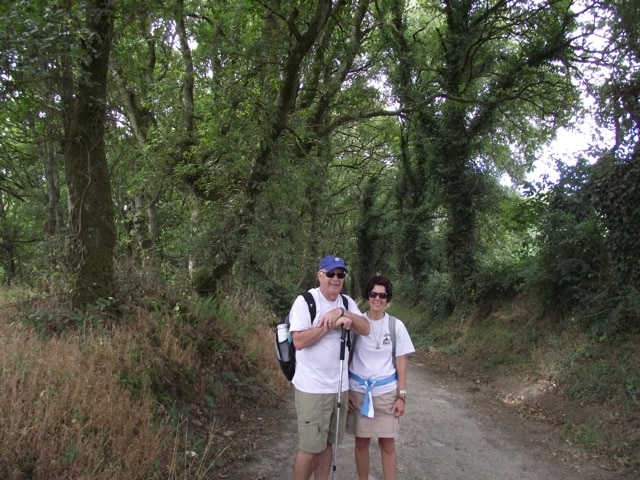 1 Month and Counting…
Aug 16
Our "Credencial del Peregrino' passports have arrived! We are walking 5-7 miles on a fairly regular basis and will start carrying our daypacks this weekend. We are in our final preparation stretch.
Two Weeks Until Departure
Aug 28
We are trying to practice everything before we start our adventure, including the wine! We feel that we are well prepared, however, we are going to kick up our mileage a notch. We're trying to eliminate the "morning aches"! We've checked the weather and it is trending nicely, however, I'm expecting at least one day of rain. Hopefully, it will be light showers.
What is a Peregrino?
Sep 05
Pilgrims or Peregrinos have been walking the Way of Saint James for thousands of years. The Way is also known as the Camino de Santiago. The traditional starting point is St Jean Pied de Port, France, which is 800 km from the cathedral in Santiago de Compostela. However, most pilgrims walk the last 100 km due to time constraints. This is the path that we have chosen.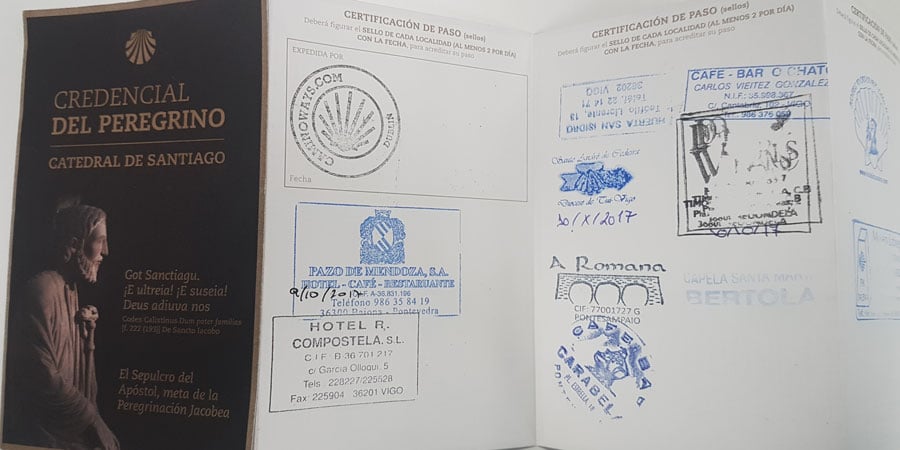 Why do we want to walk across northern Spain for 5 days? We wanted to do something different and find a way to connect with the people of northern Spain. We thought about the walk as a "spiritual experience" and above all, it's good exercise. In reality, we want to have a fun journey that we can share with our friends.
All pilgrims travel with Credentials, or passports that are stamped along the way, mostly at hotels or hostels. Stamps can also be obtained at churches and government buildings. Upon completion of our walk, we will present our stamped passports at the Credential Office where we receive our Compostela, a handwritten certificate that indicates that we have completed our journey. It is now less than one week before we depart and the excitement is truly building! Buen Camino!
The Shirts on Our Backs
Sep 10
On our walk, starting Friday, we will be wearing, with pride, t-shirts commemorating the 300th anniversary of the birth of Father Junipero Serra, known for his founding of the California Missions. The shirts were designed by our friend, Kimberleigh Gavin. We know that our shirts will be "conversation starters" on The Camino! More info can be found at: www.gavinarts.com

We Made it to Sarria, Spain & We are Ready to Start Our Journey
Sep 12
It took over 18 hours including layovers, but we finally made it to Sarria. To say the least, we are a little tired! Sarria is a wonderful little town and our hotel is very comfortable. On the drive from the airport, we aw many pilgrims on the trail and we will join them tomorrow. We will send a more detailed posting tomorrow, as we are prepping for tomorrow and ready for a good night's sleep.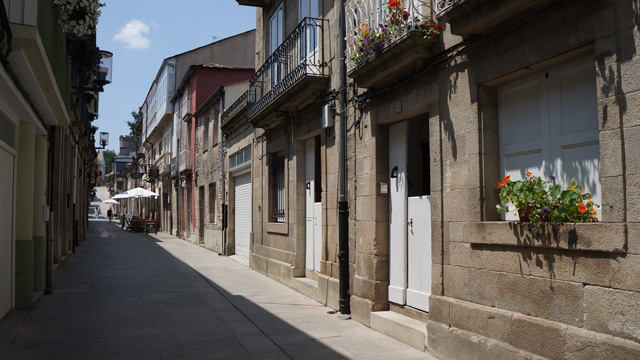 Sarria to Portomarín – 15 Miles
Sep 14
After a great night's sleep, we were ready to conquer the first leg of our Camino. We were surprised at the number elevation changes and the variety of the trail conditions. That being said, the walk was everything that we thought it would be. The surroundings and our fellow Peregrinos made up for the difficult conditions that we encountered today. Tomorrow, we will walk approximately 20 miles and will start around 8:00am (sunrise) and end in Palas de Rei.
Portomarín to Palas De Rei
Sep 15
On Saturday we walked to Palas do Rei, it was a very interesting and challenging 25 km. Our legs were hurting along with our feet. There were many elevation changes, some very steep, going up and coming down. Most of these sections were covered with many rocks and shale. This kept us moving slowly through these areas. However, we finished the day with a glass of wine with friends that we met along the way.This is being posted a day late because of poor internet service again.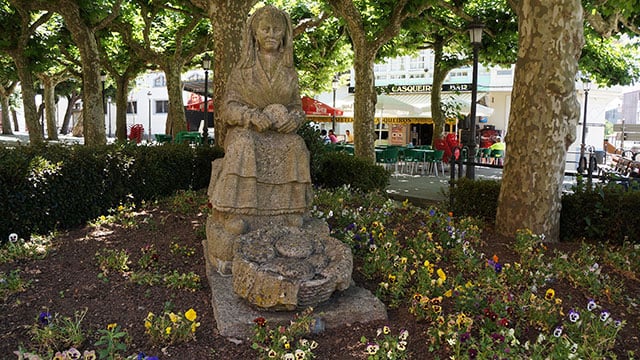 Palas de Rei to Arzúa – 18 Miles
Sep 15
We just finished our most grueling day, 18 miles of some pretty steep trails. But, WE DID IT! It was a very tiring 8 hours. We were warned that this would be a "leg burner" day and it was! Tomorrow will be a day that we will add more details.
Arzúa to Amenal – 13 miles
Sep 17
After a grueling day yesterday, today's walk was more pleasant. We walked through many forests with large canopies. The weather was a little cooler and it appeared to threaten rain for most of the day. We enjoyed most of the walk with Liz and Elizabeth. Elizabeth is named after her mom and to avoid confusion…well you get the idea.
We couldn't ask for better walking companions, the conversation was great and we laughed for much of the walk. We arrived in Amenal around 3:00 and immediately had a glass of wine. A reward for another day on The Camino. On to Santiago tomorrow…our final day!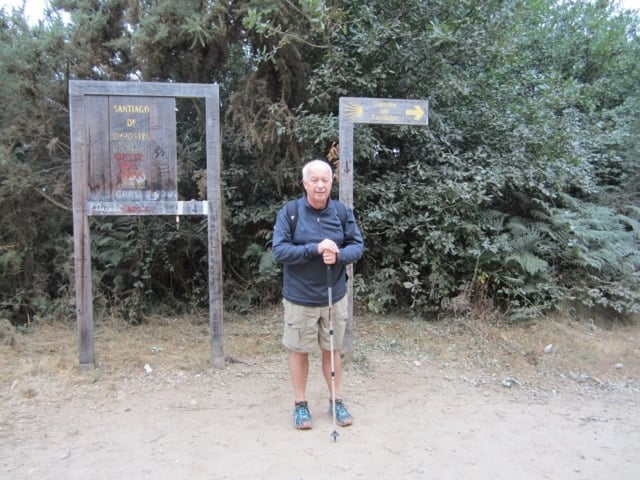 The Final Leg- Amenal to Santiago de Compostela – 10 Miles
Sep 18
The final day was full of excitement and anticipation. Again, we thought that we would have to break out our ponchos, but Mother Nature would not allow that to happen. It was still a was a very challenging walk.
Our trail took us from the 15th century to the 21st. A most notable sight was on Monte do Gozo, where early pilgrims first saw The Cathedral. Also, on that same hill was The Pilgrim Monument, dedicated to all peregrinos.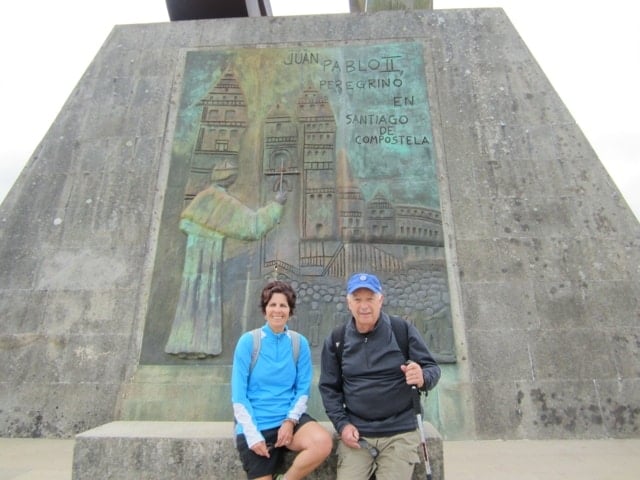 After that, it was into the city, population 80,000. It is also city that houses a large university. During our final half hour, an elderly pilgrim lost his footing and tripped on the stone sidewalk and scraped his face and Judi's first aid kit was put to good use. She had the bandages that allowed him to complete his Camino that day. We were glad that we were there to assist.
The total distance walked was 119 km or 74 miles. It was an exciting and emotional experience. We arrived at 1:15 pm and waited in line at The Pilgrim Office for about 45 minutes to receive our Compostela (certificate for completing The Camino).
WE MADE IT!
Aug 16
We made it to Santiago de Compostela! More to follow…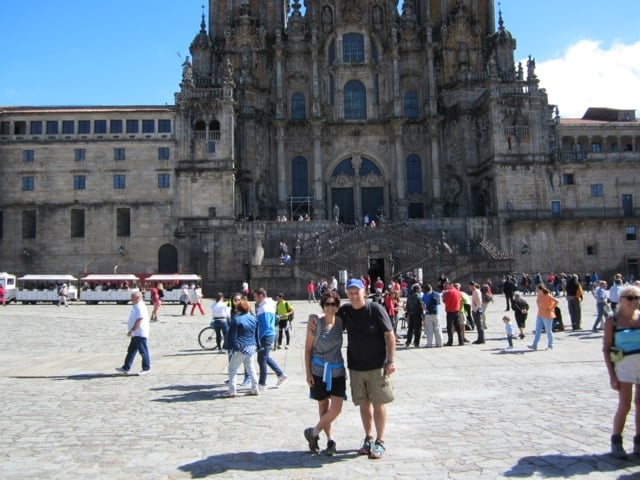 Post Camino – In Santiago de Compostela
Sep 23
After our amazing journey, we had a day to enjoy the city and reflect on our time spent on the trail. We, also, attended the Pilgrim's Mass and viewed the tomb of St. James, located behind the large altar of the Cathedral.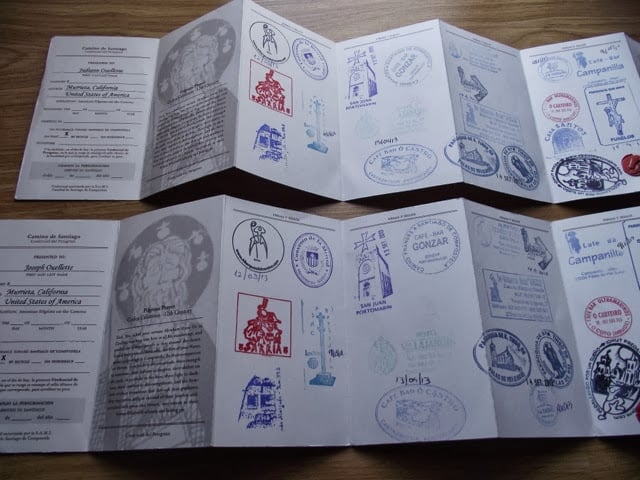 During the mass, the large incense burner or botafumeiro was swung in front of the altar and through the transept of the church. It was a truly amazing sight!
This post was originally published on Joe and Judi's Camino adventure blog. To read more pilgrim stories like Joe and Judi's Camino adventure, make sure to check out our blog. If you would like any help planning your own Camino, please don't hesitate to contact us.