How to follow the Camino path? FAQ
If you prefer to follow the Camino de Santiago independently, you have the option to make up your own group without the help of a guide. Most of our Camino holidays are self-guided and can depart year-round at any date.
On those holidays, you will receive a 'Holiday Pack' containing navigation material including walking notes (or guide book), and map(s). Please note that the trails that we use are very well marked and signposted.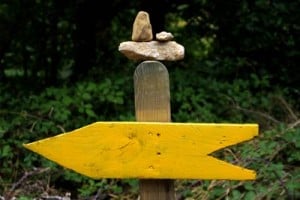 For example, the Camino de Santiago has a scallop shell and an arrow virtually everywhere along the way, particularly along the French Way.
Moreover, these regions are inhabited so you will have the chance to talk to people and ask for directions.