How many people will be on my trip, and who are they? FAQ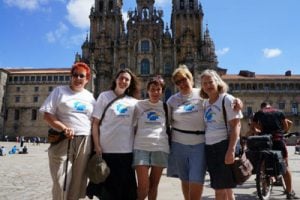 When it comes to how many people will be on your trip, it depends On a self-guided Camino tour, there is no minimum or maximum, as you are making your own group of friends or family. You can start any day of the year from one person only!
On Camino de Santiago guided tours, we keep group sizes small, limited to a maximum of 15 walkers. The minimum is 6 people. If you are part of a performed group, please talk to our Camino travel consultants as they can prepare a quote or proposal tailor-made for your group. If you are registering for our Camino guided tours with a group of friends, we'll make sure you end up in the same group.
Our Camino de Santiago trips appeal to travellers from 8 to 80; single, couples and groups of friends from around the world: entrepreneurs, CEOs, film-makers, lawyers, doctors, students, honeymooners and free spirits. The majority of our clients come from the Ireland, UK, USA, Canada Australia, but we also have many clients from France, Brazil and Asia.
The Camino is for everyone, no matter your age, beliefs, job or anything else.