Hotel on the Camino: Hostal Virgen de la Encina
Hostal Virgen de la Encina is a charming, warm and welcoming 'hostal' right in the centre of Ponferrada and right on the path of pilgrims heading to Santiago de Compostela along the French Way route of the Camino de Santiago. The hotel's building was originally built in the XIX century and got the name of 'casa del catalán', as its first owner was from Catalonia. The building has served as different establishment over the years and was nicely restored and opened by its current owners as a small hotel a few years ago.
Virgen de la Encina has a privileged location in Ponferrada's old town, right on the Camino de Santiago trail as it enters the city, overlooking the Fortaleza de los Templarios (the Templars Fort or Ponferrada Castle) and just around the corner from the Basílica de la Encina (the Encina Basilic). Also next to it, you will find the city's Museo de la Radio (the radio museum).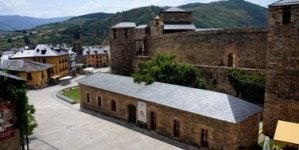 The building and also the rooms have a rustic chic touch, contemporary and fresh but also homely, combining finishes in wood and stone. From the rooms at the front of the 'hostal', you will get a small balcony from where you can admire the fort and watch other pilgrims come and go.
If you are cycling, the 'hostal' has a special storage room for the bikes. And they will also stamp your pilgrim stamp, don't forget to ask!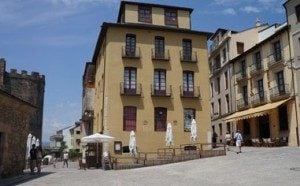 The 'hostal' has a cafe downstairs. Just across the road, by the side of the fort, the 'hostal' owners also run a restaurant, Las Cuadras, where you can enjoy dinner. The restaurant has plenty of rustic character and serves traditional food from El Bierzo region. It is called Las Cuadras as it used to be the 'stables' and it has been restored keeping the original structure. Try El Bierzo's famous 'botillo', cured meats and other delicacies. The restaurant also has a street terrace where you can just rest for a while and enjoy a fresh drink ahead of your next day's walk.