The Fishermen's Trail: Walk Portugal's Wilderness
I'm sitting on a sun-warmed boulder, applying an undercoat of factor 50 to face, neck and limbs, when the first dollops of a downpour sent me rummaging for my waterproofs. The Fishermen's Trail: Walk Portugal.
It's late October in southern Portugal, so a drop of rain is to be expected on the 75km Fishermen's Trail Rota Vicentina, Europe's most scenic coastal walking route.
This is the continent's occasionally wet Wild Atlantic Way. Compared with its 2,500km Irish namesake, it's a stroll in the park – in this case, the Southwest Alentejo and Vicentine Coast Natural Park.
Mercifully, the rain relents after half an hour and I don't see it again until five days later when I step off the plane in Dublin.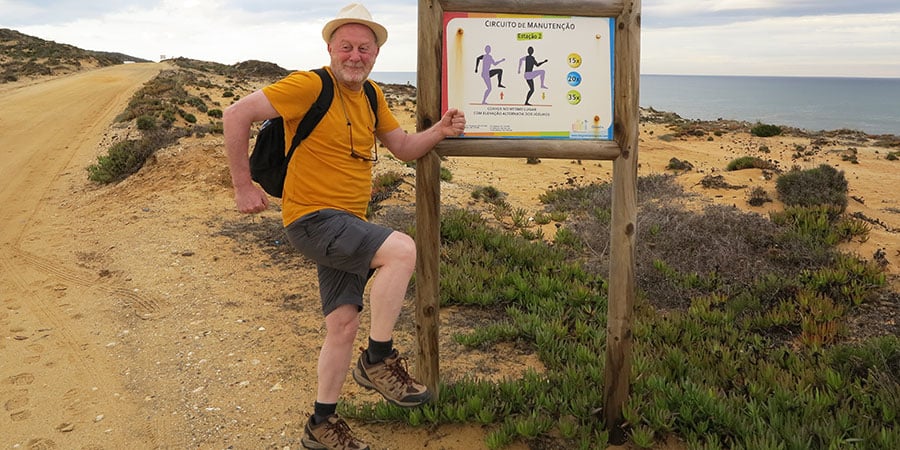 The Fishermen's Trail is a four-day walk with stages from 15km to 22km that snake across pristine beaches, up and down hill-sized dunes, along close-to-the-edge clifftop paths and through eucalyptus, acacia and pine-scented forests.
According to the guidebook, the daily treks range from five to seven hours, but it's wise to add an extra 60 minutes for snack breaks and pauses to take photos and empty the sand from your boots.
Some stages are described as "somewhat difficult", but apart from a couple of scrambles up steep-sided ravines and traversing those stamina-sapping dunes, it's generally easy-peasy.
The best times to set out on this car and bike-free stretch of the 450km Rota Vicentina are spring, when wildflowers are in full, fragrant bloom, and autumn. Forget July and August when it's 30°C-plus – walking in that heat is asking for trouble.
Unlike the many busy ways of the famed Camino de Santiago, the never-crowded Fishermen's Trail isn't a pilgrimage route; there's no religious element to it, though the scenery has me often uttering: "Oh my God!"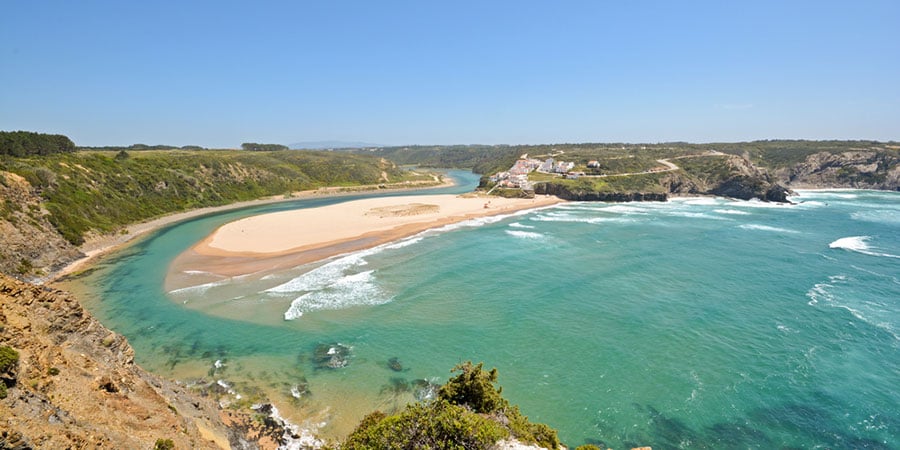 Millions of years of seismic activity, volcanic eruptions and wind and tidal erosion sculpted this coast which was unique in the world, storks build nests the size of rear tractor tyres on towering sea stacks.
Rippled layers of differently coloured rock from several geological periods are evident in the cliff faces.
Just offshore, mini Skellig Michaels display the same contrasting bands, once horizontal and submerged, but thrust nearly vertical from the deep by almighty upheavals.
It's 24°C in the early afternoon, but the sweat trickling down my forehead is cold as I shuffle as close as I dare to the lip of a scarily sheer drop.
Far below, waves the height of a double-decker bus rush into a narrow cove. They batter off the sides and are funnelled towards the back with such force that the sea is churned into a bubbling white emulsion, like boiling milk.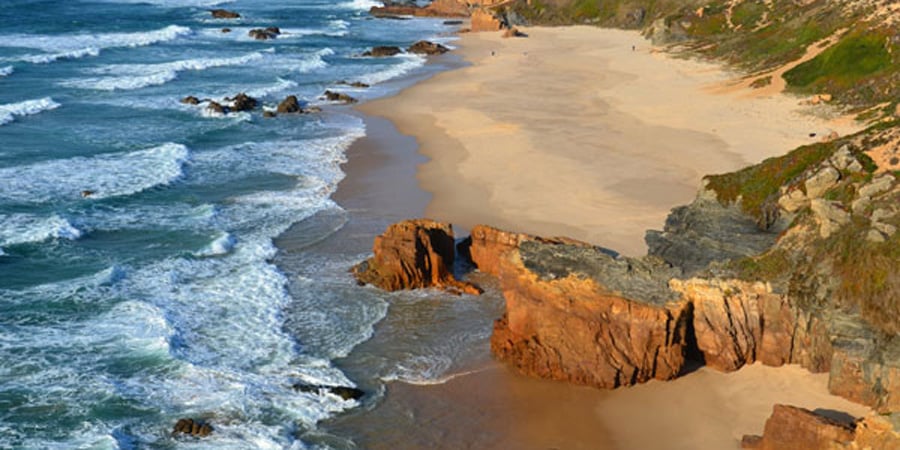 A 15-minute saunter takes me to the next cove – there are dozens on each day's journey – which embraces a small beach where a single set of footprints in the sand leads from some discarded clothes into the brine.
Momentarily alarmed, I picture Reggie Perrin running buck-naked into the sea, ostensibly to end it all until a bather in his birthday suit emerges from the foam and reclaims his belongings.
More alarming, and to be ignored at your peril unless you're wearing a parachute, are the regularly-spaced signs that warn: "Beware! Crumbling cliff. Not for people with vertigo."
The Fishermen's Trail gets its name from the centuries-old tracks that zig-zag down from clifftops and out onto the seemingly inaccessible, sea-sprayed rocky outcrops that provide the best pitches from which to cast a line.
Here, solitary anglers – half-man, half-mountain goat (I'd have to be half-cut to stand in such hazardous spots) – risk being washed away to reel in big fat bream, bass and dory.
These are the fish-dish favourites of weary walkers in small-town restaurants at the end of each day's trek, and they're remarkably cheap.
Every evening, my two friends and I enjoy three-course dinners with plenty of wine and beer and do a double-take when the bill comes in at around €60 for the lot.
That's also the average B&B price for two sharing in a good hotel, though many of the solo trekkers we encounter – mostly young German women who are clearly no strangers to the gym – opt for more modest hostels for about €20 a night.
Despite being burdened with heavy rucksacks that would have Sherpas seeking a word with their union rep, the fit-as-a-fiddle fräuleins overtake us as if in a hurry.
We've opted to have our luggage collected every morning by a man with a van, and it's in our rooms when we arrive at our next digs. This allows each of us to carry only a small backpack containing rain gear, a camera, a litre of water and a midday snack.
Our first day on the go began early in the seaside village of Porto Covo in Alentejo province, where we'd stayed the night after a two-hour drive south from Lisbon.
We were heading down the coast, though others fly to Faro on the Algarve and walk up the way from Odeceixe; however, as our route revealed increasingly spectacular scenery with every passing hour, north to south is recommended.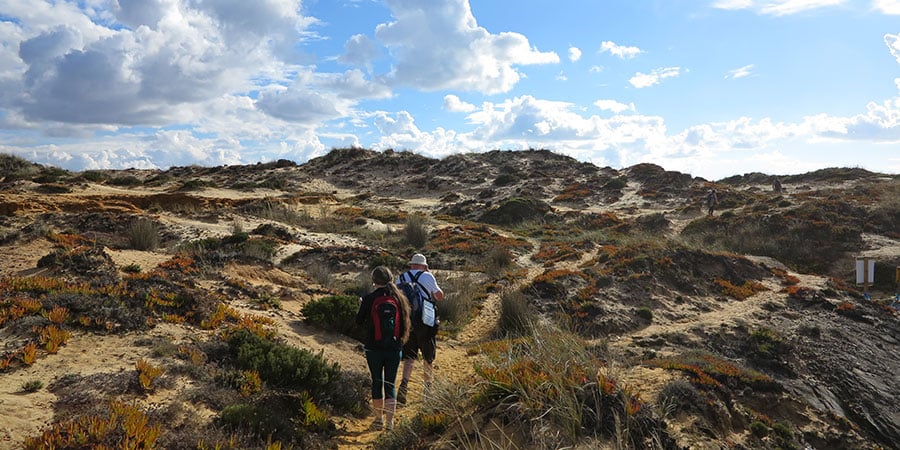 Porto Covo to Vila Nova de Milfontes (20km) is the beaches and dunes stage, and the most challenging – walking for seven hours on yielding sand is tough on the legs, but the views act like Deep Heat on aching muscles.
From Vila Nova, which sits on the north bank of the Mira where it flows into the ocean, to Almograve is a journey of 15km that takes five hours, or 12km and just over four hours if the little cross-river ferry is running.
This is the shortest stage, making for a leisurely half-day of beach and clifftop walking.
The problem with arriving early in Almograve is deciding whether to go for a dip in the sea or spend the afternoon on the terrace of the cafe at the roundabout. It was hot, the beer was €2 a pint and, well, you know yourself.
At 22km, Almograve to Zambujeira do Mar is the longest stage, mostly along clifftops, but the seven hours fly by and we get our postponed swim at our hotel, which has a lake.
Zambujeira to Odeceixe (18km) is the last leg and the most rewarding, thanks to the view from the Ponta em Branco headland of Odeceixe beach, which is bordered east and north by the River Seixe and on its western edge by the sea. It's the most photographed sight on the route.
We added an extra day's walk (followed by a rest day) across farmland and through cork oak forests on the inland Historical Way to the riverside town of Aljezur (18km, six hours), where we ate, drank and compared blisters before flying home from Faro.
Back in Dublin, a howling wind buffets me as I step off the plane, but I take it in my stride – when you've been blown away by the unrivalled coastal scenery on the Fishermen's Trail, a tornado at Terminal Two wouldn't even ruffle your hair.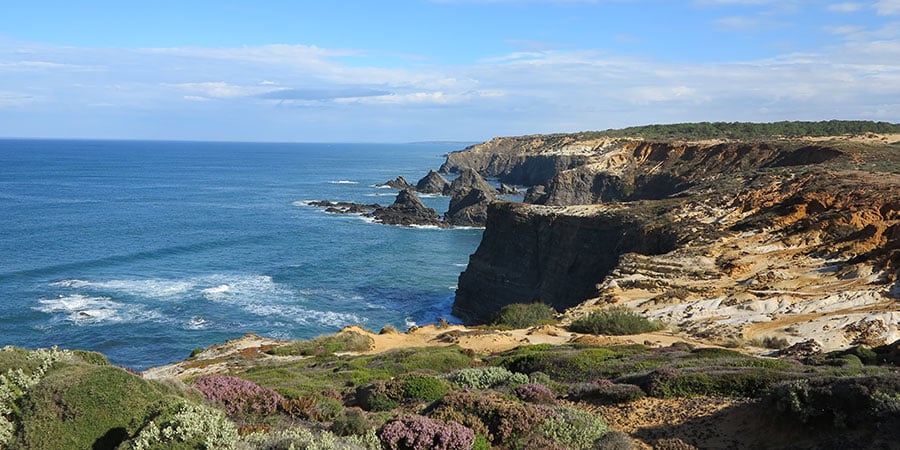 How to get there
Tom was a guest of Camino Ways (caminoways.com), which offers self-guided walking tours on the Fishermen's Trail from, including B&B, daily luggage transfers and a 24/7 support number (flights extra). Aer Lingus (aerlingus.com) and Ryanair (ryanair.com) fly to Lisbon and Faro. See also visitportugal.com.
Where to stay
Porto Covo: Porto Covo Hotel Apartamento; Vila Nova de Milfontes: HS Milfontes Beach (hsmilfontesbeach.com);
Almograve: Natura Maris Dunas; Zambujeira do Mar: Sardanito da Frente (herdadedosardanitodafrente.com); Odeceixe: Casa
Celeste; Aljezur: Vicentina Aparthotel 4* (vicentinahotel.com)
What to pack
Bring swimming togs for a dip in the sea, and insect repellent to keep the midges at bay. Sunscreen is a must year-round. Most trekkers use a smartphone to take photos, so keep it safe from rain and sea spray in a zip-seal freezer bag.
Best feet forward
Boots should be well worn in. Bring blister pads, plasters and antiseptic cream. Give feet and insides of footwear a blast of anti-bacterial spray each morning.
For more information about the Fishermen's Trail Rota Vicentina or to book your trip, contact our travel experts
by Tom Sweeney, travel journalist
Tom Sweeney travelled the Fishermen's Trail Rota Vicentina with CaminoWays.com and Turismo de Portugal. His article was originally published by the Irish Independent.
For more information or if you would like help planning your own Camino adventure, please don't hesitate to contact us.