FAQ: How long does the Via Francigena take?
How long does the Via Francigena take? The Via Francigena, or Camino to Rome, covers over 2000kms from Canterbury in the UK, to Rome in Italy.
This epic trail, following the pilgrimage route taken by Sigeric the Serious, Archbishop of Canterbury, back in the 10th century crosses regions of spectacular beauty such as the Alps and Tuscany, as well as cultural and historic landmarks such as the Champagne region and Great War battlefields of Northern France. But how long does it take to complete the Via Francigena or Camino to Rome?
You can either walk or cycle the Via Francigena.
If you'd like to walk to Rome, following in Sigeric's footsteps, it will take you 100 days (99 nights – 98 walking days) to complete the whole route, walking between 14 and 30kms per day.
You also have an option to 'split' the longest walking days in two in certain sections, taking you a total of 106 days to complete. For such an epic journey, we also recommend taking a rest day at regular intervals (for instance once per week).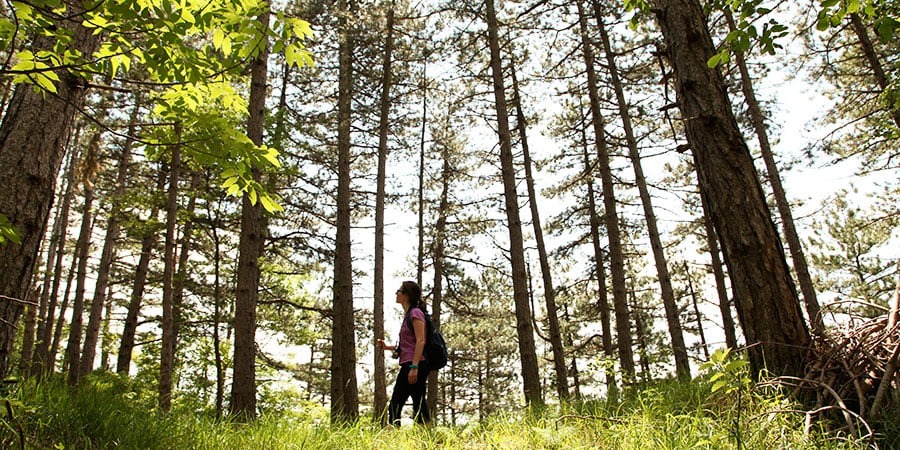 Cycling will get you to Rome a bit faster however but we only recommend taking up the challenge if you are a keen cyclist and are familiar with essential bike maintenance. You can complete the Via Francigena from Canterbury to Rome over 44 days (43 nights – 42 cycling days), cycling an average of between 27 and 73kms per day. At FrancigenaWays.com we have divided the Via Francigena route into manageable sections but if you feel your cycling skills can handle longer distances, our team will be able to tailor the itinerary for you.
The Via Francigena with limited time
Walking the whole Via Francigena is a big, big adventure and commitment but while you might not be able to walk for 100 days, it doesn't mean you can't experience the Via Francigena. The route can be divided into sections with the stretch in the Alps, Tuscany and the last 100kms into Rome being the most popular. You can also pick your starting and finishing points and adapt your trip itinerary to the time you have available. Talk to our travel specialists for advice.
For more information about the Via Francigena route or to plan and book your Camino to Rome trip, contact our travel specialists.