Do I need a helmet for cycling the Camino?
Yes, feel free to bring your own helmet, if you are cycling the Camino de Santiago.
By law, bicycle drivers and passengers must use officially approved protective helmets when circulating within urban areas in Spain – except in long steep slopes, on the grounds of medical reasons or under extremely hot conditions (Spanish Law 43/1999: November 25th 1999). Failure to comply with this will result in a traffic fine.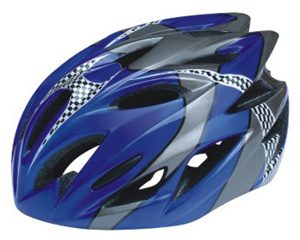 CaminoWays.com doesn't supply helmets for hire (for hygiene reasons) but you can buy brand new ones in many shops along the Camino (ie. you will be starting your cycle in a big town or city such as Ponferrada, Pamplona… with plenty of services and bike shops available); or when you book a Camino de Santiago cycle with us.
Stylish and functional recreational helmet. One shell size fits the vast majority of population. Easy to use Twin Action fit system at the rear of helmet In-Moulded. Micro-shell is lightweight and extremely strong for enhanced performance and protection. Ventilation. 17 vents including some at the rear to draw air through the helmet, Cam-Lock strap levers adjust the straps around your ears and face for a custom fit (new to buy @ €30).