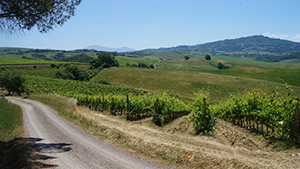 Tuscany is world renowned as being one of the most beautiful parts of Italy. The Via Francigena route which passes through Tuscany offers the perfect opportunity to experience the region by bike. The Via Francigena passes through Tuscany as the Via makes its way from Canterbury to Rome. Along the way you will be immersed in a region of tranquility and outstanding beauty which has the added bonus of offering some of the greatest food and wine in the World.
For any fans of cycle racing, much of the route may be familiar to you. The white gravel roads over which the Via Francigena passes are a major feature of the Strade Bianche cycle race which takes place every March. It's hard to picture Tuscany without thinking of these roads rolling over low hills between wheat fields, vineyards, olive groves and the Poplar trees which are so synonymous with the region. These roads are as much a part of the landscape as they are a product of functionality. By cycling through Tuscany you will become part of the landscape as you take in the sights, sounds and smells of the region as you feel the breeze on your face.
The majority of the Via Francigena in Tuscany follows the gravel roads but there are some sections of single-track through woods and farms. These gravel roads have very low volumes of traffic and along the way you will pass farmhouses, churches and pass through the stunning towns of San Gimignano, San Miniato, Monteriggioni and Siena. San Gimignano is a UNESCO World Heritage site and could be viewed as being a medieval metropolis due to its many towers. Monteregionni is a work of architectural beauty which sits atop a small hill which can be seen for miles around. Siena has to be one of the most beautiful towns in Italy. It is crammed full of wonderful architecture which surrounds the Piazza del Campo. The Piazza is where the famous Palio horse race takes place twice a year. It's also a great place to sit with a coffee or a glass of wine and watch the world go by as you recover from your days cycle.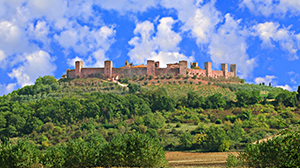 The route has flat sections but there are also plenty of ups and downs. While there are some relatively steep climbs the are generally quite short and you will be rewarded with stunning views and beautiful medieval hilltop towns and villages. When descending on steep rocky paths and gravel tracks it's best to sit back into the saddle so your bike isn't front heavy. You should also gently use both brakes together. It is probably best to have some cycling experience but it is not essential. You should bring a waterproof jacket, sunglasses and padded cycling shorts will make the journey a bit easier. If you don't fancy wearing lycra there are many types of casual shorts which are now available with padding for cycling. You should also bring a puncture repair kit and/or spare tubes and tyre levers. Helmets are not required by law in Italy but we always advise people to wear one. A mini-tool kit with Allen keys and some spanners is always a useful thing to have with you when cycling. It is important to be able to fix a puncture or other small problems with your bike as there will be points where you may not be near a bike shop. Having said that, most towns are well supplied with bike shops if you need to have something fixed or if you need to buy something.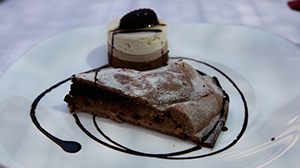 From a food point of view, Tuscany is a cyclists dream. There will be plenty of delicious pastas, risottos, pizza, fresh fruit and vegetables to keep you fueled. Italy is a great location for vegetarians also as there is a large emphasis placed on tasty meat-free dishes. The region is of course, famous for its Chianti wine which makes a wonderful accompaniment to a bowl of hearty Tuscan bean stew. San Miniato is world renowned for its Black Truffles and the extra virgin olive oil of the area is so good that when combined with fresh bread it could be a meal in itself. Along the way you will see a multitude of world class ice cream, so why not treat yourself after a day in the saddle. And don't forget, if you need a pick me up, Tuscany has some of the best coffee in the world.
Due to the relative gentleness and the good condition of the route, along with the more or less traffic-free nature of it, this part of the Via Francigena is ideal for families and inexperienced cyclists. If you feel that our cycling itinerary may be too tough for you why not try our walking itinerary by bike. This will allow you to experience and enjoy the beauty and tranquillity of Tuscany without the effort becoming too much.
For more information about cycling the Via Francigena through Tuscany or to book your Via Francigena Camino to Rome holiday contact our travel specialists.