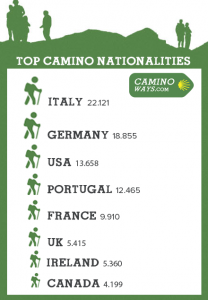 Camino statistics part 2: the pilgrims
The annual Camino statistics from the Pilgrims Office in Santiago give us a very interesting picture of the Camino de Santiago. In part 2 of our Camino statistics, we find out a bit more about the pilgrims, where are they from? are they walking or cycling?
The Pilgrims Office only accounts for pilgrims receiving the Compostela certificate, meaning they finished in Santiago and completed at least the last 100kms walking, or 200km by bike. These figures don't take into consideration the number of pilgrims who do not finish in Santiago, or those who don't request the Compostela.
A total of 262.458 pilgrims reached Santiago in 2015 and received their Compostela pilgrim certificate…
Were they walking or cycling?
236.273 (90.02%) pilgrims arrived on foot, while 25.343 (9.66%) chose to do it on a bike; 771 (0.29%) on horseback and 71 (0.03%) on a wheelchair.
Top nationalities on the Camino
Where are the Camino pilgrims from? Spaniards account for 46.61% (122.344) of the total number of pilgrims. After them, these are the top nationalities on the Camino de Santiago:
Italy 22.121 (15.79%)
Germany 18.855 (13.46%)
USA 13.658 (9.75%)
Portugal 12.465 (8.90%)
France 9.910 (7.07%)
United Kingdom 5.415 (3.86%)
Ireland 5.360 (3.83%)
Canada 4.199 (3%)
What are the pilgrims' ages?
28.47% Camino pilgrims were under 30
54.82% were aged between 30 and 60
and 16.71% were over 60
What was the main motivation?
54.09% of Camino pilgrims said their motivation was both religious and cultural
37.98% said it was religious
7.93% said it was cultural
You might also like to read our blog post: Camino statistics part 1: most popular.
For more information about the Camino de Santiago routes or to book your Camino trip, contact our travel specialists