Our Camino Guided Tours 2022 just launched! We now have availability in 2022 for Guided tours on the Camino Frances, Camino Portugues, and Camino Finisterre in 2022.
Are you looking for the perfect post-pandemic escape? The Camino de Santiago has everything – gorgeous landscapes, fresh air, open space, beach and not to mention delicious food and wines as well!
And we have lots of experience organising unforgettable Camino Guided Tours that are perfectly planned and expertly led.
Camino Guided Tours 2022
After the isolation of the past year, a Camino-guided tour is a perfect option for those looking to share this unique experience with a like-minded group.
From the moment you arrive, our experienced local guides look after all the details so you are free to enjoy this special journey across the rolling hills of the lush Galician countryside.
Our groups stay in hand-picked accommodation along the trail where you will discover the flavours of Galicia's traditional cuisine.
Luggage transfers are included, so you won't need to worry about carrying a large backpack, just pack the essentials for the day and walk at your own pace.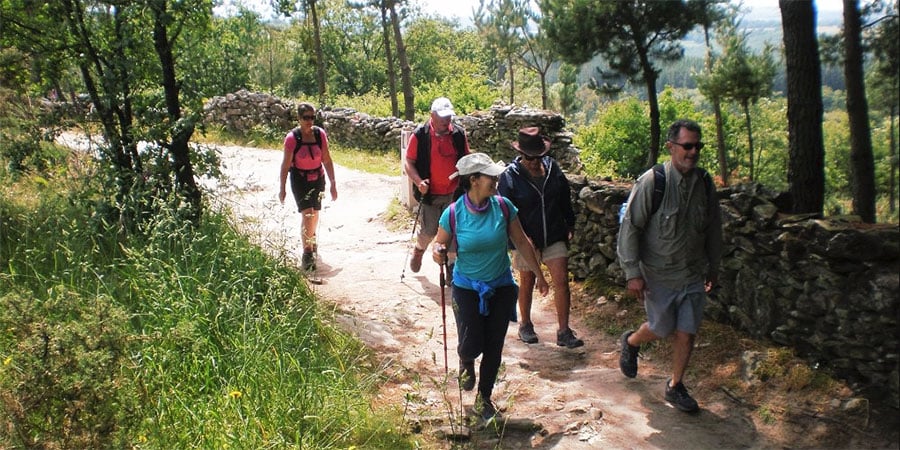 1. Camino Frances Last 100km Guided Tour from Sarria to Santiago (2022)
The most popular of our guided tours and it's not hard to see why!
This is the most social of all the guided tours and where you will meet the most like-minded people.
This last stretch of the Camino Frances from Sarria to Santiago perfectly captures the essence of the Camino.
Enjoy walking through lush countryside and learning about Galician culture and traditions.
This tour runs over 7 nights (frequently from April to October 2022) and includes time to explore Santiago de Compostela.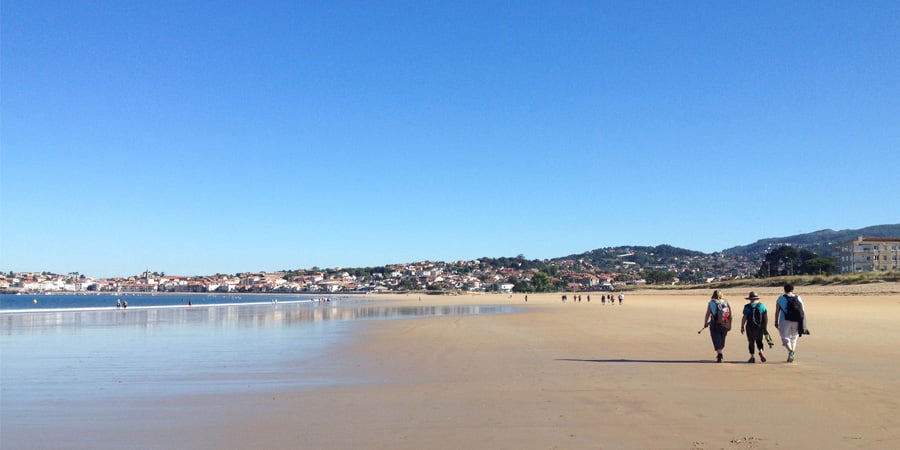 2. Camino Portugues Guided Tour From Baiona to Santiago (2022)
A wonderful alternative to the Camino Frances, our second most popular tour, the Camino Portugues Coastal takes the group to the heart of the Rías Baixas, famous for its Albariño white wine and delicious shellfish.
On this Camino Guided tour, experience both a coastal trail and the quieter Camino Portugues Way to Santiago de Compostela.
Enjoy views of the magnificent Illas Cíes and Vigo Bay and walking through quaint villages before joining back up to the main route to Santiago.
This tour runs over 7 Nights (frequently from April to October 2022) and includes time to explore Santiago de Compostela – don't forget to get your Compostela!

 
3. Camino Finisterre Guided Tour (2022)
This is a truly unique Camino route as it is the only one starting in Santiago de Compostela!
This Guided Camino tour would be ideal for anyone who has already completed one of the other Camino routes such as the popular Camino Frances.
On this guided tour, you will journey to the 'End of the World' – the beautiful Atlantic Coast of Galicia, along an ancient trail.
This Camino route will take the group through unspoiled and remote countryside, all the way to the sea cliffs of Cape Fisterra.
This tour also runs over 7 Nights (May & September 2022) from Santiago to Muxia where you can claim your 'Muxiana' certificate from the Casa da Cultura (local Arts Hall).

*All our tours include English-speaking guides and luggage transfers.
**PLUS Get 5% Off all tours until July 31st, 2021!
Please contact us on the form below if you would like any more information about our Camino Guided Tours 2022: