This Camino Frances Map is a handy visual representation of the most famous route on the Camino de Santiago.
The Camino Frances or French Way is well known for many films, books, and documentaries.
The French Way or Camino Francés is the most famous and popular of the Camino de Santiago routes, attracting nearly 70% of all Camino pilgrims.
Starting in St Jean Pied de Port, at the foot of the Pyrenees, the Camino Frances makes its way across Northern Spain taking pilgrims all the way to Santiago de Compostela, in Galicia, and its spectacular cathedral.
The vineyards of La Rioja, Burgos Cathedral, Ponferrada Castle, and the mountains of O Cebreiro are some of the most magnificent sights along this epic 800 km Camino route.
Camino Frances Map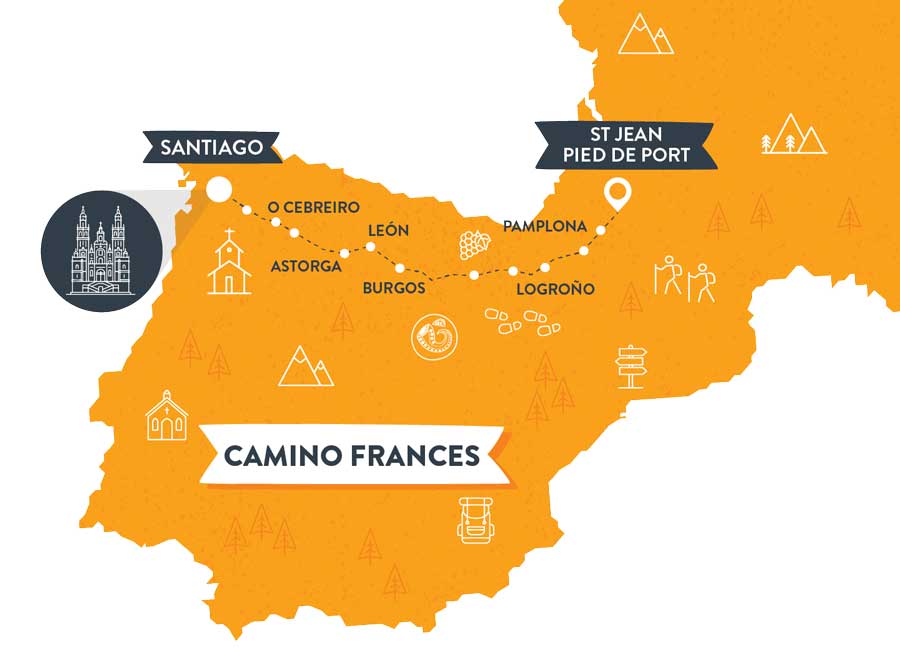 It should take just over a month to complete the Full Camino Frances route on foot but you can also choose to start at different points along the way.
The most popular starting points on the Camino Frances are: Sarria, St Jean Pied de Port, Leon, O Cebreiro and Ponferrada. You can also cycle the Camino Francés in 15 days.
Highlights on the Camino Frances Map
The Camino Frances Map highlights some of the key stages on the full route. Here are some of the highlights you can see:
Pyrenees
After you leave St Jean Pied de Port you will walk across the Pyrenees Mountains. This is the most challenging section of the Camino Frances but also one of the most beautiful. The views are worth the effort of the climbs.
Pamplona
Most people will know Pamploma from the famous San Fermin festival which includes the 'running from the bulls'. The city itself is well worth a visit even outside of festival time with colourful streets, friendly locals and delicious pinxtos.
Rioja Region
This is one for the wine lovers out there. Around Logrono you will find the Rioja Region where you will be surrounded by vineyards.
Burgos
Burgos is home to one of the most magnificent Cathedrals in Spain. This is a great warm up for a trip to Santiago!
Leon
Leon is another town with a gorgeous cathedral, famed for its Gothic architecture and magnificent stained-glass windows. Enjoy dinner in the old town followed by a glass of local wine or beer.
O Cebreiro
This spot is unique due to its circular granite homes with thatched roofs. You will be nearing the end of your Camino at this point and you are reminded of all of the footsteps that will have passed this town throughout history.
Santiago de Compostela
This is the last stop on the Camino Frances. Marvel at the atmosphere in front of the famous cathedral and spend some time exploring the walled streets of the old town. Santiago is one of the prettiest cities in Europe!
Check out our Downloadable Camino De Santiago Map for our other Camino routes.
For more information about the Camino Frances, other Camino de Santiago routes or to book your Camino trip, contact our travel specialists