Walking or cycling the Camino with my family? Which to choose?
The Camino can either be walked or cycled. Although both options are totally suitable for families, we wanted to share with you some tips and information so you can make the best decision for your family. So walking or cycling the Camino with my family?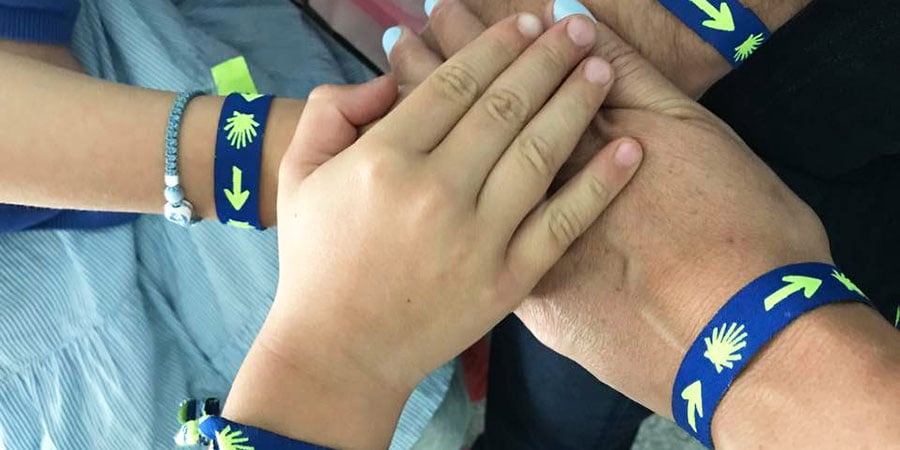 Walking the Camino with family
If you decide to take your family on one of our walking holidays, you and your little ones will experience the Camino in its most traditional way. Pilgrims of all origins have been walking to Santiago and Rome for centuries, crossing the spectacular countryside on their way to the holy cities. The Via Francigena or the Camino Frances are extremely popular for family walking holidays.
Walking holidays are a great option for a family as they offer the opportunity to travel at a leisurely pace, with plenty of time to stop en route.
When booking one of our walking packages, you will be walking 10-16km a day. The distance covered has been adapted so every stage is manageable and more importantly, enjoyable!
Walking holidays are a great opportunity for the kids to learn and play, it's simple to turn the walk into an educational and fun experience. To entertain them as they walk you can organise games or treasure hunts, such as listing the animals seen during the day or searching for specific colours or shapes around them.
You can easily complete your stage in half a day, starting around 9 and reaching your destination around lunchtime, and then enjoy the rest of the afternoon as you like. Our itineraries will allow plenty of time for you to plan any extra activity or simply take some time for everyone to play or rest!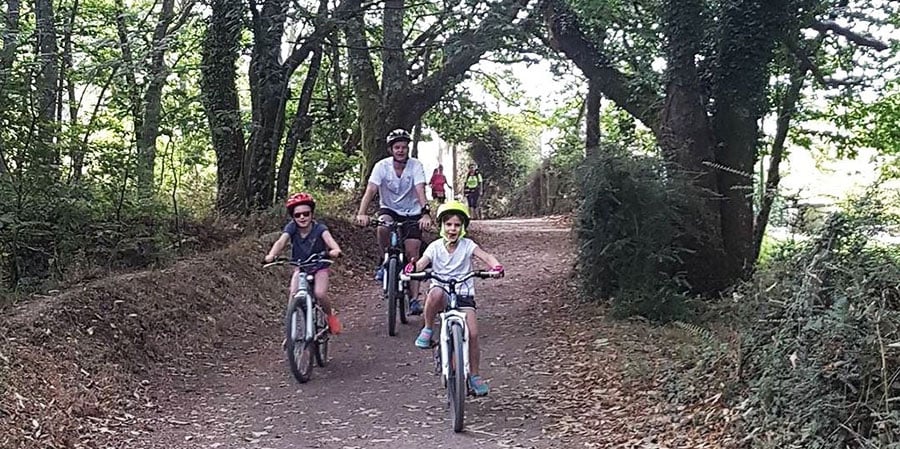 Cycling the Camino with family
Cycling holidays are a great option for families. It's a perfect combination of fun and adventure for the little ones, plus it gives you plenty of time to stop along the way. Our cycling itineraries are accessible to everyone, even the smallest ones. We promise that your route will be 100% child-friendly!
When booking one of our cycling packages, you should know that you will be cycling 20-25km a day, without any major difficulty. Our selected itineraries have been tested and approved by young pilgrims, so we know your children will have a great time too!
To make sure that your child is safe and comfortable, you will be provided with all the necessary equipment to guarantee a perfect trip:
Cycling gear for adults & kids
Bike storage
24/7 Support
How to & FAQ
So what's it like to cycle the Camino with kids?
Our Director Roland cycled the Camino from Sarria with a group of friends and 5 kids of ages ranging from 6 to 12 years of age and they all had a superb time.
They cycled 25kms per day, which is really manageable as it can be covered in roughly half a day:
"I had asked for selected accommodation to offer either a swimming pool or garden space for the kids. Each day we had lunch en-route and finished at approximately 2 pm. That was perfect and one of the best holidays we ever took," Roland explains.
Cycling the Camino with kids is really fun and enjoyable for the whole family.
With research, planning, and dedicated support from Caminoways.com, this could be the best family holiday you will ever take.
Our travel consultants will answer all of your questions and will advise you on the best option to suit your family's needs, so don't hesitate to contact us.
For inspiration, we also suggest you read Lizzie Enfield's wonderful account of cycling from Sarria to Santiago with her 9-year-old son Lucas with Caminoways.com. Walking or Cycling the Camino with my family?
For more information, you can also read our article What are Camino Family Holidays.
Contact us on the form below if you have any questions about taking your family walking or cycling on the Camino or Via Francigena.