Camino de Santiago for Dummies. Where do I start?
If you are confused about the Camino de Santiago and you don't know where you should start looking. Then, we have what you need to get started. This page has been created with this in mind. We named it, cheekily 'Camino de Santiago for Dummies'. But this has everything you will need to figure out what is what.
HISTORY OF THE CAMINO
The Camino de Santiago or Way of St. James is an ancient pilgrimage to the Cathedral of Santiago de Compostela in Galicia, Spain. Legend has it that the remains of the apostle, Saint James the Great, are buried here. If you walk 100km or more you can collect your pilgrim certificate when you arrive, just be sure to get at least two stamps per day along the way.
You will find stamping stations in churches, cafes and some restaurants on the route. In the past pilgrims used to start their journey from their own home and over the years, different Camino ways have emerged, but the most popular is the Last 100km of the Camino Frances.
The Full Camino Frances
will take you walking more than 790 km (490 miles) across the top of Spain. In the middle ages, the Camino grew in popularity with over 250,000 pilgrims completing their journey to Santiago de Compostela each year. Today, people are turning to the Camino routes across Spain, Portugal and France to complete their journey for the soul and we are here to help you get started on your Camino adventure.
The Camino de Santiago has been a pilgrimage route for more than 1,000 years, and there is even evidence that there was a route here in pre-Christian times, way back in the 8th century. It is thought that this ancient route followed the Milky Way to what people believed at the time was the end of the Earth. It became one of the three most popular Christian pilgrimages – the other two being to Jerusalem and Rome.
Camino de Santiago for Dummies, a journey for the soul.
We provide hand-picked accommodation, luggage transfers, 24-hour customer care and everything you need to make your Camino truly yours.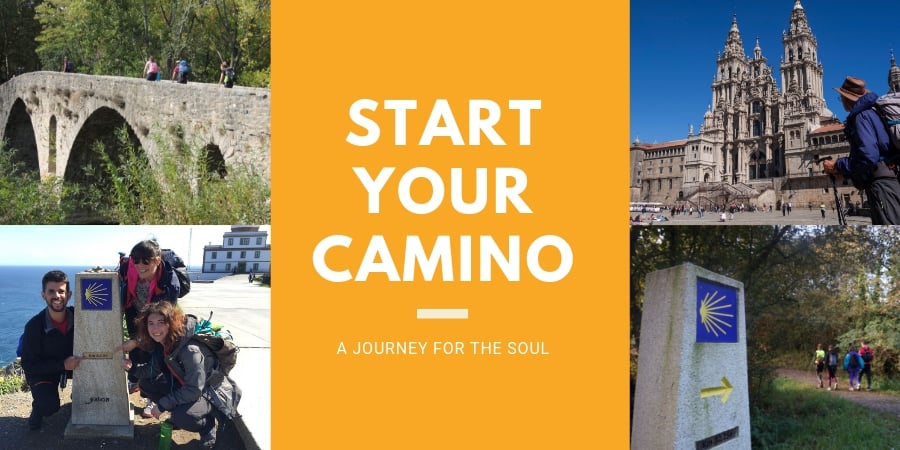 WHY SHOULD I WALK THE CAMINO DE SANTIAGO
Over the years The Camino has developed into a vibrant hub of Spanish culture that attracts pilgrims from all over the world. Nearly 300,000 Compostela certificates were issued in 2016 alone, which will give you some idea of how popular it's become. Camino de Santiago for Dummies, the reason that modern pilgrims walk the ancient trail has evolved over time, and it's now a rewarding experience for anyone who enjoys walking or cycling. There are many ways to embark on this unique challenge.
The list:
You will meet some wonderful people along the route and take in the beautiful Spanish sites. Here are just a few things to enjoy along the way when you are out on the trails:
Escape from your routine to enjoy discovering the outdoors.
Visit historic sites and monuments. With every route being different you can sample a vast array of cultures.
Enjoy the lush Galician countryside or have a swim in the Atlantic on the coastal Camino routes.
Albarino wine is famous worldwide so be sure to sample this native grape when you are on the trails.
Taste delicious tapas at every stopping point. In Galicia, they also have wonderful pintxos that accompany your favourite evening drink.
Converse with other walkers from around the world. Learn about their reasons for taking on this long-loved adventure.
Not sure which route to choose? No problem! Here are the Top 5 routes:
The most popular Camino starting points, to Start Your Camino de Santiago:
10 REASONS TO BOOK WITH US
Outstanding customer service and customer satisfaction
Handpicked hotels
We have walked the trails and want to share the experience with the world
24/7 assistance number
No intermediaries, we work closely with hotels and services
Special dietary requirements
Travel documents
We are a fully licensed Travel Agent
5 star TripAdvisor Reviews
Experienced English-speaking guides – on guided tours
We hope that the Camino de Santiago for Dummies has been helpful, however, if you still have questions, or if you want to start planning your Camino de Santiago trip, please don't hesitate to contact us.