Burren Way trail warden project wins Greenlife Fund 2016
We are delighted to announce a project designed to train wardens and manage the Burren Way trail in County Clare, South West Ireland, has won the Greenlife Fund 2016.
The Burren Way is a long-distance walking trail from Lahinch and across the Burren, in County Clare, also incorporating the Cliffs of Moher Coastal Path, the most visited hiking trail in Ireland, with half a million users on the trail in 2015.
Burren Way Ltd manages the walking trail with Clare Rural Recreation Officer Eoin Hogan.
"The biggest challenge with managing a trail such as the Burren Way is finding out about the issues that might need addressing, such as broken stiles, missing arrows etc…
Our project aims to set up a team of six trained trail wardens that can regularly patrol the trail and report any issues so we can ensure the trail is maintained to the highest standards for all walkers to enjoy," explains Hogan.
The annual Greenlife Fund has been set up by Dublin-based Greenlife Tours Ltd. (best known as CaminoWays.com) to support inspirational projects that promote responsible travel practices, tackle environmental issues or address specific issues faced by communities and travellers on all Greenlife Tours trails: the Camino de Santiago, Via Francigena and Ireland, including the Wild Atlantic Way.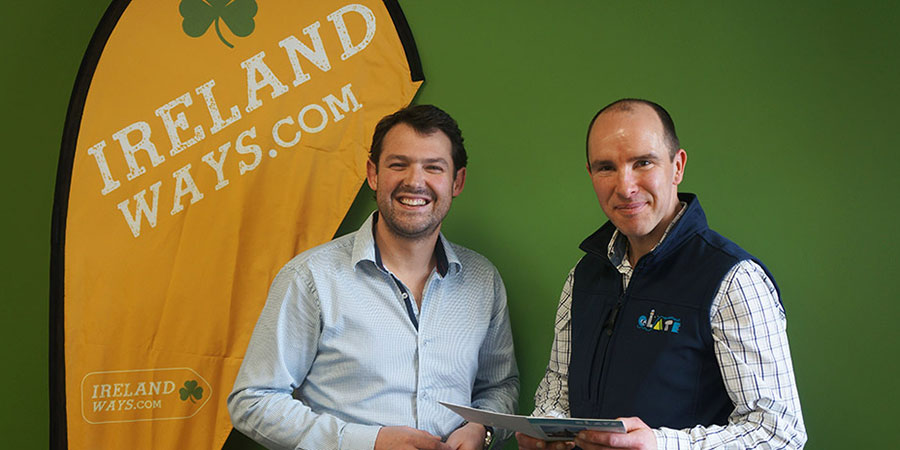 "At CaminoWays.com, we are very proud of our responsible travel policy and delighted to give back to the communities and destinations we work with," says Roland Monsegu, owner and director of CaminoWays.com. "The Greenlife Fund has been able to support great projects in the past two years and the Burren Way trail warden project is another fantastic initiative."
Previous projects have included I'll Push You, the story of best friends Patrick and Justin, who raised awareness about travel and disabilities by completing the 800kms of the Camino Frances together; and A Greener Future, run by two Canadian environmentalists who carried out a clean-up along the Camino Portugues Coastal route and collected nearly 6000 pieces of litter.
Pictured: Roland Monsegu from Greenlife Tours and Eoin Hogan, Clare Rural Recreation Officer
Contact our travel specialists for more information about the Greenlife Fund, our walking tours in Ireland or our Camino de Santiago routes.