7 things not to miss on the Portuguese Coastal Way
I have been lucky enough to complete this stunning trail last year. Walking one week and cycling for another week I stumbled across some breathtaking sites and delicious seafood all along the way. If you are looking for a trail that will take you off the beaten track than this could be the route for you. The Portuguese Coastal Way is packed full of wonderful stopping points, historic sites and tasty treats. Here are few not to miss things on the Coastal Way from Porto.
1.Colourful Porto
Beginning your Camino trip on the banks of the Duoro river, you will have the chance to sample the famous port wine in the charming town of Porto . Often overlooked when considering a trip to Portugal, Porto captures the colorful spirit of the people and is filled with lively restaurants and bars to choose from. Take a stroll down to the harbour for a late night tipple while admiring the iconic Ponte Dom Luís bridge.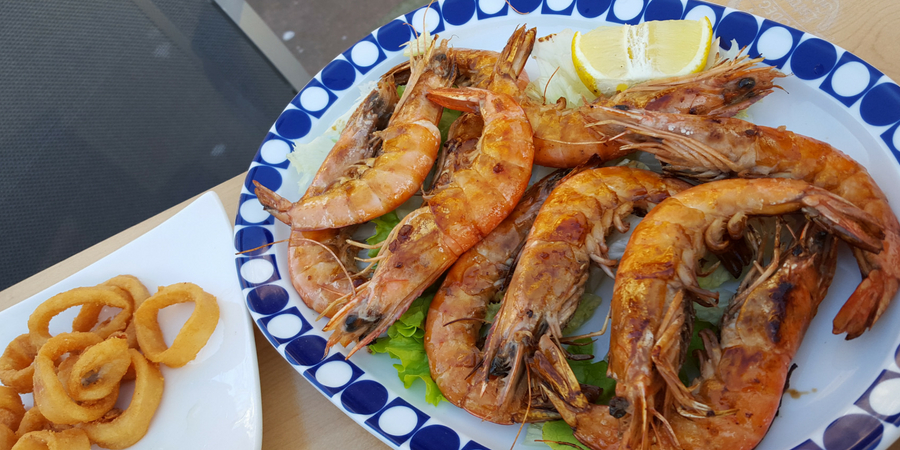 2. Taste Seafood
You will find the freshest seafood, caught straight from the Atlantic coastline in most of the towns along the Camino Portugues. Gigantic prawns, the popular octopus, local bacalau (cod) and endless calamari await to tickle your taste buds. Wash it down with the local Estrella beer and you will be ready for a good nights sleep before your next walking day.
3. Sunset in Esposende
After a long day of walking you will enjoy the beautiful welcome you receive from the smiling sunset in Esposende. With its stretched beaches and endless horizon, this is the ideal spot to relax and reflect on your journey so far.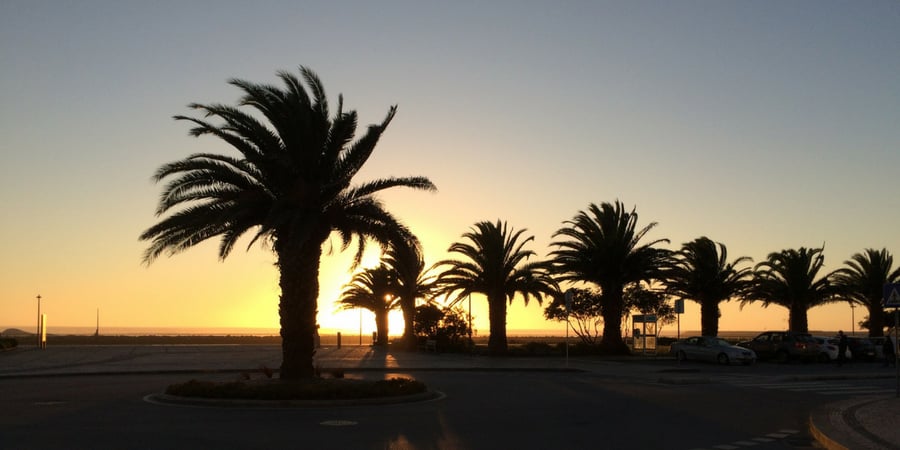 4. Umbrellas Street in Viana do Castelo
This old market town is a surprise to first time visitors and we loved finding the street of hanging umbrellas. This is a picture perfect street. Wonder around the cobbled streets. If you are planning on spending a few hours in town visit the Santuário de Santa Luzia Cathedral and enjoy the fantastic views of the city.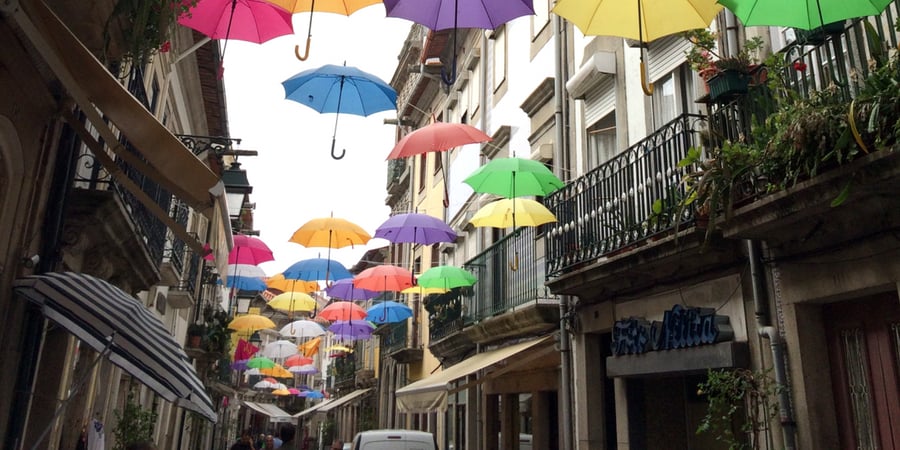 5. Fortress of Monterreal in Baiona
Day or night the short walk around the fortress situated in the heart of Baiona and jutting out to the sea is simply stunning. Today this historical site is a luxury hotel called the Parador de Baiona. You can enjoy a delicious meal of fresh seafood in their famous restaurant. Here is your chance to sample a cocktail with a view. If you choose our superior collection for this Coastal Camino may be lucky enough to stay in the fortress.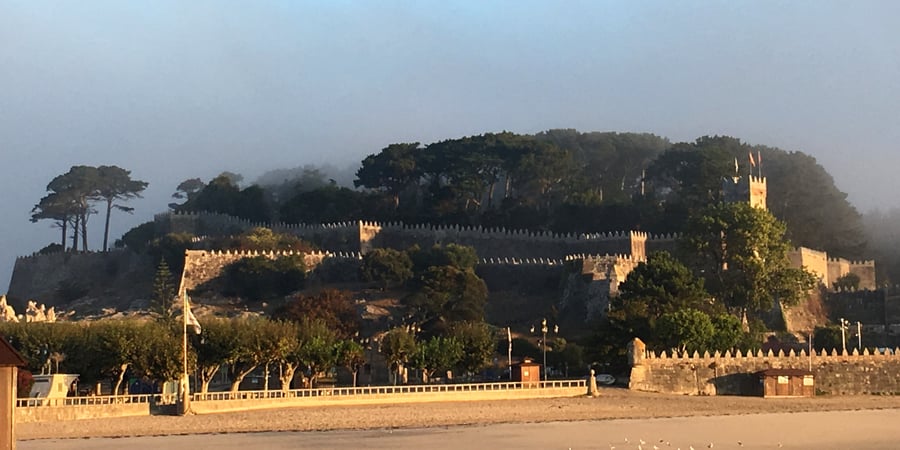 6. Pontevedra
From the historic town of Pontevedra you join other pilgrims from the inland Camino Portugues way. There are plenty of things to see and do in this lively town. Our suggestions would be to drop your bag at your hotel and head out to explore the town squares such as Plaza de la Lena or Plaza de la Verdura. Filled with cafes and bars there are some excellent choices for a tasty bite to eat. No trip to Pontevedra is complete without a visit to see the Basilica of Santa Maria so be sure to stop by for a look.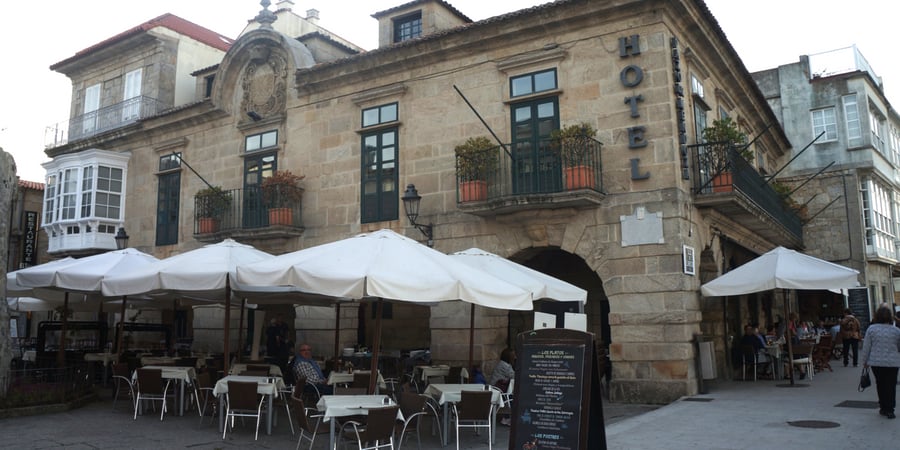 7. The hot springs of Caldas de Reis
Last but not least the small bridged town of Caldas. First impressions live up to expectations in this quaint town. When I arrived my feet were sore but I was greeted by fellow pilgrims in the bars on either sides of the bridge. I sat down and enjoyed some of the mouthwatering chorizo and chips. This is well deserved after a long day. There are pleasant things to see and do, such as visiting the crossword wall and dipping your feet in the hot and cool springs. This is the perfect time to soak up the Camino atmosphere.
This is a short snapshot of not-to-be-missed things to do along the Portuguese Coastal Way. There are plenty of others and we would love to hear all about your experiences along the route. If you have any tips for our clients and readers please pass them along. For more information on the Portuguese Coastal Way or to book your next Camino trip please contact one of our travel team.