A walking holiday on the Rota Vicentina is the perfect way to explore Southern Portugal.  This region is one of the most popular tourist destinations in Europe. If you are looking for an alternative to the traditional Camino routes then this is a great choice. Away from the hustle and bustle of the beach resorts, there are beautiful walking routes to be discovered in this region.
The Rota Vicentina (also known as Fishermen's Trail) hugs the western coastline of the region. The trail finishes at the Southwestern-most point of Europe at Cabo St. Vincent and Sagres. This alternative Camino Route, is a spectacular trail that meanders along the coastline of the Atlantic Ocean.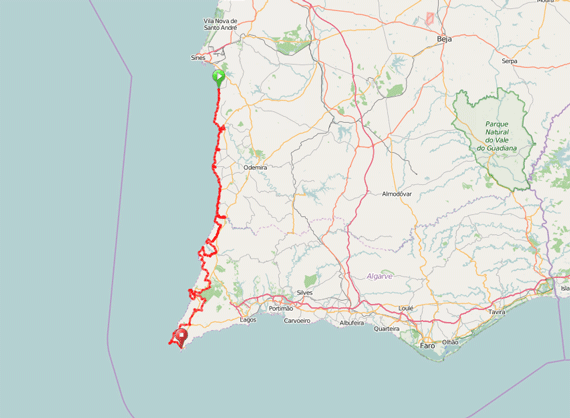 Southern Portugal is simply stunning, particularly with the backdrop of the ocean in your line of vision. Fishermen have used these trails to reach iconic fishing spots and ply their trade for hundreds of years. If you are a fan of sensational cliffs, unique towns and meticulously kept beaches then the Algarve will tick all the boxes for you. Spectacular cliffs, superb beaches and quaint fishing villages make this trail simply unmissable.
Read about 7 things to expect on the Rota Vicentina.
Camino Ways Route Planner
For over 1000 years, pilgrims from all over the world have walked the Camino Ways across Europe in their quest for spirituality. Making the pilgrimage to Santiago de Compostela in Spain, they encountered a variety of people, cultures and beliefs, leading to friendship and new experiences. This continues today with the Camino de Santiago being the most well known and well-loved walk in the world. More than just a walk, the Camino de Santiago is an unforgettable and unique journey for the body, mind and soul.
What To Bring On The Rota Vicentina Coastal?