Reaching Santiago
It's turned out to be a prolific year for Kiwis reaching Santiago de Compostela on the Camino de Santiago.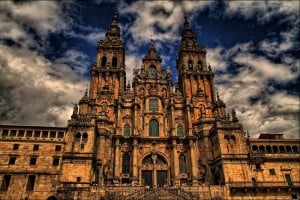 Despite meeting only a couple on our trip, 79 New Zealanders have completed the trek to Santiago de Compostela this year, nearly double the total for all of 2011. And we were among those reaching Santiago.
On day 36, we were searching for a remote campground. After 11 hours of walking… turned out to be closed.
So off we went, down the hill, around the corner, through an alley… and out into Santiago de Compostela.
We'd searched for another nearby camping spot, but, at 8.30 pm at dusk on a Tuesday, there it was.
On our 'last day' on the Camino, we walked a hilly 41 kilometres in 27-degree heat with 12-kilogram packs. After setting off at 8 am, the marathon lasted 13 hours.
Arriving on the outskirts, close enough to feel the city's heartbeat, was one of life's special moments. Stunned disbelief might be the best description.
I'm not sure it would have felt the same knocking off the final 10km or so the following day.
 And so, off we trudged through town towards the Cathedral of Santiago de Compostela.
Nearly 200,000 pilgrims completed the walk's final few kilometres last year, a figure to be dwarfed in 2012. But lone pilgrims rolling up as late as we did isn't the norm.
For us, there were a few strange looks, and "well done"s and cheers from bars. Though normally a 'state highway', there were no other pilgrims in sight this night.
We finally reached Camping As Cancelas just before 10 pm: 2.4km from the cathedral, it's the official end of the Camino, where St James' remains are said to lie in a tomb under the main altar.
Santiago, of course, is and has been a varsity town for a long time. Founded in 1495, Spain's fifth-largest university is now home to over 40,000 students. As we found out the following day, it creates a weird mix with the thousands of pilgrims arriving each week.
At the pilgrims' office beside the cathedral, officers check our Camino stamp book, containing markers from bars and accommodation from our journey. The proof.
We received our Compostela completion certificates, but it feels a bit empty. Our stamp books are full of memories – what does a certificate at the end mean?
We attend midday mass, and we're in luck. A generous benefactor has forked out €240 for the Botafumeiro, a giant censer held by long ropes and swung from side to side inside the cathedral, emitting clouds of incense. It is usually reserved for St James' Day (July 25) and special 'feast days' – whenever someone (often a finishing pilgrim) is willing to pay, like today.
Outside, in Santiago's huge square, old, familiar faces are everywhere. All around, there are reunions – acquaintances reunited, stories told.
At the nearby Parador, some are queuing to collect one of their three free meals for completing the walk. The hotel is among Santiago's finest though the old tradition is now largely symbolic. They don't want frugal pilgrims lowering the tone. Instead of the main restaurant, three times a day 10 'lucky pilgrims' are whisked through the underground carpark and into a back room for some low-end fare.
In the Old Town, meanwhile, we're taking a different route, gorging on Galicia's speciality fare. We'd been holding off trying Pulpo for days, but it was a disappointment. It seems octopus on sliced potato is no salt and pepper squid.
Later, in the setting sun, we wander Santiago and reflect. We've walked the Camino, technically, in 37 days. It seems like forever since the start. And yet this isn't where St James' story ends in this part of the world.
That's further on, another 91km at the coast. Finisterre awaits.
Link for the article and more information about the Camino.