Interview Two Steps Forward by Graeme Simsion and Anne Buist [Podcast]
Graeme Simsion and Anne Buist are best selling authors that collaborated on a new novel, Two Steps Forward. This husband and wife came together to collaborate on a novel after walking various Caminos together.
The main characters Zoe and Martin embark on their journey for very different reasons. Martin is a straight-laced businessman who is using the trail to test his new invention. Zoe is an artist from California still attempting to overcome the death of her husband.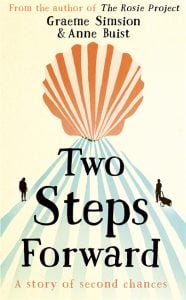 The book is funny, engaging and unpredictable. The Camino is beautifully and accurately represented throughout as the backdrop for this unlikely Romance.
We sat down with Graeme and Anne to discuss their writing progress, teaming up and the love story that unfolded throughout the chapter in Two Steps forward. Of course, there was a lot of talk about The Camino.
We hope that you enjoy the Podcast below. Don't forget to subscribe by entering 'Camino de Santiago' into the search bar of whatever podcast app you use.
You can follow Anne and Graeme on their websites here:
graemesimsion.com
For more information on any of our walking or cycling tours, please contact the travel specialists.