Earlier this week, we gave you our top 5 books to read before your next Camino de Santiago adventure.
We had a great response with a number of authors getting in touch, so apologies if we haven't included your book here. Don't worry, as the travel restrictions and lockdowns continue, we will be writing lots of this content, so we will have loads of Camino book recommendations!
Our original list had some great classic reads, including The Pilgrimage by Paulo Coelho and Spanish Steps by Tim Moore.
To this list, we have added another 5 fantastic reads for your enjoyment before, during, or after walking the Camino.
1. TWO STEPS FORWARD
by Graeme Simsion and Anne Buist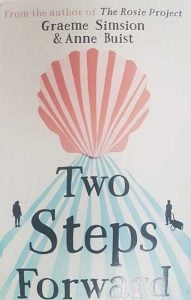 This story follows an inspiring fictional account of a woman and a man's journey on the Camino. One suffers the aftermath of a nasty divorce, the other is a widow. Zoe and Martin's story takes many twists and turns. From sleeping habits to food to everything along the way, this is an excellent read for anyone who wants a little motivation to get out on the trails. This is a charming book with a touch of romance and some handy travel tips to keep you entertained throughout.
2. SHADOWS, SHELLS AND SPAIN
by John Meyer
A page-turner with some mystery is how I would describe this novel. Told as a fictional travel memoir, this story follows the disappearance of Pam who left her husband without any warning. She leaves a series of letters along the Camino trail. The author's personal experience of the trail and his love for history give this account an edge. This is a captivating story and will give you a taste of the scenery you might encounter along the way.
3. THE CAMINO WAY: LESSONS IN LEADERSHIP FROM A WALK ACROSS SPAIN
by Victor Prince
With a unique angle, this book examines how the Camino can steer you in the right leadership direction. Victor tells us how we can assess our values and dramatically change our approach to leadership in any corporation by following some lessons learned from his experience of the Camino de Santiago trail. With a personal writing style and practical business suggestions, this book is perfect for anyone who wants to be a leader or change their leadership strategies.
4. I'LL PUSH YOU: A Journey of 500 Miles, Two Best Friends, and One Wheelchair
by Justin Skeesuck and Patrick Gray
We were delighted to support Justin and Patrick on this epic Camino journey in 2014. Since then they have traveled the world speaking about their experience and inspiring everyone that they meet along the way. A story filled with friendship, love, and endurance this account of the Camino will force you to re-think your troubles and focus on the positives in life. You can read more about their epic journey here.
5. WALKING HOME
by Sonia Choquette
After suffering the unexpected loss of two family members, divorce, and being let down at work Sonia needed to escape and regain her sense of self. In this revealing book, Sonia shares her ups and down's as well as the moments that lifted her spirits in the darkest hours. This is a great read by a renowned author. What are you waiting for, grab a fresh cup of tea, and dive in!
We hope that you enjoy these fascinating books and let it inspire you to get out on the trails. For more information about any of our Camino routes, please contact one of our travel specialists.