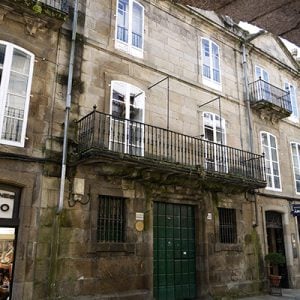 Pazo de Ramirás, a classic Galician townhouse located at number 44 on Rúa Nova in Santiago de Compostela, is built on the site of the former Irish College. The college was founded in 1605 and was open to Irish students until 1769.
Santiago's College (Antigo Colexio dos Irlandeses) was the second of five opened in Spain during the reign of Elizabeth I of England, when hundreds fled Ireland to escape religious persecution. There were 29 Irish colleges in Europe, including six in Iberia: five in Spain (Salamanca, Santiago de Compostela, Seville, Madrid and Alcalá de Henares) and one in Lisbon, Portugal. At these colleges, set up between 1590 and 1649, the students were trained as priests.
Researcher Patricia O'Connell has written about many of the Irish Colleges in Iberia, including the one in Santiago de Compostela.
The college in Santiago was founded in 1605 by the O'Sullivan family, for Irish exiles in Galicia in need of boarding schools and student residence in Santiago. However by 1613 the college would be managed by the Jesuits. In Santiago de Compostela, the Irish students studied Philosophy for two years before moving to the Irish college in Salamanca where they would continue their studies in Theology, before being ordained and travelling back to Ireland. It is believed the college in Santiago hosted up to 16 students at the time.
The expulsion of the Jesuits from Spain in 1767 led to the closure of the college in Santiago and all the colleges then merged with Salamanca. The Salamanca archives were then moved to Maynooth College in the 20th century.
While Pazo de Ramirás is a private property, today you can see a little plaque, reminder of the former Irish College in Santiago de Compostela.
*For more information about the Camino de Santiago or to book your holiday contact our travel specialists