Luiza's Last Camino.
This is a story about a beautiful final Camino journey along the St James Way. Luiza Kraner was from Australia but had been living in Houston, Texas.
She had walked the Camino de Santiago seven times along many different routes and photographed life along the way, recording her experiences, most of the time on her own, in over 30,000 pictures.
Luiza passed away in January last year and this month, her husband Garry and her son Stephen, are walking with her one more Camino.
The Kramers are walking the Via de la Plata on their first Camino, to take Luiza's ashes to Cape Fisterra and the Atlantic Ocean, her final resting place.
Her wishes had been for her ashes to be scattered by the sea in Fisterra, 'where the Camino de Santiago ends and the sea that joins Europe and America begins'.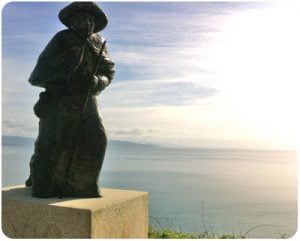 Luiza was honoured recently in Ourense by the Asociación de Amigos de la Vía de la Plata-Camino Mozárabe, a way she had walked twice.
Luiza's family are also preparing a photography exhibition on their return to Houston, to share with the public over a hundred of Luiza's pictures, taken over ten years, during her many Caminos.
To read more pilgrim stories, visit our blog and learn all about Camino Pilgrim Stories.