At Journey's End: Santiago de Compostela
The Camino leads to Santiago de Compostela in the Galicia region. So what do people find once they get there? by Sylvia Thompson
You will have to leave all preconceived ideas about Spain on the plane as it flies into Lavacolla airport, 10 minute drive from Santiago de Compostela. This northwest corner of Spain – taking in Galicia, Asturias, Cantabria and the Basque Country – has little of the intense heat and parched landscape of places further south.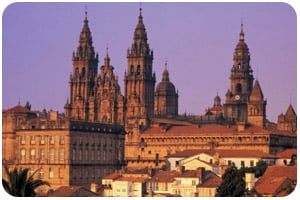 Galicia, in particular – our destination – has a fresh, green, undulating landscape with crops and pasture, lots of pine and eucalyptus forests and a multitude of small vineyards.
Galicians, who speak their own language as well as Spanish, are as proud of their regional governance as they are of their Celtic and Christian heritage. People don't come here to lie on beaches. Instead, they come either as pilgrims (pelegrinos) on the Caminos or as cultural tourists intrigued by the Christian monasteries, abbeys, convents, churches and its Celtic past.
St James's Cathedral (Catedral de Santiago) in the old city of Santiago de Compostela has a magnetic draw.
This end-point of the various pilgrimage routes (such as, Camino del Norte: the coastal route; Camino Primitivo: the ancient pilgrim route and, the most popular, Camino Francés: the French Way, which was celebrated by Martin Sheen in the movie, The Way).
The magnificent main square, Plaza del Obradoiro, in front of the cathedral, is where walkers and cyclists congregate on arrival in Santiago. Some of them then make their way to the daily pilgrims' Mass at noon.
Different people will be drawn to the Romanesque, Renaissance, Gothic and Baroque elements of the cathedral itself, but a visit to the stone roof, with its views across the city to the hills beyond, is a must. The old city of Santiago is a charming maze of paved and cobblestone streets with small hotels, speciality shops, souvenir stalls and stylish restaurants. The scallop shell – symbol of the camino – can be found in traditional and contemporary design on pottery, jewellery and clothing.
A perfect sized city to get to know in a few days, Santiago de Compostela takes its name from the story that people were guided to the tomb of St James (Santiago) in a field (compo) by a shooting star (stela).
Apart from seeing ecclesiastical heritage sites, you can also pop into the modern art gallery, Centro Galego de Arte Contemporánea, walk in the Bonaval park and sample the incredible "nouvelle cuisine" on taster menus with local Albarino wines at affordable prices in restaurants and tapas bars.
Firmly based on local seafood, such as scallops, mussels, oysters, lobsters, clams and squid, many menus also include octopus and eels. Those not keen on seafood will however be feted with beef, veal and many types of pork dishes. The Spanish eat lunch late and the first orders for dinner usually start around 9pm.
The modern city of Santiago de Compostela – with a population of about 135,000, including around 35,000 students – spreads out to the hills surrounding the city. Although not immune to the Spanish recession, Galicia is one of the wealthier regions of Spain – home to Zara clothing, Citroën car manufacturing, shipbuilding, agriculture and viniculture.
Modern architecture enthusiasts should see the Ciudad de la cultura, a grandiose project designed by New York architect Peter Eisenman and started in 2001. Four out of six buildings have been completed and opened: the national library, a modern art museum, an archive and an administration block. Exhibitions and outdoor concerts bring life to the vast granite plazas in between the huge wave-like structure.
Galicia is attracting growing numbers of cultural tourists from as far as South Korea and China as well as the soul-searching pilgrims from Europe, the US and Australia who undertake between 100km and 800km of walking, cycling or horse riding from various points along the Caminos.
And while the purists might complain, you can enjoy walks along shorter stretches of the Camino off season without enduring the hardship of staying in hostels (alberques) and carrying your luggage on your back for the entire journey. In fact, many walkers now stay in rural inns and guesthouses along the way and have their luggage transported.
To travel outside Santiago, you'll need a car – unless of course you are walking, cycling or riding a horse along one of the Caminos. Whichever way you travel, there are many places of interest. Highlights of our four-day visit included the 1,000-year-old Samos monastery, a Benedictine abbey on the River Sarria with magnificent cloisters, modern frescoes and free accommodation for those walking the pilgrimage routes.
The tiny, mountainous stone village of O Cebreiro, on the border between Galicia and Leon is equally impressive. Attractions include a 9th century church, a 6th century house and a cute little bar, La Taberna Grial. With both an official pilgrims' hostel (over 70 of these are run by the local government agency, Xacobeo, and cost €6 for a bunk bed in a dormitory) and a private hostel, I imagine it's full of walkers during the summer but in April we were the only ones there.
No visit to Galicia would be complete without a trip to Finisterre (the end of the earth), the most western point of Europe. Popular among walkers as an extension of their Camino, it is on the Costa da Morte (coast of death) between the pretty fishing village of Muros and the coastal town of Muxia.
Here, you can face the strong waves of the Atlantic and ponder the Celtic and Christian traditions that link this uncharacteristically green part of Spain with our own past. The souvenir shop on the Cabo de Finisterre even sells St Kevin's Crosses from Glendalough.
*Published by The Irish Times on Saturday 1st June 2013.