Inspiring landscapes on the Via Francigena by Jennifer
Jennifer is an enthusiastic walker and painter who has previously spent time on the Camino de Santiago trails and now gives us some insights about her trip on the Via Francigena trail, also known as the Camino to Rome. We hope you enjoy this extract from her journey and the accompanying inspiring painted landscapes!
Walking the Via Francigena from San Gimignano to Rome 322 km/200 miles
I landed in Firenze, Italy in late April 2017 to walk the Via Francigena—322km/200 miles on the ancient road and pilgrim route from San Gimignano to Rome. My companions for the walk were Canadians Lawrence Bonavia and David Chick. Lawrence and I met while walking the Camino Frances in 2014 and then walked the Camino Portuguese in 2015. This was Dave's first experience as a pilgrim. After a delicious cappuccino overlooking the Ponte Vecchio, we climbed aboard a bus to San Gimignano. After meandering through the quaint medieval streets, we knocked on the huge wooden door of the Convento Sant'Agostino. A 13th-century convent where we would spend our first night before setting off on the Via Francigena.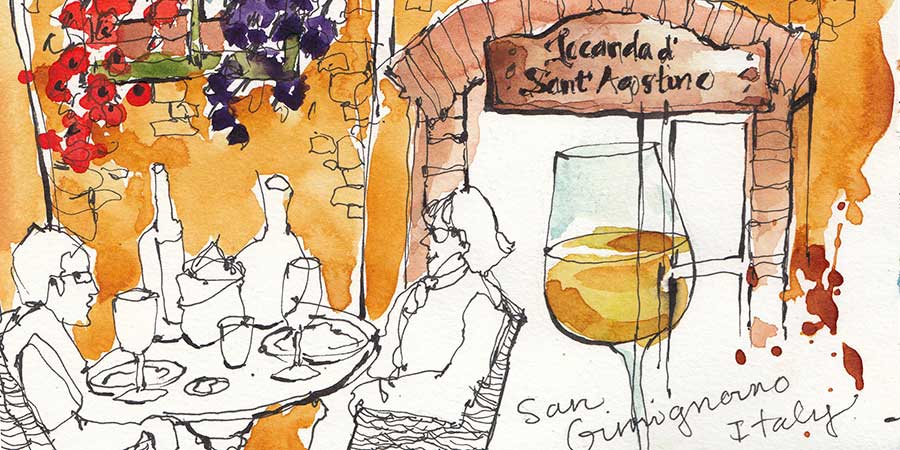 Early the next morning, we wandered through the cobblestone streets of San Gimignano to start our 31 km to Monteriggioni. I had been forewarned that the Via Francigena is not marked as well as the Camino de Santiago and that we would need to be more vigilant with directions and markers. So, me with the LightFoot Guide and Lawrence with the Sloways App, we set off to discover the Via Francigena
Making our way through the Tuscan hills of dense forests and olive groves, we spotted markers that were only a 2" swath of a red and white stripe high up on a skinny tree or low to the ground on a stone on the side of the path. The guidebook said, "Beside the house at the valley bottom, turn left and ford the stream, turn left on the track keeping the olive trees on your right, pass through the farm and continue on the unmade road…it was going to be a very long day.
After a long uphill climb, we arrived in the picturesque hilltop town of Monteriggioni and found our lodging. After the quiet of the convent in San Gimignano, we were now crammed into one room with a low ceiling and four tiny beds. After settling in, it was time to go out and enjoy the afternoon sun on the piazza, listen to music and enjoy a glass of wine as we recounted our first day. It is my favourite time to sketch.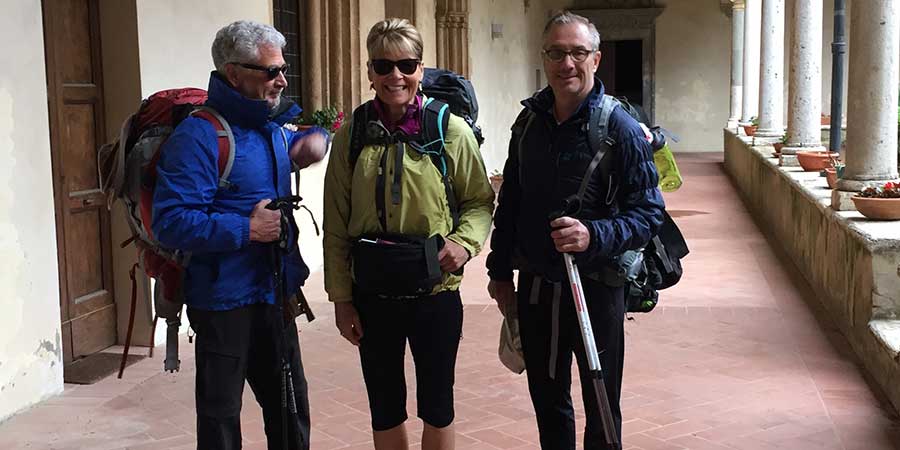 We made our way to Siena, but because of a holiday, the town was busy, and we could not find a place to stay. Stopping at a Gelateria, we got our daily gelato fix as we headed to our hotel just outside of town. The next day we were off to the tiny village of Ponte d'Arbia, where we stayed in an Albergue with 20+ pilgrims in bunkbeds sharing one bathroom and a shower. I looked over at Dave, who had his head in his hands, overwhelmed by the chaotic communal life of a pilgrim.
After three days on the Via Francigena, the one thing that stood out was the food and wine in Italy, "molto Delizioso". After a day of walking up and down hills the Tuscan hills, winding through vineyards and olive groves with a 20lb pack on my back, I am ready to enjoy a gelato…just to tide me over until dinner, which was usually the most delicious pizza and sublime regional wine.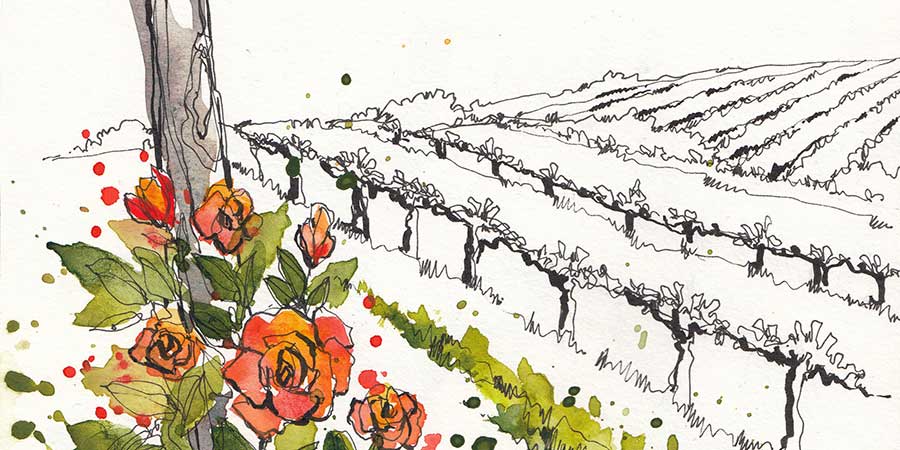 Feeling weary from the weight of my pack and the steep climb to San Quirico d'Orcia, it started to rain. Hurriedly we got through the gates into town, scanning the buildings for our apartment rental. Delighted by the spaciousness of our lovely accommodations and the highly coveted washer/dryer, we decided to take a day off from walking and spend an extra day in the beautiful San Quirico d'Orcia. The next morning was clear and warm. I found a cafe table in the sun to enjoy a cappuccino and sketch.
Reluctantly, we shouldered our packs and said "arrivederci" to charming San Quirico d'Orcia. We were off for a 32 km walk to the small hilltop town of Radicofani. As we slowly made our way on the last uphill stage, we got our first glimpse of the imposing medieval fortress town with its mighty tower. After locating our apartment for the night, we found a festive restaurant filled with pilgrims sitting at long tables engaged in lively conversation. We joined the group recognizing many from the trail, and enjoyed the hearty set price "pilgrim's menu"—wine included!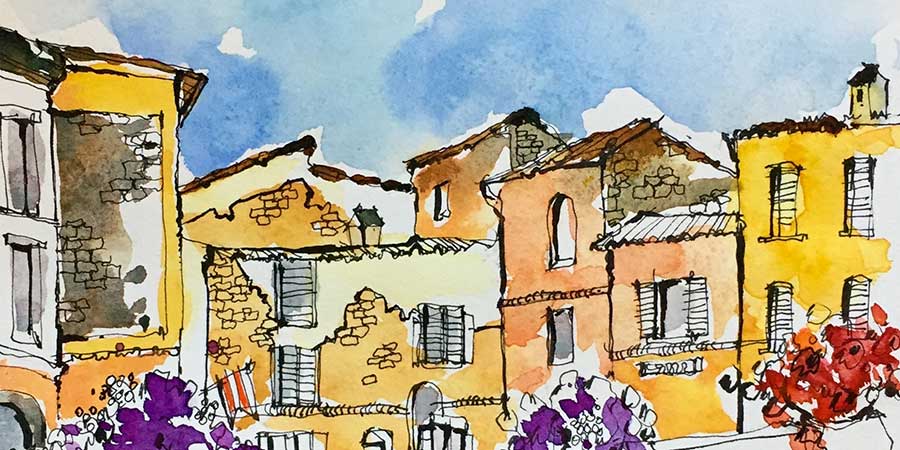 While enjoying the spectacular view of Radicofani as we made our way to Aquapendente, Lawrence reached into his pocket and realized he did not have his wallet. After much ruminating, we decided to get to Aquapendente and make a plan. While enjoying a gelato, Lawrence received a text via FaceBook messenger from someone in Germany. It was from a woman whose husband, Hans, was walking the Via Francigena and had found Lawrence's wallet on the trail and wanted to return it to him. She gave Lawrence her husband's telephone number. What luck, Hans and his friend Oliver were at a cafe near us in Aquapendente. Lawrence hurried off to find the German pilgrims, got his wallet, and they celebrated with a round of beer. All was well again on the Via Francigena. "Walking brings out the best in all of us"!
A short 22 km walk across the lower slopes of the Tuscan hills overlooking lake Bolsena. Bolsena is a beautiful resort town of medieval architecture contrasted with a bustling waterfront of boating and beach activities. Enjoying the view, I looked across the lake and saw a hilltop town way in the distance. Pointing, I told my companions that we would be walking uphill again. Tomorrow 17.5 km to Montefiascone, where we would say goodbye to our newest pilgrim friend Dave.
Lawrence and I set off for Viterbo, staying overnight at a B&B with a family who welcomed us into their beautiful home. Then onto Vetrella where we stayed at the Monastero delle Benedictine Regina Pacis where the nuns take a vow of silence, quietly rent rooms, and feed tired, hungry, noisy pilgrims. We were excited to see our new German friends Hans and Oliver sitting at a table. We joined them adding our bottle of local wine to their two.
As we got closer to Rome, the landscape flattened, and the walks from town to town were long and arduous as we spent more time on tarmac roads with trails skirting us around the busy via Cassia. We could feel the faster pace of city life as we wandered through the last few towns, the endless suburbs and finally, our first glimpse of magnificent Rome and St Peters Basilica from Monte Mario.
Lawrence and I arrived in St Peter's Square after 12 days and 322 km/200 miles of walking on the Via Francigena. We both looked forward to shedding our packs and no longer being pilgrims. We were now tourists and off to see all of Rome's historically rich and beautiful sights.
Molte grazie, Italy
Jennifer
For more information on the Via Francigena, please contact one of our travel specialists.