Guernica
Guernica is a town in the province of Biscay, in the Autonomous Community of the Basque Country, Spain. Gernica is on The Camino del Norte. The town is best known for the devastation it suffered on April 26, 1937, during the Spanish Civil War. Guernica was the scene of a bombing raid by the Condor Legion of Nazi Germany's Luftwaffe. The Germans were attacking to support the efforts of Francisco Franco to overthrow the Basque Government and the Spanish Republican government. According to the official Basque figures, 1654 civilians were killed however in recent times it has been generally agreed that the figure was more likely 300. The town was devastated, though the Biscayan assembly. Pablo Picasso painted his famous "Guernica" painting to commemorate the horrors of the bombing and there is a tapestry copy of Picasso's Guernica displayed on the wall of the UN building in New York City, at the entrance to the Security Council room, to serve as a reminder to world leaders of the devastation of war.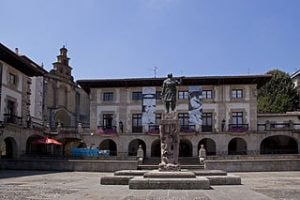 The Oak of Guernica also survived the bombing. The oak, known as the Gernikako Arbola, is symbolic of the traditional rights of the Basque people as a whole. The trees are always renewed from their own acorns. One of these trees (the "Old Tree") lived until the 19th century, and may be seen, as a dry stump, near the assembly house. A tree planted in 1860 to replace it died in 2004 and was in turn replaced; the sapling that had been chosen to become the official Oak of Guernica is also sick so the tree will not be replaced until the earth around the site has been restored to full health.
The town's restaurants serve traditional Basque cuisine, with personal touches introduced by the chef in some cases. There is a wide variety of roast, skilleted and charcoal-grilled meat, as well as fresh fish from the Bay of Biscay and local vegetables, all washed down with cider, local txakolí wine and wines from La Rioja. The most typical dishes are those made with the much-prized local kidney beans and green peppers.